Cortland Medical Center Clinical Services
Acute and Inpatient Care
Guthrie Cortland's medical-surgical units (2 South and 3 South) and the intensive care unit (ICU) are where patients come to heal and to receive higher-level, inpatient treatments. All rooms feature state-of-the-art monitoring systems and are staffed by an interdisciplinary team of dedicated providers who are focused on helping you get you well.
Our 28 medical/telemetry bed units offer greater freedom of movement for those patients requiring less invasive cardiac monitoring.
Our 8-bed ICU is staffed by specially trained nurses and technicians focused on providing the highest level of care to our patients and their families.
During your inpatient stay your care will be managed by a member of our hospitalist team. These internal medicine specialists serve as your healthcare team "captains." They are onsite and available, 24 hours a day, seven days a week 365 days a year. Your hospitalist will order any necessary tests, coordinate your treatment and discharge, and share all important treatment information with your primary care physician.
Cancer Care
Our medical oncology and hematology team collaborates with in-house and off-site specialists in the fields of radiology, surgery and radiation oncology to offer compassionate cancer diagnosis and treatment options close to home.
We provide a coordinated and personalized approach, educating you on treatment options and developing an individualized treatment program for each patient. A dedicated cancer nurse navigator helps guide you through your treatment process every step of the way.
Our recently renovated infusion center is designed to maximize patient and family comfort. Each patient area includes a recliner, personal television, privacy screens and seating for friends or family. With the treatment room on site at the medical center, patients can remain in one location for all related healthcare services, such as lab work and imaging.
Kelly's Story
When Kelly Phillips, RN was diagnosed with breast cancer, she knew she had options for her treatment and care. There was only one choice for Kelly — the doctors and nurses of Cortland's cancer care team.
Digital Mammography
Our digital mammography unit provides a comfortable, quicker, and more detailed mammogram. In just a few seconds, a high-resolution, clear image of the breast is obtained with less overall radiation to the breast. Your test results are read immediately, so you can go home with peace of mind or the answers you and your doctor need for next steps. 
Mammography Hours
Monday: 7:30 a.m. to 3:30 p.m.
Tuesday: 7:30 a.m. to 3:30 p.m.
Wednesday: 7:30 a.m. to 3:30 p.m.
Thursday: 7:30 a.m. to 3:30 p.m.
Friday: 7:30 a.m. to 3:30 p.m.
Saturday: appointments are also available.
To schedule a mammogram, please ask your primary care provider to refer you to our imaging department, or call (607) 756-3794 for assistance.
Confident Woman Post-Mastectomy Boutique
Located at 160 Homer Avenue, the staff of the Confident Woman Boutique is your resource for personalized fittings as well as a variety of post-mastectomy products including breast forms, bras, and skin care products.
Boutique Hours:
Monday: 8:00 a.m. - 4:00 p.m.​
Tuesday: 8:00 a.m. - 4:00 p.m.​
Wednesday: 8:00 a.m. - 4:00 p.m.​
Thursday: 8:00 a.m. - 4:00 p.m.​
Friday: 8:00 a.m. - 4:00 p.m.​
Call 607-756-3880 to schedule a private consultation or fitting appointment
Emergency Care
Our emergency department is open 24 hours, 7 days a week and is staffed by professionals with specialized training in emergency medicine as well as certifications in Advanced Life Support, Advanced Trauma Life Support, and Pediatric Advance Life Support.
Recent improvements such as bedside registration have cut our patient waiting times in half. Most patients see a physician less than 30 minutes after arriving in the reception area.
Infusion Services
Cancer-related infusion services are offered at Guthrie Cortland's newly renovated infusion center located on the first floor of the hospital. All other infusion services are offered in our private medical infusion suite located on the third floor.
Treatment and procedures offered include
Chemotherapy
Blood transfusions
Intervenous (IV) antibiotics
Injections
PICC line, catheter and port maintenance
Maternity - Labor and Delivery Care
Compassionate care for moms and babies
The birth of your baby is one of life's most memorable experiences. Guthrie Cortland Medical Center is your best choice for obstetrical and maternity care, and our experience proves it. Last year, over 500 families trusted us with bringing their children into the world. Guthrie Cortland's maternity department is regularly recognized for its high-quality care, and for the second year in a row, received the Blue Distinction Center for Maternity Care designation. Make us a part of your family too! 
View Upcoming Childbirth Classes
Birthing Suites at Guthrie Cortland Medical Center

Our maternity unit, as well as labor and delivery area, provide a more comfortable, home-like atmosphere for you and your baby. Our Labor/Delivery/Recovery (LDR) area has five private rooms that include private bathrooms with showers and whirlpool tubs for soaking and relaxing while you anticipate the arrival of your new baby. After delivery and recovery, you and your baby are taken to the nearby mother/baby unit. 24-hour rooming in with your baby is strongly encouraged.
Here is a preview of what you can expect when you choose Guthrie Cortland Medical Center to deliver your baby.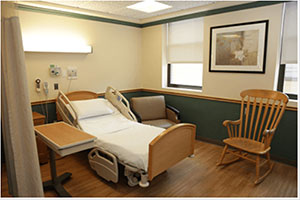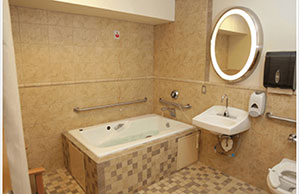 Breastfeeding Support - Give You and Your Baby a Healthy Start
Breastfeeding is one of the best things that you can do for yourself and your baby. More than 75% of all new mothers in New York choose to breastfeed their babies. Breast milk has nutrients that are easy to digest and antibodies that protect infants from illness. For moms who choose to breastfeed past the American Academy of Pediatrics' recommendation of six months, there are additional benefits for the baby, including reduced risk of Sudden Infant Death Syndrome (SIDS), ear infections, diabetes, obesity and certain childhood cancers as well as better overall health. Mothers who breastfeed recover more quickly from childbirth, return more quickly to pre-pregnancy weight, and are less likely to develop certain breast and ovarian cancers.
At Guthrie Cortland Medical Center, we believe in the importance of breastfeeding and we are here to provide you with the help you and your baby need to succeed. Our staff Certified Lactation Counselors (CLC) and International Board Certified Consultants (IBCLC) are specially trained to help moms and babies with breastfeeding.
While in our care, our CLCs can help moms with the following:
Prenatal breastfeeding counseling
Help with positioning and latch
Prevention and management of breast pain and engorgement
Establishing and increasing milk production
Support when mom and baby are separated due to work, medical, or educational commitments. 
Learn more about the benefits of breastfeeding for you and your baby.
Laboratory Services
Guthrie Cortland Medical Center features a full-service laboratory accredited by the Joint Commission Accrediting Healthcare Organizations (JCAHO) and inspected by the New York State Department of Health (NYSDOH). Our team is comprised of a Medical Director, a technical director and laboratory technologists licensed by the state of New York in their specialty and phlebotomists who perform blood draws for both inpatients and outpatients. A second outpatient laboratory is conveniently located in our family medicine office at 4077 West Road.
Medical Center Lab Hours
Monday: 6:00 a.m. – 5:00 p.m.
Tuesday: 6:00 a.m. – 5:00 p.m.
Wednesday: 6:00 a.m. – 5:00 p.m.
Thursday: 6:00 a.m. – 5:00 p.m.
Friday: 6:00 a.m. – 5:00 p.m.
Saturday: 8:00 a.m. – Noon
West Road Laboratory Hours
Monday: 8:00 a.m. – 4:00 p.m.
Tuesday: 8:00 a.m. – 4:00 p.m.
Wednesday:8:00 a.m. – 4:00 p.m.
Thursday: 8:00 a.m. – 4:00 p.m.
Friday: 8:00 a.m. – 4:00 p.m.
Closed for lunch 12:30–1:00 p.m. and holidays
Imaging and Radiology
Guthrie Cortland Imaging and Radiology provides a wide range of diagnostic and therapeutic imaging studies. We are proud to offer the very best in MRI technology for miles around – our state-of-the-art, open-bore, Siemens Magnetom Aera 1.5T.
Our imaging and radiology services include:
Bone density scans
Computed Tomography (CT) and Magnetic Resonance Imaging (MRI)
Digital mammography with computer assisted detection and including screening, diagnostic and biopsy procedures
Emergency and trauma imaging
Interventional radiology services
Nuclear medicine
Ultrasound (including vascular and obstetric ultrasound)
X-Ray and fluoroscopy
For information on outpatient medical imaging services and hours, or to schedule an appointment, call 607-756-3794.
Mental Health Services
Guthrie Cortland Medical Center offers both psychiatric evaluation services and inpatient treatment for adult patients in our 11-bed, secured unit.
Patients are evaluated and supervised by a team of skilled mental health professionals including board-certified psychiatrists, registered nurses, psychiatric technicians, and social workers/therapists. Our mental health team is skilled at assessing the status and treatment needs of patients presenting with emergency issues, and in recommending appropriate inpatient treatment or referral for outpatient follow-up in the community.
If you or a loved one is experiencing a mental health crisis, please call the Cortland County Crisis Line at 607-756-3771.
Outpatient Therapy Services
Guthrie Cortland's Outpatient Rehabilitation department provides a wide range of physical therapy, occupational therapy, speech-language therapy, and other specialty services for patients of all ages. Our team of skilled clinicians and therapists will work with you to identify your needs and develop a plan to meet your goals for living an active, healthy life.
Specialty services include:
Balance Rehabilitation uses a customized, individualized exercise program to decrease dizziness, improve balance, and restore daily functional activities and safety.
Cardiac Rehabilitation helps you recover more quickly from cardiac events or heart procedures, improve your ability to perform daily activities, and reduce your risk and the severity of future heart disease.
Hand Therapy and Upper Extremity Rehabilitation addresses injuries and conditions of the hand, forearm, and shoulder. This includes post-op/trauma/repetitive strain injuries and splinting.
Orthopedic Rehabilitation helps to improve the movement of your muscles, joints, bones and ligaments after injury or surgery. We will work with you to strengthen and stretch the affected area until you achieve normal range of motion and your pain has subsided. We will also discuss with you how to prevent future injuries, while improving your ability to safely perform everyday tasks.
Pediatric Therapies help children from pre-K through high school improve physical, speech, and occupational limitations in a state-of-the-art setting at both our main medical campus and Fisher Avenue facility. To qualify for school-based therapy, children must show significant challenges that affect their academic performance. All services are performed by licensed and highly trained occupational, speech, and physical therapists.
Pelvic Floor Rehabilitation involves therapy for the pelvic muscles, which support pelvic organs, control bladder and bowel function, as well as sexual activity.
Post-Concussion Care includes treatments aimed at improving balance, vision, and the ability to concentrate. In many cases, this post-concussion care is crucial to maximize recovery.
Speech Therapy offers diagnostic and treatment services for a variety of conditions related to disorders affecting your speech, language, and swallowing abilities. Our speech-language pathologists will work with you to improve your speaking function after illness and trauma. We are proud to offer Fiberoptic Endoscopic Evaluation of Swallowing (FEES), cutting-edge technology, which helps us to study and treat swallowing disorders.
Vision Therapy involves a progressive program of exercises used to correct visual problems to improve reading and learning. It is executed by an occupational therapist working in collaboration with an eye care specialist.
Guthrie Cortland Medical Center offers two convenient locations for care:
Read the most recent newsletter from Guthrie Cortland Medical Center Rehabilitation Services
Respiratory Services
Guthrie Cortland's Respiratory Care team is responsible for all invasive and non-invasive mechanical ventilation as well as treatment of outpatient respiratory conditions such as asthma and COPD. We also offer cancer and asthma screenings, home oxygen qualifications, and smoking cessation support.
Outpatient respiratory care services include:
Asthma and COPD treatment
Pulmonary function testing
Arterial blood gas testing
FeNo testing (nitric oxide testing)
Nocturnal oximetry
High-altitude simulation testing
Lung expansion therapy
Respiratory medication usage
For more information or to schedule an evaluation, call our respiratory care department at 607-756-3807.
Surgical Services
Guthrie Cortland Hospital's state-of-the-art surgical suites and procedure rooms are designed to deliver high-quality care and great surgical results. Our experienced perioperative staff and two extensively trained general surgeons perform a wide variety of invasive and non-invasive surgical procedures including:
Appendectomies (primarily lapraroscopic)
Biopsy procedures
Bowel resections and repair
Breast biopsies, lumpectomies and mastectomies
Gallbladder removal (primarily laparoscopic)
Hernia repair
Insertion of intravenous devices (chemotherapy and infusion services)
Insertion of loop recorders and pacemakers
Reflux procedures (including Transoral Incisionless Fundoplication)
Our surgical team is further supported by other Guthrie Cortland specialists in:
Gastroenterology
Orthopedics & Sports Medicine – featuring Conformis custom-fitted joint replacement
Ophthalmology
OB/Gyn
Urology