State-of-the-Art Cancer Care in Cortland, N.Y.
The Renzi Cancer Center at Guthrie Cortland Medical Center offers the latest technology and full array of comprehensive cancer care services. 
Centralized Location and Services
The new Cancer Treatment Center provides a single, convenient point where you can access multi-disciplinary care in radiation and medical oncology treatments, eliminating travel to other communities for care and reducing travel between treatment facilities locally. Locating the new facility next to Guthrie Cortland Medical Center will further enhance your care. 
Guthrie Cancer Care Enhancements in Cortland
Benefits of the new $10.6 million cancer center include:
Consolidation of all oncology services under one roof with the latest technology, utilizing fully electronic medical records, providing convenient access to your care teams
Radiation and medical oncology in one location, with a new state-of-the-art linear accelerator, as well as:

10 private chemotherapy infusion rooms
Six exam rooms
Procedure room
Patient meeting room
Two lab phlebotomy stations
Onsite pharmacy for mixing chemotherapy drugs
Space for four providers
Acute care and support services, including nutrition counseling, social services, and rehabilitation services – all in close proximity to each other
Located close to medical practices in the area, convenient if your care requires collaboration among multiple physicians
The new center has been designed with you in mind, offering maximum flexibility, encouraging teamwork and optimizing efficiency.
Latest Innovation and Technology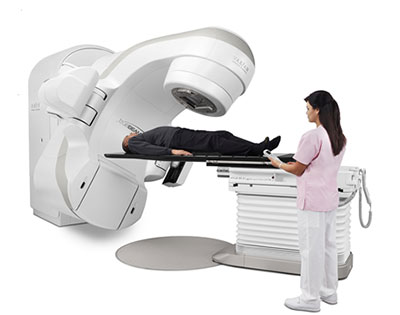 The new center will be home to the latest treatment protocols and provide access to the newest technology, including a TrueBeam™ Linear Accelerator, capable of image-guided intensity-modulated radiation therapy (IGRT), a treatment that sends a high dose of radiation directly to a tumor, while limiting exposure to sensitive surrounding areas.
Benefits of TrueBeam™ Linear Accelerator:
Helps you heal in fewer sessions
More comfortable experience
Shorter sessions, lowering the risks of side effects
2D, 3D and 4D imaging capabilities of the device
More accurate radiation targeting
Can be used to provide various types of radiation treatments
Infusion Services
Treatment and procedures offered include:
Chemotherapy
Blood transfusions
Intervenous (IV) antibiotics
Injections
PICC line, catheter and port maintenance
Comprehensive Approach to Care
Your individualized treatment plan is developed by our multidisciplinary team of specialists, including:
Surgical oncologist with fellowship training in many specialty areas
Surgeons
Radiologists
Interventional radiologists
Pathologists
Your Guthrie cancer care team includes disciplines that address emotional, physical, and financial needs of patients, as well as medical, including:
Social workers
Financial advocates
Our comprehensive team of board-certified specialists will work with you through all aspects of your cancer journey, while utilizing advanced software that helps create an individualized treatment plan for you.
Guthrie Cancer Centers have one focus: high-quality patient-centered care. We address the full spectrum of needs for you when your life is affected by a cancer diagnosis. Getting patients to the right treatment as soon as possible is a pillar of our model. We see and treat virtually every cancer site, caring for you, in partnership with your primary care provider, through diagnosis and treatment, psychosocial changes and emotions, and into survivorship.
Renzi Cancer Center Our Team