Medical Minds
Conversations with Guthrie Experts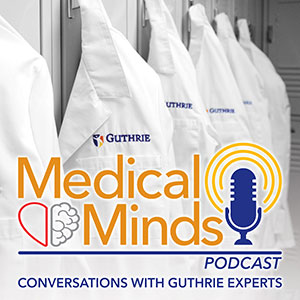 Guthrie is a multispecialty health system with more than 700 providers in 50 specialties, caring for patients across New York and Northern Pennsylvania.
Our team of experts bring a wealth of knowledge and experience to every episode, covering topics about the latest diagnostics and treatment options available at Guthrie. They will share their insights, tips, and advice on a wide range of health-related issues, providing practical solutions that can be easily integrated into everyday life.
At Medical Minds, we're committed to creating a community that supports and encourages healthy living.
Whether you're a healthcare professional or simply interested in learning more about your own health, Medical Minds is the podcast channel for you.