History of Cortland Medical Center
Over a Century of Care
For over 125 years, the people of Cortland have turned to us first for the best in medical care. From our humble beginnings until today - our dedicated professional medical staff and continuous improvement of technology and facilities have ensured the health and wellbeing of this community, now and for generations to come.
1891
The Cortland Hospital Association is organized in February, and a board of 22 women managers and an advisory board of 9 men are elected. Under a new constitution adopted in 1907, the advisory board became the Board of Trustees.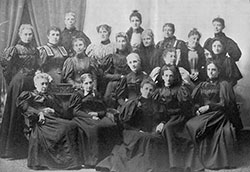 On April 1st, Cortland's first hospital opens in a rented house located at 33 Clayton Avenue. The hospital's six beds are staffed by one woman and a boy with volunteer assistance from the board of managers.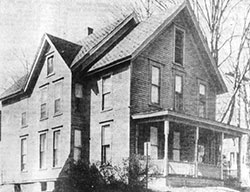 1894
A training school for nurses is established and trains more than 320 nurses over the next 42 years. The school closed in 1936 because of increasingly complicated state regulations.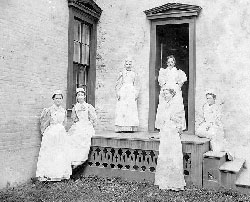 1895
The hospital moves to newly purchased quarters at 84 North Main Street, increasing the number of beds to 25.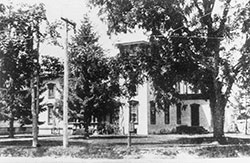 1905
The Hospital Aid Society, the hospital's first volunteer organization is founded, drawing 200 members from Cortland and 12 surrounding towns. Three years later, the Junior Hospital Aid Society is organized as an auxiliary to the Hospital Aid Society and still exists today as the Hospital Aid.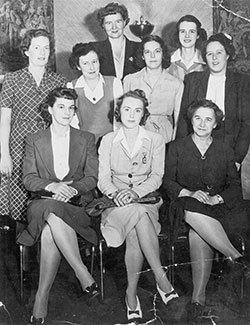 1909
Chester F. Wickwire generously donates the funds to purchase and convert the Copeland-Boyton Mansion into a modern hospital.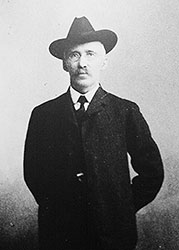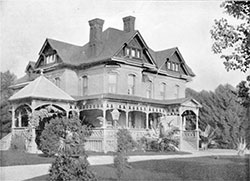 1911
Cortland Hospital relocates to its present location at 134 Homer Avenue, expanding its capacity to 52 beds. The new facility featured separate wards for men and women, 22 private rooms, a children's ward, and two operating rooms.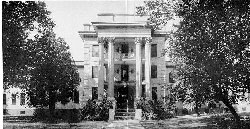 1917
The hospital's name is changed to Cortland County Hospital. The Mayor of the City of Cortland and the Chairman of the County Board of Supervisors serve as ex officio members of the Board of Trustees.
First X-ray equipment installed.
1922
New 21-bed maternity wing opens in February, and 135 babies are delivered at the hospital by the end of that year. Many changes in maternity care have transpired since, and modern-day maternity services feature family-centered care that includes birthing rooms, whirlpool baths, rooming in, and special accommodations for fathers.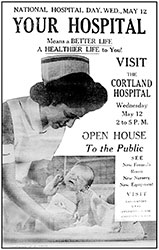 1923
The hospital opens its first laboratory.
1928
The west pavilion is completed, housing a new x-ray department, laboratory, medical ward, private rooms, and expanded children's ward. The addition increases the hospital's total beds to 115.
1934
The laboratory is enlarged due to increasing volume, including public health laboratory tests performed for Cortland County.
1936
The hospital receives the gift of a Cardiette (EKG) Machine and performs its first electrocardiogram.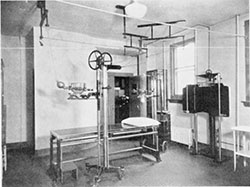 In order to streamline oversight of hospital operations, the Board of Trustees and Women Board of
Managers are consolidated into a single 14-member governing body, consisting of equal numbers of men and women.
1937
Cortland County Hospital is among the first in the area to join the Group Hospital Services of Syracuse: The Hospital Blue Cross.
1941
Community organizations step forward with their support. The Cortland Rotary Club gives the hospital an iron lung used to treat polio.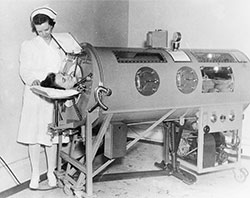 1942
World War II creates a nursing shortage that continues throughout the war years. Volunteer Red Cross Nurse Aides and Gray Ladies help fill the gap, working alongside the nurses in patient wards and in many other areas of the hospital.
1943
Cortland County Hospital becomes a member of the American Hospital Association. Proceeds from the Hospital Aid's Annual Charity Ball support maternity, pediatrics and the nursery.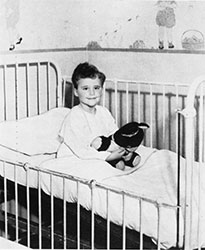 1946
The University of the State of New York establishes a nursing school at Morrisville and Cortland County Hospital becomes a clinical training site. The last class of Morrisville students trained at the hospital graduated in 1980.
1950
A dedicated cardiology department is created.
1953
Women's Auxiliary is formed as a volunteer service and fundraising organization. Today this group is known as the Hospital Auxiliary and its membership boasts both women and men. The Auxiliary continues to be the hospital's single largest donor.
1955
The hospital's name is changed to Cortland Memorial Hospital to better reflect the hospital's non-public status and that it had long been supported financially by the generosity of the community.
1956
Cortland Memorial Hospital undertakes its first major capital campaign, raising over $1 million for the expansion and modernization of the hospital. William F. Schorn Architects is chosen to design the planned addition.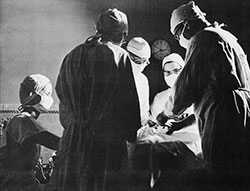 1961
The Candy Striper Program is initiated, giving high school girls the opportunity to volunteer their time while learning about hospital work. This program exists today as the Teen-Age Volunteer Program and includes both young men and women. CMH's TAV Program is one of the most active groups in New York State.
1962
The central pavilion opens, increasing the number of beds to 170. Over the next four years, additional remodeled areas are placed in service, including new emergency and radiology departments, renovated pediatrics unit, and new medical-surgical units.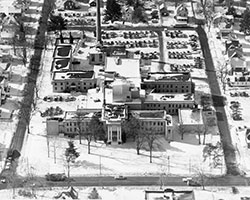 1964
Reflecting the increasing complexity of hospital operations, many first-time positions are added to the staff between 1964 and the end of the decade, including a full-time pharmacist, physical therapist, controller, personnel director, medical social worker, and director of volunteers.
1966
The last of the open wards is closed. All patients now cared for in semi-private and private rooms.
Dedicated coronary care unit is opened. Two-years later, a 10-bed special care unit is added. Today, CMH has a 12-bed intensive care unit and additional capacity to care for patients needing monitoring in its 7-bed telemetry unit.
1974
New imaging modalities other than x-ray become available, providing alternatives for diagnosing illnesses. Nuclear medicine is the first of these new technologies to be offered at CMH and mammography is added soon after. Today the hospital offers a full spectrum of state-of-the art imaging services, including CT scans and MRI.
1976
CMH computerizes many aspects of its operations, including all admitting, census, and fiscal functions.
1978
Construction of the new south wing is completed providing two additional 33-bed medical-surgical units, new intensive care and pediatrics units, and new emergency department, laboratory, and radiology department. The addition of a new surgical suite and extensive renovation of the existing building is also part of this major building project. Funding is provided in part through the Update '76 Campaign, which raised $1.9 million.
Cortland Memorial Foundation is established as the fundraising arm of the hospital. Its mission is to enhance the quality of healthcare in the Cortland community by securing donations and bequests for the continuing support of Cortland Memorial Hospital.
1980
Mental health services are added with the opening of an 11-bed mental health unit. CMH also provides emergency psychiatric care and an emergency hotline.
Outpatient surgery is introduced on a limited basis. By 1998, twice as many operations are performed as outpatient procedures than as inpatient surgeries, and the hospital opens its dedicated one-day surgery center to accommodate this shift.
1983
The Long Term Home Health Care Program, also known as the "Nursing Home without Walls," is instituted with capacity for 25 patients. Through this program, patients who would otherwise need nursing home placement are cared for in their homes. Over the years, the program has grown and can now accommodate up to 100 patients.
1984
The attached medical office building opens. The new structure houses eight suites designed for private physician practices. The building was developed with private investors in order to fill a void in professional office space and for use as a tool in recruiting new physicians to the Cortland community.
1990
Here We Grow Child Care Center opens on Miller Street. In collaboration with the YWCA, the center offers childcare for hospital staff and physicians and their employees.
1991
Cortland Regional becomes a partner with SUNY Upstate Medical University's Rural Medical Education (RMED) Program. RMED places medical students in small towns to train with local, board certified, clinical preceptors. The goal of the program is to encourage aspiring physicians to eventually practice in rural communities.
1993
CMH celebrates the grand opening of its new 80-bed nursing home. The nursing home is housed in a new addition that also provides space for an adult day health care program and several hospital departments. The construction project also included major renovations to the existing building.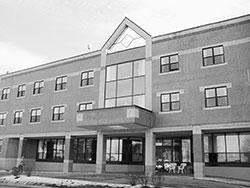 1996
CMH Home Health Care opens for business offering in home oxygen and other respiratory therapies, as well as renting and selling durable medical equipment such as hospital beds and wheel chairs.
The hospital's offsite outpatient service center opens at 4005 West Road, providing physical therapy and imaging services. In 2003, the CMH outpatient service center is expanded to offer a full array of imaging services in a comfortable and convenient setting for patients.
2003
CMH unveils its new emergency department and urgent care center. Housed in an 18,000-square-foot addition, the new construction is the first phase of a first-floor update that includes a new laboratory and admitting areas, as well as updates to the cardiology and imaging departments.
2005
A hospitalist program is instituted to provide around-the-clock physician coverage to care for patients during their hospital stay.
2006
The hospital's name is changed to Cortland Regional Medical Center to reflect more accurately the expansion of its service area and the full array of services offered to meet the lifelong healthcare needs of the community.
Regional Medical Practice is established as an affiliate of Cortland Regional Medical Center to recruit and employ physicians. Among RMP's early successes are the enhancement of cardiac care, expanded orthopedic coverage, and increased obstetrical and gynecological services.
CRMC becomes a smoke-free campus.
2007
Dialysis services are introduced to the Cortland community. In collaboration with St. Joseph's Hospital and Healthcare Center, patients receive dialysis at CRMC's West Road Campus. A nephrology practice is established at the same site to provide convenient access to care for patients suffering from renal disease.
2008
The medical center partners with University Hospital in Syracuse to implement a stroke telemedicine program that provides around-the-clock access to a neurologist. Patients are examined remotely via a web camera and secure Internet connection, which allows for more timely administration of vital treatments.
2009
Nurse Residency Program is implemented to enhance the preparation of graduate nurses as they transition from their training program to delivering bedside care.

2013
Major renovation of nursing unit 2 Central and renovations to co-locate the RMP cardiology practice and CRMC's cardiology department are completed. These projects were made possible by a "HEAL" Grant awarded to CRMC by the New York State Department of Health.
2015
Regional Medical Practice grows exponentially, adding 18 new doctors and eight new services to its existing offerings in eight months including endocrinology, sports medicine, infectious disease, pulmonology, critical care, psychiatry, internal medicine, family medicine, and ophthalmology.
Cortland Regional opens a new three-room endoscopy suite.
Cortland Regional Medical Center is ranked #1 in NYS and 50th in the country for quality of care by theCenters for Medicare and Medicaid Services.
New wound care center opens, offering specialized wound care in partnership with Healogics® — the world's largest wound care management company with over 500 hospital partners delivering excellent evidence-based care to patients with chronic wounds.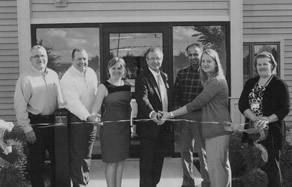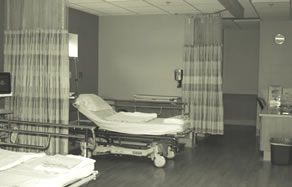 2016
Cortland Regional Medical Center celebrates its 125th Anniversary after caring for the Cortland and surrounding communities for 45,656 consecutive days.
CRMC is recognized as a Blue Distinction Center+ for Maternity Care for its demonstrated expertise and commitment to delivering quality, safe, and affordable maternity care.
Cortland Regional's Board of Trustees vote to begin exploring corporate affiliation opportunities with other healthcare systems.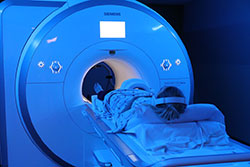 2017
Cortland Regional Medical Center ranked #1 in New York State by Medicare. CRMC has remained in the top ten for the last three years, having placed 9th in 2016 and number one in 2015, respectively.
Cortland Regional Medical Center and The Guthrie Clinic announce intent to explore affiliation.
2018
The New York State Department of Public Health (NYSDOH) and the Public Health and Health Planning Council (PHHPC) approve affiliation between the Guthrie Clinic and Cortland Regional Medical Center (CRMC).
Cortland Regional Medical Center became Guthrie Cortland Medical Center, an entity of The Guthrie Clinic, effective January 1, 2019.