Welcome from Program Director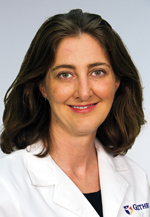 The Guthrie PGY1 Pharmacy Residency was established in 2017. In 2022, we expanded our class size to 3 residents per year. We pride ourselves on being focused on resident learning, our flexibility and commitment to continuous program improvement.
As a pharmacy residency at a high quality, rural academic hospital (Guthrie Robert Packer Hospital), we provide a unique and broad experience to pharmacy residents. PGY-1 pharmacy residents take on the role of clinical pharmacy specialists, providing care to patients in a variety of patient-care settings under the guidance of skilled preceptors, including faculty from Binghamton University School of Pharmacy and Pharmaceutical Sciences. Residents grow exponentially in their clinical skills with direct engagement in patient care, teaching, leadership, project management/research, and medication use safety and policy. Depending on chosen electives, practice settings may vary from inpatient/acute care academic teaching services to ambulatory practices to rural/community/non-teaching hospitals.
Upon completion, residents will be self-directed learners possessing high level clinical competence, leadership and professional skills while exhibiting the confidence to excel in diverse interdisciplinary practice environments. Our graduated residents have gone directly on to clinical pharmacy specialist roles in critical care, emergency medicine pharmacy, ambulatory oncology, general inpatient pharmacy, and to PGY2s in infectious diseases, and medication use safety and policy.
Guthrie Robert Packer Hospital is a 288-bed tertiary care teaching hospital and Level-1 trauma center in Northeast Pennsylvania, where pharmacy department members are important members of the heath care team. Our interdisciplinary colleagues welcome and respect the contributions of the pharmacy team and believe in our vital role in patient care. This extends to pharmacy learners on site, where you'll find a welcoming learning environment. We will craft your learning journey together, applying as much flexibility as possible to support you in reaching your goals.
The program strives to balance the intensity of the well-rounded residency training with a genuine focus on resident well-being. You won't find just pizza deliveries here. Instead, self-scheduling, days off for working weekends, scheduled uninterrupted resident well-being time every few weeks, parental/family paid leave options, free membership to on-site gym, free and confidential access to counseling services/Thrive Wellbeing program, easy access to program ombudsman, coupons for extra sleep, extra project time, appointment time, 'skip a journal club,' and more. Beyond these, we'll customize your experience to include the things that you value to support your well-being.
Personally, I have practiced at Guthrie Robert Packer Hospital since 2001. The reason I chose Guthrie over other institutions has never disappeared – it's the people who work here, the friendly, welcoming atmosphere we thrive in. I hope you'll consider joining our team.
Karen S. Williams, Pharm.D., BCPS AQ-ID
Program Director, PGY1 Pharmacy Residency
Pharmacy Clinical Specialist
Mission
The mission of the Guthrie Robert Packer Hospital PGY-1 Pharmacy Residency is to transform entry-level graduate pharmacists into health-system clinical pharmacists who assure appropriate medication therapy management for individual patients and patient populations.
The residency is committed to providing excellent, compassionate care as part of an integrated, patient-centered care team while supporting continuous professional development, advancement of the pharmacy profession, and a quality interdisciplinary learning environment.
The residency will attract highly qualified candidates, maintain ASHP accreditation and prepare pharmacy residents for board certification, and advanced training opportunities including PGY-2 residencies.
Values
Patient-centeredness
Teamwork
Excellence
Compassion
Growth
Innovation