Clinical Sites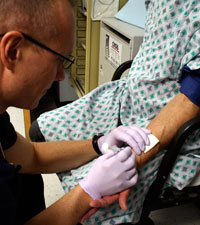 Clinical experiences begin when the student arrives on the Sayre campus the beginning of the junior year. While most of the clinical rotations occur at Robert Packer Hospital in Sayre, each student will have a limited number of rotations to other program clinical affiliates which include:
Arnot Ogden Medical Center, Elmira, NY
Bridgewater Rehabilitation Center, Binghamton, NY
Geisinger Medical Center, Danville, PA
Guthrie Corning Hospital, Corning, NY
Guthrie Med Supply Depot, Sayre, PA
Troy Community Hospital, Troy, PA
United Health Services, Johnson City, NY
Prerequisite insurance, safety, security, and health requirements of each clinical site must be met by the student prior to the scheduled clinical rotation. For all clinical rotations, expenses and arrangements for transportation, meals, and housing (if needed) are the responsibility of the student.
All scheduled clinical time is mandatory. Any missed clinical time, due to circumstances beyond the control of the student, will be rescheduled at the convenience of the program when instructional resources are available.