Instruction at Robert Packer Hospital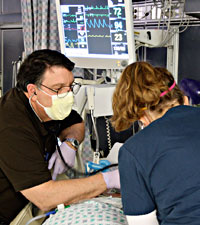 After the first two years at Mansfield, respiratory therapy majors achieving a grade of "C" or better in the prerequisite courses in human anatomy & physiology, chemistry, microbiology and college algebra, and a grade point average of at least 2.7, may transfer to the Guthrie Robert Packer Hospital campus where they begin respiratory therapy training in the fall session. Students from other colleges who meet these prerequisites may transfer into the program at this time. On the Guthrie campus, students receive intensive classroom, laboratory and clinical instruction from registered respiratory therapists and board-certified pulmonary physicians. In the clinical courses, students will rotate through 7 different clinical sites, including Robert Packer Hospital, where the student/instructor ratio is 2:1 or 1:1, allowing personalized instruction and extraordinary hands-on practice with equipment and procedures. Because of the program's strong emphasis on clinical competence, graduates are highly rated and aggressively recruited by employers.
After Graduation
Graduates of this program are immediately employable in hospitals and other healthcare facilities throughout the United States, and are eligible for the National Board of Respiratory Care (NBRC) Certified Respiratory Therapist (CRT) credential exam. Graduates typically receive a temporary permit to practice from the state until they pass the NBRC CRT exam. Passing this exam, qualifies the graduate for licensure in most states, including New York and Pennsylvania, and the NBRC Registered Respiratory Therapist (RRT) exams.