Welcome From the Program Director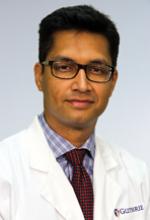 Welcome to the Internal Medicine Residency Program at Robert Packer Hospital. Let me thank you for your interest in our program. I am excited to be the new Program Director of the Internal Medicine Residency program and to carry the mantle forward with a new vision of compassionate care towards patients. We will do this by improving access to health care, looking at patient belief systems and understanding how primary care doctors can play a key role in improving the health of our frail elderly population and patients with chronic medical problems.
For more than 61 years, the Internal Medicine Residency program at Robert Packer Hospital has brought experience, commitment and a balanced approach to the training of medical residents. It has a lengthy history of developing well-trained internists and matches residents into strong fellowships as well as prepares them for a career in Hospital Medicine or Primary Care. Many of our faculty and sub-specialists are proud graduates of the program.
Ours is a fully accredited three-year program. Our program provides excellent clinical training with adequate graded supervision and autonomy at all PGY levels. We provide you with the opportunity to work closely with a committed and talented faculty who are both well trained clinicians and dedicated teachers. The residents gain an excellent educational experience through daily scheduled didactics and hands-on clinical skills. It is our goal to provide our residents with a broad base of medical knowledge in Internal Medicine and to graduate well rounded and independent internists.
From technology and innovation to new regulations and changing demographics, the health care landscape is in a near and a constant state of re-invention, particularly in America now. The Guthrie Internal Medicine Residency program aims to help residents to enhance quality while staying grounded and adapting to these changes. At the center of the vortex of change is the patient. As the health care system evolves, we must ensure that it is patient centered and that patients are involved in every decision regarding their care. To achieve this, we have at our disposal an excellent electronic health record, Epic and our online portal eGuthrie which helps you to take care of your patients and participate in research and scholarly activity.
Internists are proficient in healing disease and easing suffering; our patients would also like us to get to know them and hear their stories, listen. Our residency program trains you well to be a compassionate and conscientious doctor who is also confident, empathetic, knowledgeable physician ready to enter practice as an independent internist. We are looking for individuals who demonstrate great compassion to patient care and are enthusiastic about self-directed lifelong learning. Come and join one of the longest established residency programs in the country.
Respectfully yours,
Saurabh Sharma, MD
Program Director, Internal Medicine Residency