Welcome From the Program Director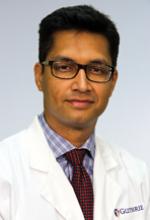 Saurabh Sharma, MD
Program Director, Internal Medicine Residency
Welcome to the Robert Packer Hospital's Internal Medicine Residency Program – a hub of excellence and compassion. I extend my heartfelt gratitude for your interest in our esteemed program. I am excited to be the new Program Director of the Internal Medicine Residency program and to carry the mantle forward with a new vision of compassionate care toward patients. In an ever-evolving healthcare landscape, we are committed to enhancing patient access and care quality. We delve into patients' belief systems, recognizing primary care physicians' vital role in the well-being of our elderly population and patients with chronic medical problems.
For more than 61 years, the Internal Medicine Residency program at Robert Packer Hospital has brought experience, commitment, and a balanced approach to training medical residents. Our rich history boasts the successful nurturing of well-trained internists, matching residents into strong fellowships, and preparing them for a career in Hospital Medicine or Primary Care. Many of our accomplished faculty and sub-specialists are proud graduates of our program.
Our fully accredited three-year curriculum is designed to provide outstanding clinical training with excellent graded supervision and autonomy at all PGY levels. Under the guidance of seasoned mentors, residents experience a dynamic learning environment that balances supervision and autonomy across all PGY levels. Our dedicated faculty, with fellowships in Cardiology, Pulmonary/Critical Care, Geriatrics possess both clinical excellence and teaching prowess to ensure a comprehensive learning journey through scheduled didactics and hands-on clinical exposure. The residents gain excellent educational experience through daily scheduled didactics and hands-on clinical skills. Our goal is to equip residents with a profound foundation in Internal Medicine, fostering their development into well-rounded and independent internists. 
As the healthcare realm undergoes constant transformation, the Guthrie Internal Medicine Residency program empowers residents to navigate change while upholding quality and patient-centeredness. Amid these shifts, the patient remains the nucleus of our focus. We embrace technology through the outstanding Epic electronic health record system and the eGuthrie online portal, empowering you to care for your patients and engage in scholarly pursuits.
Beyond healing, our patients yearn for connection – to be heard and understood. Our residency program uniquely prepares you to excel in medical expertise and nurture empathy, confidence, and conscientiousness. We seek individuals who embody compassion in patient care and are committed to self-directed, lifelong learning. Join us in becoming a part of one of the nation's oldest and most esteemed residency programs.
Respectfully yours,
Saurabh Sharma, MD, FACC, FASE, FACP, RPVI
Program Director, Internal Medicine Residency
Mission and Aims
The mission of the Guthrie/Robert Packer Hospital Internal Medicine Residency Program is to train residents to be proficient, compassionate, well-rounded internists by a proportionate curriculum and working with committed, accomplished clinician educators in the environment of academia and collegial learning. We remain committed to our culture of patient-centeredness, teamwork, and excellence in what we do. Following are the key elements: 
To promote the well-being of our community through a commitment to compassionate care, empowering patients to make informed, healthy choices, and enhancing access to quality healthcare services.
To cultivate proficient internists who embark on their careers as hospitalists, generalists, or begin specialized fellowships with a strong foundation of medical expertise.
To Provide residents a robust background in quality improvement, fostering an understanding of patient safety, and the significance of safeguarding patient rights.
To encourage residents to be enthusiastic, self-directed learners and maintain curiosity and embrace the joy of practicing medicine.
To build the program on a culture of wellness, resiliency, collaboration, and teamwork which will help navigate the changing healthcare landscape.
Vision
Our vision is to cultivate exceptional physician leaders who approach modern medicine with empathy, integrity, and unwavering dedication to excellence, while encompassing clinical prowess, patient-centered care, innovative research, cultural competency, community engagement, and a commitment to personal work-life balance and well-being.
Values
The values of the Guthrie Internal Medicine Residency Program are centered around compassion, collaboration, excellence, integrity, diversity, innovation and wellbeing.