Message From the Director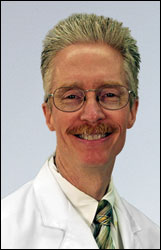 Congratulations on your decision to become a Family physician! In a time when many graduating medical students choose to become specialists or subspecialists, patients are finding it more and more difficult to have meaningful, long-term relationships with doctors who pay attention to their whole life and all their health-care needs. Our nation has recognized the need for better, more "wholistic" Primary Care, which is driving the development of the Patient Centered Medical Home and Healthcare Reform. It's exciting to have the importance of our calling recognized, and I'm glad you've chosen to be a part of it.
Now comes one of your most important life-decisions: Where will you actually begin to practice medicine?
I believe that your Residency—your first job as a physician—should prepare you for the career of your dreams. All Residencies strive to provide appropriate education. I believe that we should provide you with not only excellence in education, but also with opportunities to focus on your areas of special interest, and that we should help you build a foundation for a life of service to your patients and your community that is rewarding, challenging, and fun.
To that end, our Core Faculty is a tightly-knit collegial team of dedicated educators committed to teaching Residents and students in all the facets of Primary Care: research, procedures, practice management, Sports Medicine, Osteopathic Manipulative Treatment (OMT), and physician wellness and self-care, in addition to helping you implement your hard-earned medical knowledge and begin to establish strong doctor-patient relationships. We each have an open-door policy, allowing immediate answers to moment-by-moment questions and development of close mentoring relationships.
Our Adjunct Faculty members and other supporting physicians and staff encourage and instruct in a variety of venues throughout the Robert Packer Hospital/Guthrie Medical Group complex with our extensive Simulation Lab and in the surrounding community, allowing opportunities to learn from physicians with specialized skills in areas of practice perfectly-suited for Family Medicine physicians.
I think you will enjoy not only our health-care facilities, but our surrounding community. We are in a great location with easy access to the Finger Lakes Region as well as several neighboring cities—hiking, kayaking, cycling, and camping opportunities are in our back yard, and Rochester, Syracuse, and New York are easily weekend-accessible. My wife and I moved here 20 years ago and have found it to be a wonderful place for us to grow as a family.
You will find that Guthrie has an amazing combination of a strong and encouraging program in a tertiary-care hospital and multi-specialty clinic in a beautiful rural setting. We will both challenge and support you in your quest to be the best and most well-rounded Family Physician that you can be. I look forward to meeting you in the future and welcome you to the practice of Family Medicine.
Donald Phykitt, DO
Program Director
Family Medicine Residency