Thank you to our 39th Annual Guthrie Gallop Racers! 
THANK YOU for joining us as we galloped across the 39th Annual Guthrie Gallop finish line. Over 300 runners and many sponsors raised more than $20,000 with net proceeds benefiting the Guthrie Cancer Care Fund!  We look forward to seeing you at the milestone 40th Annual Guthrie Gallop next year.
Check out Guthrie's social media accounts for highlights from our 2023 event.
Registration for the 39th Annual Guthrie Gallop may be closed, but you can still make a difference in the lives of those fighting a cancer diagnosis.  With your gift, you are helping a cancer patient who is in financial hardship with opportunities like staying current on their housing payment and enjoying hot water, light, and heat.
Support a cancer patient in financial need with a gift to the Guthrie Cancer Care Fund today.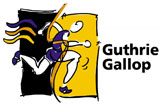 LIVE RACE INFORMATION
When: Saturday, May 11, 2024
Time:

10K Race begins at 8:00 a.m.
5K Race begins at 9:30 a.m.
Kids' Fun Run begins at 9:15 a.m.

Where: Sayre Theatre, 205 South Elmer Avenue Sayre, Pa.
REGISTRATION FEES
2024 Registration fees coming soon!
REGISTRATION/ RACE SWAG/ AND PACKET PICK-UP
2024 Race Day information coming soon!
NOW LETS GALLOP!
2024 Race Day information coming soon!
VIRTUAL RACE INFORMATION
2024 Virtual race information coming soon!  
WHO DO THE RACE PROCEEDS BENEFIT?
2024 Race beneficiary coming soon!
2023 GUTHRIE RACE SERIES
Register and complete both the 39th Annual Guthrie Gallop and the 17th Annual Guthrie Sayre Turkey Trot to receive a commemorative Guthrie Race Series gift!
*Gifts are available after the completion of the Guthrie Sayre Turkey Trot.
*Virtual runners are eligible to participate in the Guthrie Race Series.
RACE CANCELLATION
The Guthrie Cancer Care Fund relies on income from this event to fulfill its mission to provide critical assistance to Guthrie cancer patients facing a financial crisis, therefore, refunds are not available. In the event the Guthrie Gallop live race is forced to cancel, all participants will automatically be transitioned to the virtual race and still receive their awesome race swag in the mail! All applicable sponsorship benefits will be honored and 100% of your generous sponsorship will benefit the Cancer Care Fund.
RACE CONTACT INFO
For questions e-mail Susan Sinay at susan.sinay@guthrie.org