Rotation Schedule
General Surgery Resident Schedule 2021-2022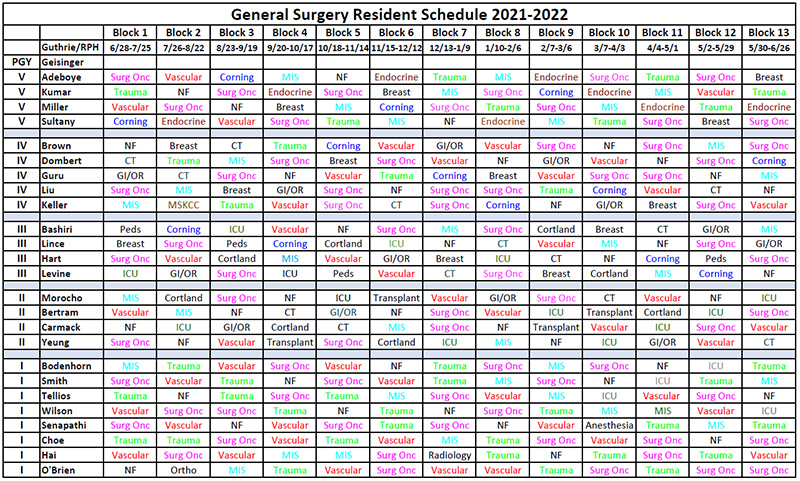 Explanations:
There is no difference between a preliminary surgical resident's rotation schedule and a categorical surgical resident's rotation schedule.  In addition, preliminary surgical residents will not be assigned to Night Float during their interview season.
MIS Rotation: Minimally Invasive Surgery and Bariatric Surgery Services
Surg Onc: Surgical Oncology and Colorectal Services
GI-OR Rotation: (Gastroenterology and Operating Room): This allows residents protected time to procure the necessary training in colonoscopy and EGD, while allowing them to participate in the OR when endoscopic opportunities are not available.
NF: Night Float
Trauma: This rotation includes trauma and acute care surgery.  There is also an opportunity to participate in initial burn management. 
CT-Thoracic: This rotation focuses on non-cardiac thoracic surgery.  There will also be experience in the Cardiac ICU.
Corning GS: This rotation includes a wide range of general surgery procedures in a smaller community hospital, Guthrie/Cortland Medical Center. Experiences in endoscopy will be available at this site as well.
Surgical ICU: The rotation includes experience with the full range of surgical ICU, including trauma.
Peds Surg and Transplant: These rotations are completed at Geisinger Medical Center located in Danville, PA.  This allows our residents to have a focused experience in these fields.