Welcome From the Program Director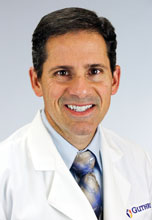 Guthrie has a long history of providing excellent patient care and supporting outstanding medical education. With complimentary training programs in General Surgery, Internal Medicine, Family Medicine, Gastroenterology and Cardiology, the new Emergency Medicine training program is the latest program developed to enhance the care for the community. Supporting these training programs fits well with Guthrie's mission which seeks to provide excellent compassionate care and advance the knowledge of the profession while promoting learning and discovery.   
We have the unique opportunity at Guthrie Robert Packer Hospital to train physicians in the communities they will serve. We know rural medical practice is among the most challenging of practice environments. To be successful residents need to train at a higher level. The luxury of having every medical specialty available which is typical of most academic urban environments is not the reality in the community. So why train for a narrow scope of practice in a setting over-burdened by a myriad of residents in competition for learning opportunities? Our residents are first to the case to learn everything and do everything well. At Guthrie we offer a personal hands-on learning experience one patient at a time. We are here to help you develop your skills for successfully transition to independent practice. 
Our setting is unique among training programs. We don't have a lot of 'walking well' patients to impair our main mission - to treat emergencies. Our patients often travel long distance to get expert care for their advanced disease. 18% of our patient population has acute critical care needs and our admission rate approaches 30%.  Our program's educational diversity enables our residents to be operational in any environment without having to be anchored to an urban university center. At Guthrie you will learn how to be an independent, self-sufficient and competent emergency physician capable of practicing in any environment.  Whether you choose academic medicine, clinical medicine or fellowship training you will have the skills to advance to the next level of your career. You will get all this experience while working with some of the best faculty in one of the most beautiful locations in the country. 
If you want to experience hands on Emergency Medicine training with great faculty amongst a diverse case mix in a recreational paradise, then I would invite you to explore what Guthrie has to offer. We are here to help you find your success. Use our links or contact our Program Coordinator for more information. We look forward to meeting with you and hope to have you join our team. 
Gregory Christiansen, DO, MEd, FACOEP-D
Program Director
Emergency Medicine Residency