Why It's a Great Time to Try the Mediterranean Diet
July 29, 2022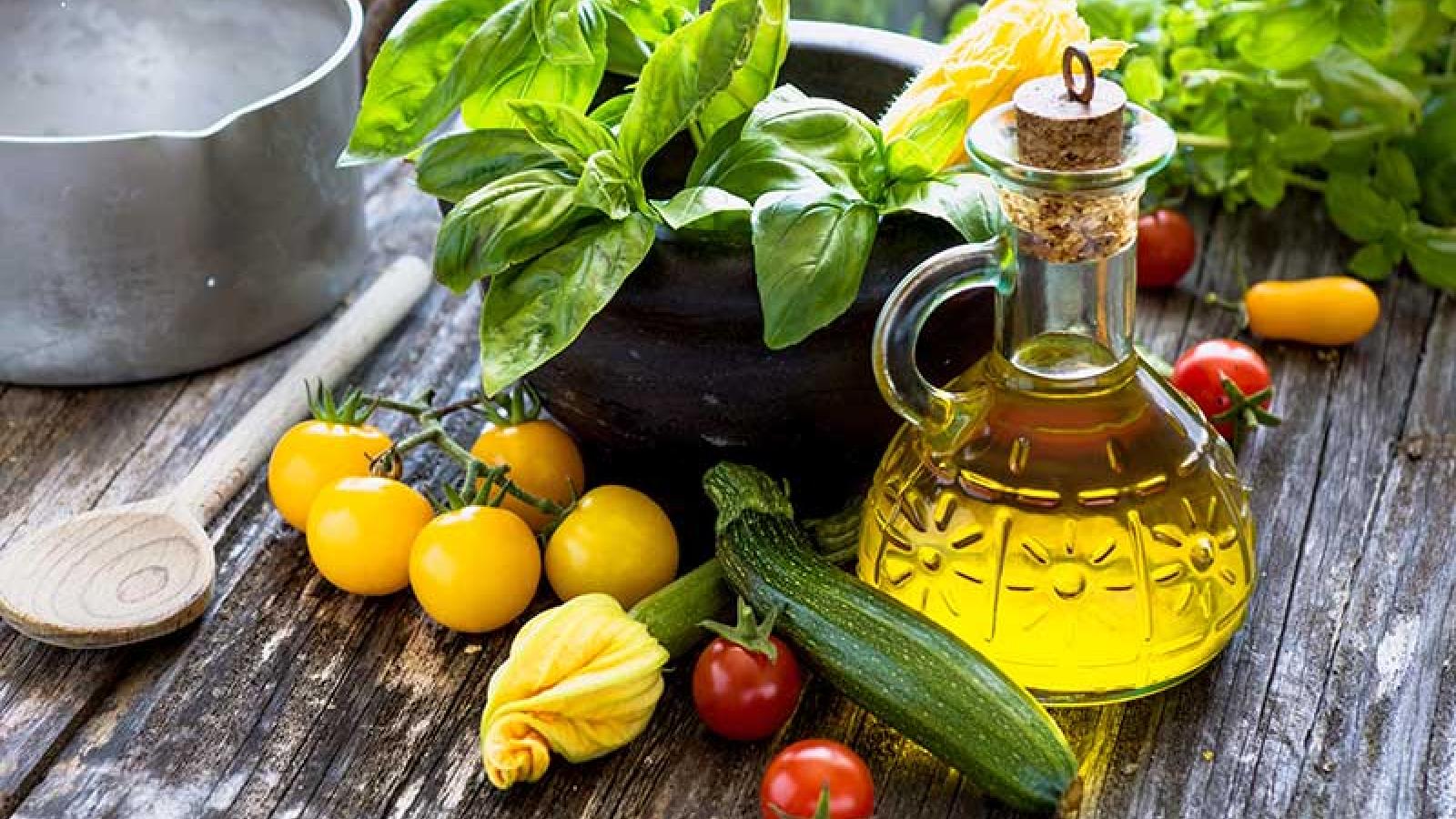 Although not technically a "diet," this style of eating helps improve health while being delicious.
Whether you're looking for a way to lose weight or you just want to improve your health, you can't go wrong with following the Mediterranean Diet. This eating plan has been ranked as the best overall diet by US News and World Reports for multiple years. It's also been ranked as the best diet for healthy eating, the best diet for diabetes, the best heart-healthy diet, the best plant-based diet and the easiest diet to follow.
Why does the Mediterranean diet consistently rank as one of the healthiest diets?
Because it's not a fad diet. Rather, the principles of the Mediterranean diet mimic the eating habits of people who live in Spain, Italy, Greece and other countries that border the Mediterranean Sea. Research dating back to the 1950s has shown that people from this region are among the healthiest in the world.
The foods included in a Mediterranean eating plan help lower inflammation in the body and may reduce the risk of heart disease, diabetes and metabolic syndrome. The Mediterranean diet has also been associated with lowering the risk of developing conditions such as cancer, dementia, Alzheimer's, Parkinson's, anxiety and depression. Research shows it may even improve sleep.
What can you eat on the Mediterranean Diet?
The main focus is on eating primarily whole plant-based foods, including:
Vegetables
Fruits
Legumes
Whole grains
Healthy fats like extra-virgin olive oil, avocados, nuts and seeds
Herbs and spices
Moderate consumption of fish, eggs, lean poultry and fermented dairy products (like yogurt) are allowed. The diet also allows for a glass of red wine on occasion. Eating red or processed meat, as well as refined grains and sugar, should be avoided as much as possible.
Is it easy to follow the Mediterranean Diet?
Because this diet is not restrictive and encourages a variety of flavorful food options, many people find it easier to follow this style of eating than other types of diets. There is no counting, weighing or measuring involved. Rather than there being a stringent set of "rules" like some diets, this healthy style of eating allows for flexibility.
Can you lose weight by following the Mediterranean Diet?
Many people lose weight by eating according to the principles of the Mediterranean Diet. If you find it difficult to lose weight, you may need to cut back a bit on some of the calorie-dense foods encouraged in this diet, such as olive oil, nuts and seeds.
Why is now a good time to try the Mediterranean Diet?
There's never a bad time to improve your eating habits and now is as good a time as any. One benefit to adopting this type of eating style right now is that plant-based foods are in abundance during this time of year so it's easy to fill your plate with their fresh and natural goodness. Even if you don't follow the "diet" to the letter, adding more whole plant-based foods in place of meat and processed foods will do your body good.
---
Copyright 2022 © Baldwin Publishing, Inc. All rights reserved.  Health eCooking® is a registered trademark of Baldwin Publishing, Inc. Cook eKitchen™ is a designated trademark of Baldwin Publishing, Inc. Any duplication or distribution of the information contained herein without the express approval of Baldwin Publishing, Inc. is strictly prohibited.
Date Last Reviewed: June 14, 2022
Editorial Review: Andrea Cohen, Editorial Director, Baldwin Publishing, Inc. Contact Editor
Medical Review: Jane Schwartz, RDN, CLT
Learn more about Baldwin Publishing Inc. editorial policy, privacy policy, ADA compliance and sponsorship policy.
No information provided by Baldwin Publishing, Inc. in any article is a substitute for medical advice or treatment for any medical condition. Baldwin Publishing, Inc. strongly suggests that you use this information in consultation with your doctor or other health professional. Use or viewing of any Baldwin Publishing, Inc. article signifies your understanding and agreement to the disclaimer and acceptance of these terms of use.