Simple Swaps for a Healthier BBQ
June 15, 2021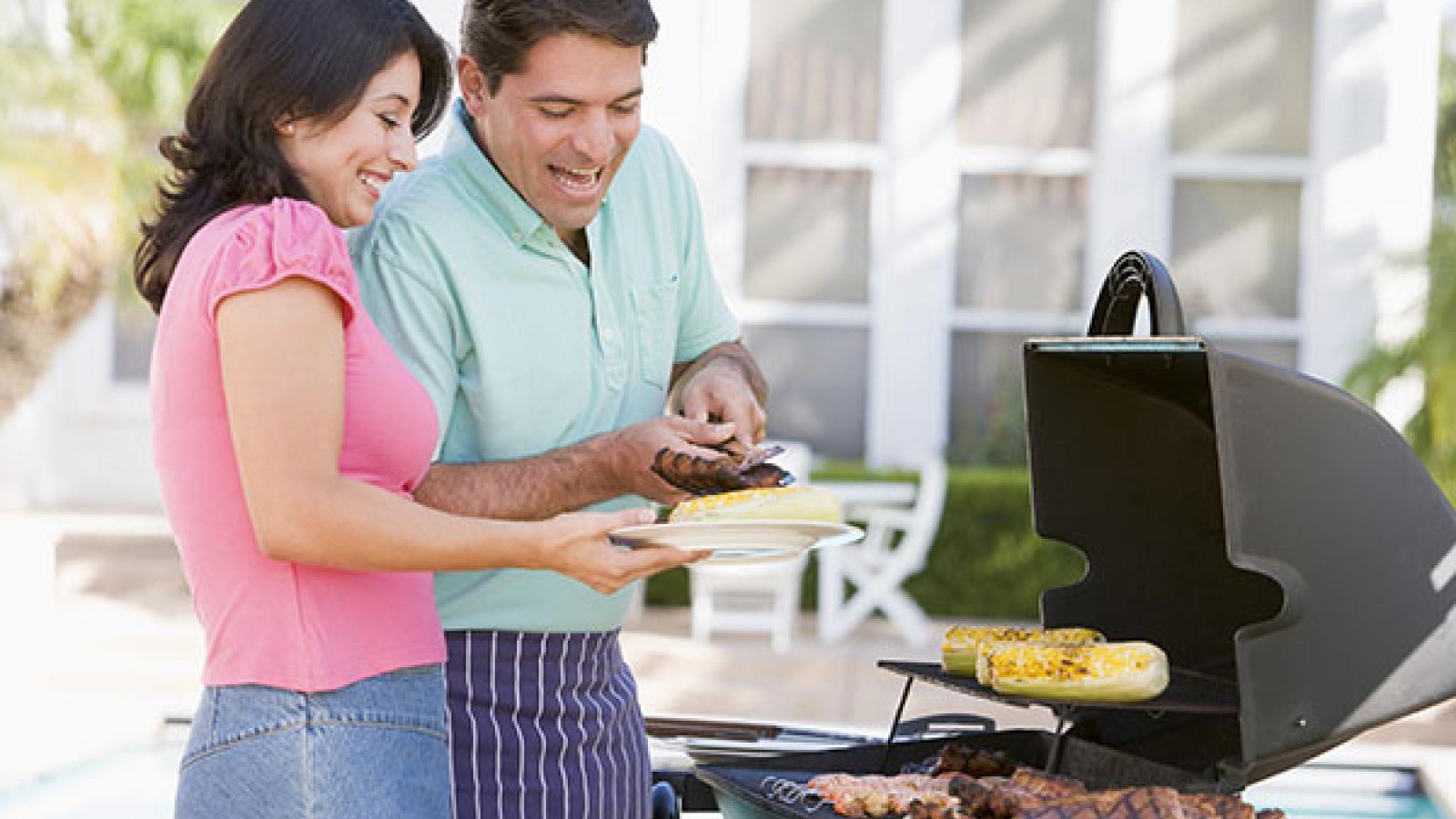 Savor the tastes you love off the grill with these healthier substitutions.
A backyard barbecue can be enjoyed even when you're following a healthy eating plan. Although BBQs may make you think of juicy hamburgers, hot dogs, sausage and ribs, there's no reason you have to prepare high-calorie, high-fat foods just because you're firing up the grill. In fact, it's easy to eat healthy because this cooking method doesn't require a lot of fat or extra sauces to make food taste great.
Here are some tips to make your next BBQ healthier:
Choose low-fat beef, turkey or veggie burgers instead of hamburgers with a high fat content. To add flavor, experiment with seasonings and top with grilled onions, mushrooms or tomatoes. Gotta have cheese? Add a small amount inside the burger instead of smothering cheese on top. You'll still enjoy that cheesy taste without so much fat.
Skinless chicken breasts and pork tenderloin are a good alternative to red meat. Grill until cooked through and lightly brush with your sauce of choice at the end.
Can't imagine a BBQ without sausage? Choose turkey or chicken sausage and you'll still get to enjoy the flavor without the fat. From fiery hot to mildly sweet, you'll find a taste to suit your palate.
Fish like salmon, tuna and swordfish are great grilling options. Or dust shrimp with dry spices, skewer and grill for just a few minutes.
Marinades add flavor and tenderize leaner cuts of meat. Experiment with mustard, vinegar, fresh herbs, garlic, fruit juices, teriyaki or soy sauce and hot pepper flakes in addition to a bit of heart-healthy olive oil.
Vegetables such as corn, eggplant, zucchini, portobello mushrooms and peppers are grill favorites. Coat with a little olive oil, herbs, salt and pepper before tossing on the grill rack.
Don't forget about dessert when firing up the grill! Pineapple rings, peach halves or watermelon wedges taste great when grilled.
If you need help developing a diet to help you lose weight, call the Guthrie Weight Loss Center at 570-887-3920 or click here to get more information or to make an appointment.
We have trained nutritionists who can work with you to create a diet that can help you reach your weight loss goals.
---
Copyright 2017-2021 © Baldwin Publishing, Inc. All rights reserved.  Health eCooking® is a registered trademark of Baldwin Publishing, Inc. Cook eKitchen™ is a designated trademark of Baldwin Publishing, Inc. Any duplication or distribution of the information contained herein without the express approval of Baldwin Publishing, Inc. is strictly prohibited.
Date Last Reviewed: April 14, 2020
Editorial Review: Andrea Cohen, Editorial Director, Baldwin Publishing, Inc. Contact Editor
Medical Review: Nora Minno, RD, CDN
Learn more about Baldwin Publishing Inc. editorial policy, privacy policy, ADA compliance and sponsorship policy.
No information provided by Baldwin Publishing, Inc. in any article is a substitute for medical advice or treatment for any medical condition. Baldwin Publishing, Inc. strongly suggests that you use this information in consultation with your doctor or other health professional. Use or viewing of any Baldwin Publishing, Inc. article signifies your understanding and agreement to the disclaimer and acceptance of these terms of use.