5 Health Perks of Gardening
June 15, 2021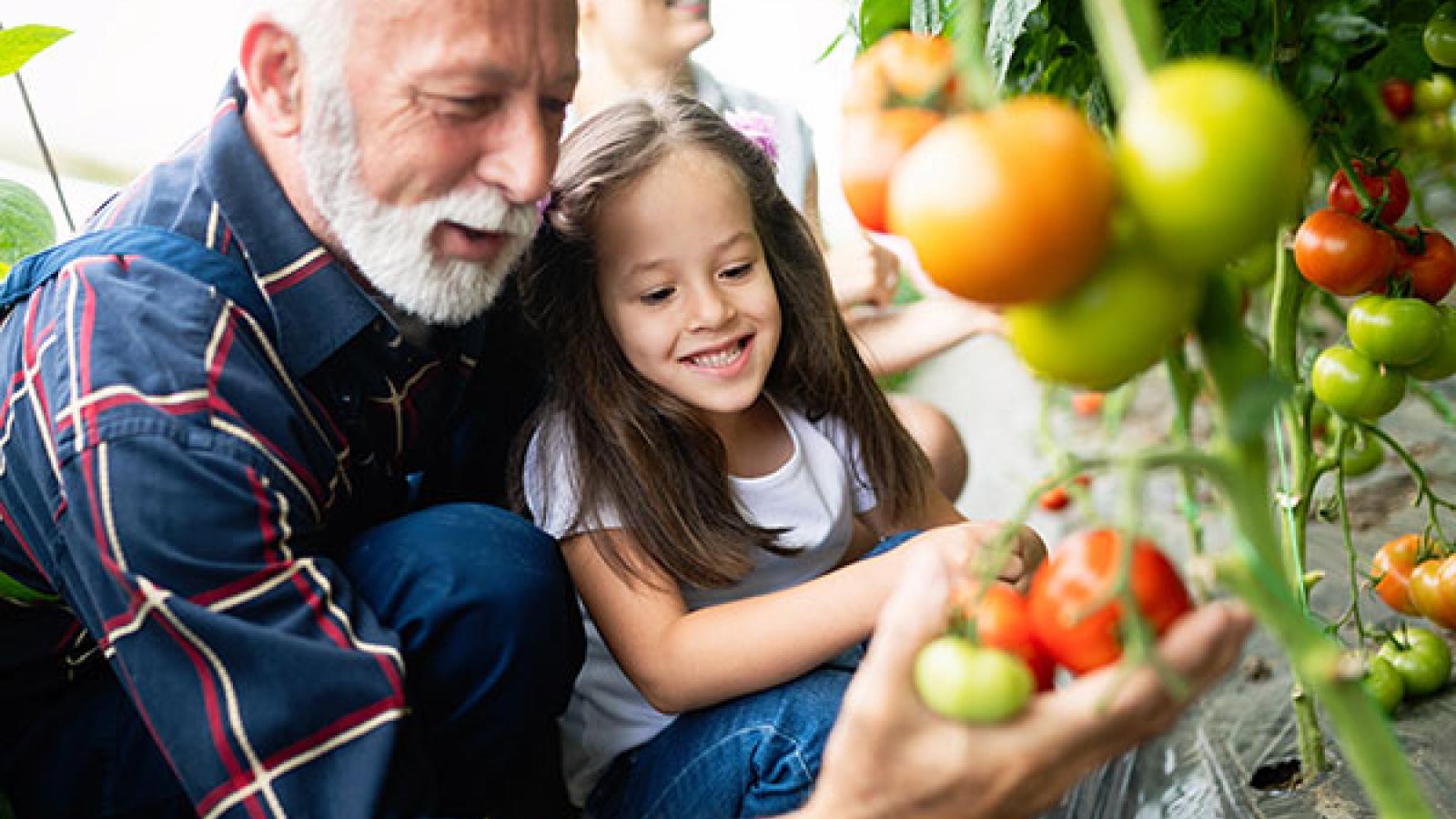 Fresh, healthy food is just one of the many benefits you'll enjoy from a home garden.
Looking for a new activity that's fun and also offers loads of health perks? Consider starting a home garden! Not only can it provide you with an abundance of fresh food if you plant vegetables, fruits or herbs, but gardening does wonders for your mental and physical health, boosting your overall well-being.
Not convinced? Read on to be inspired by these 5 health benefits of gardening:
You'll be inspired to eat healthier. Growing fresh, nutritious food makes it more likely it'll show up on your plate. Only 1 in 10 adults eat the daily recommended amounts of fruits and vegetables per day – 4 cups for women and 5 ½ cups for men. If a full garden seems like too much to manage, start with a few pots of fresh herbs, tomatoes, peppers or lettuce to elevate the flavor and nutrition of your meals.
It counts as physical activity. Gardening tasks like weeding, mulching and pruning count as exercise and can benefit the health of your heart, bones and muscles. Experts recommend a minimum of 150 minutes a week of moderate-intensity exercise for optimal health and fitness. Tending to your garden helps you meet this goal.
You'll get a dose of Vitamin D. Being outside exposes your skin to the sun and prompts your body to make vitamin D, which is vital for bone health and other critical functions. Many people don't get enough vitamin D because it's only available in a few food sources, such as fish, egg yolks and fortified dairy foods. Spending even a short time in the sun can meet the body's needs for this vitamin, but don't forget the sunscreen if you're outside for more than a few minutes.
It's a great family activity. Taking care of a garden encourages communication and bonding among family members, while teaching kids valuable life skills such as responsibility. You also can't deny the mood boost that comes from spending time together outdoors. Kids of any age can play a part – from seed selection and planting to watering and weeding. As an added bonus, kids are more likely to eat the foods they've watched grow in their garden, which means it'll be easier to get them to eat their veggies.
You'll relieve stress. Gardening, or any hobby for that matter, provides a healthy outlet for relieving stress. Spending time outside tending to a garden is an enjoyable activity that can help you relax, unwind and recharge your batteries. One study of people who performed a stressful task and then either gardened or read a book for 30 minutes showed that gardening more significantly relieved stress and restored a positive mood than reading.
The benefits of gardening extend beyond the five listed here and can fill your plate with delicious food. So if you're looking for something new to try this spring or summer, grab your garden tools and dig in!
If you need help developing a diet to help you lose weight, call the Guthrie Weight Loss Center at 570-887-3920 or click here to get more information or to make an appointment.
We have trained nutritionists who can work with you to create a diet that can help you reach your weight loss goals.
---
Copyright 2021 © Baldwin Publishing, Inc. All rights reserved.  Health eCooking® is a registered trademark of Baldwin Publishing, Inc. Cook eKitchen™ is a designated trademark of Baldwin Publishing, Inc. Any duplication or distribution of the information contained herein without the express approval of Baldwin Publishing, Inc. is strictly prohibited.
Date Last Reviewed: April 14, 2021
Editorial Review: Andrea Cohen, Editorial Director, Baldwin Publishing, Inc. Contact Editor
Medical Review: Perry Pitkow, MD
Learn more about Baldwin Publishing Inc. editorial policy, privacy policy, ADA compliance and sponsorship policy.
No information provided by Baldwin Publishing, Inc. in any article is a substitute for medical advice or treatment for any medical condition. Baldwin Publishing, Inc. strongly suggests that you use this information in consultation with your doctor or other health professional. Use or viewing of any Baldwin Publishing, Inc. article signifies your understanding and agreement to the disclaimer and acceptance of these terms of use.