Rehab Services Can Help Older Adults
March 7, 2023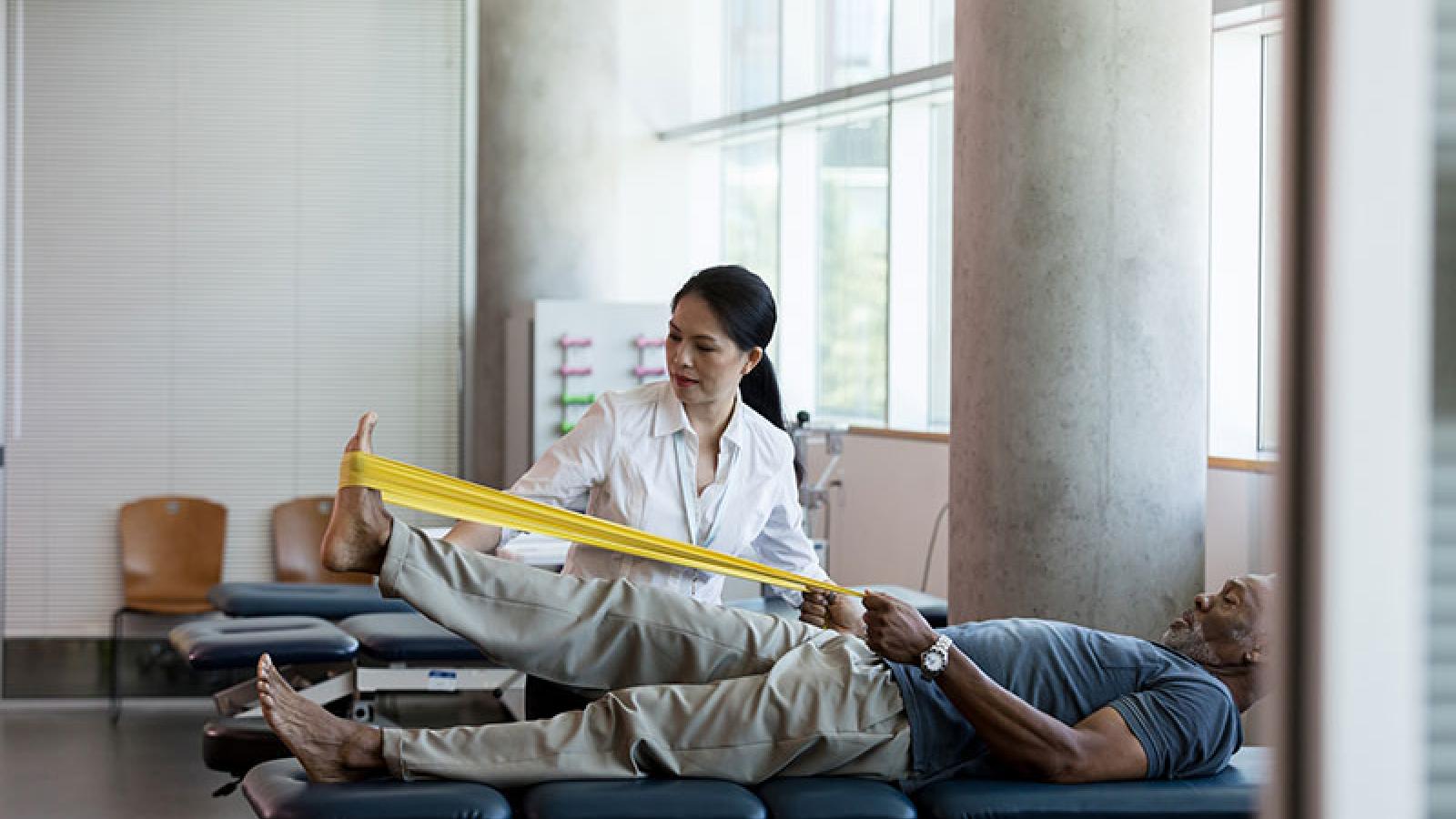 Physical therapy and occupational therapy helps older adults who are recovering from a stroke, brain injury or other condition that has caused loss of mobility.
Imagine trying to eat breakfast with one hand tied behind your back. You struggle to hold the cereal spoon with your left hand. It slips, crashing into the bowl. Milk and cornflakes splash onto your face. You sigh, reach for a napkin, pick up the spoon, and try again.
For an older adult, that's what it might feel like when recovering from a stroke, brain injury or other condition that causes loss of movements that we typically take for granted. Even a short hospitalization may result in losing some mobility.
Many hospitals offer a wide range of rehabilitation services for geriatric patients.
When an elderly person is hospitalized, the combination of illness, new medications and several days of bed rest can cause them to become weak and frail. Physical and occupational therapists will work with patients to restore physical function as close to normal as possible.
For example, a stroke patient who has lost the use of one side will need physical therapy.
The physical therapist will teach them how to regain their balance, strengthening one side. The physical therapist will also teach them how to walk again, progressing from parallel bars, to a walker, to using stairs by leading with the dominant side.
In addition, those who have had a brain injury, joint replacement, bone fracture, neurosurgery or neuromuscular condition like Multiple Sclerosis or Parkinson's disease also benefit from rehab.
Rehabilitation treatments beneficial to older patients include:
Occupational therapy to restore self-reliance and maintain independence for daily living
Physical therapy to improve mobility and range of motion, increase strength, balance and coordination, and reduce pain
Speech and language therapy to enhance the ability to understand and communicate, treating speech, swallowing, abstract thinking, reasoning, and memory
Psychological support to provide coping strategies and evaluation of the patient's emotional support at home, while a nutritionist offers an eating plan for optimum health
Outpatient rehabilitation services can assist with a smooth transition to home life. Ask your provider for a referral to Guthrie Rehabilitation Services today.
---
Copyright 2016-2023 © Baldwin Publishing, Inc.  Health eCooks™ is a designated trademark of Baldwin Publishing, Inc. Cook eKitchen™ is a designated trademark of Baldwin Publishing, Inc. Any duplication or distribution of the information contained herein without the express approval of Baldwin Publishing, Inc. is strictly prohibited.
Editorial Review: Andrea Cohen, Editorial Director, Baldwin Publishing, Inc. Contact Editor
Learn more about Baldwin Publishing Inc. editorial policy, privacy policy, ADA compliance and sponsorship policy.
No information provided by Baldwin Publishing, Inc. in any article is a substitute for medical advice or treatment for any medical condition. Baldwin Publishing, Inc. strongly suggests that you use this information in consultation with your doctor or other health professional. Use or viewing of any Baldwin Publishing, Inc. article signifies your understanding and agreement to the disclaimer and acceptance of these terms of use.