The Differences Between Physical and Occupational Therapy
August 29, 2022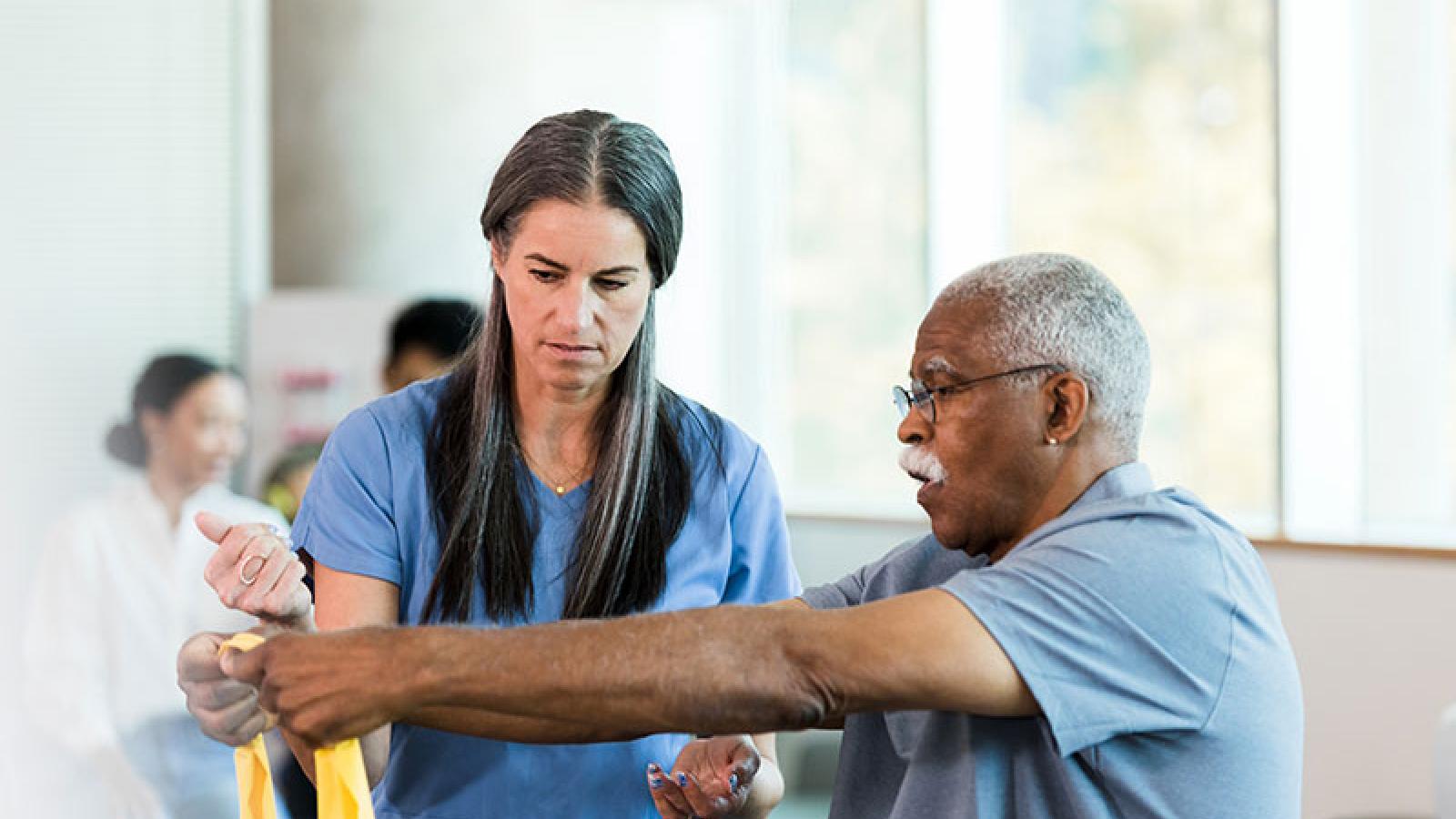 Here's how to know when you need one type of therapy or the other.
Physical therapy (PT) and occupational therapy (OT) are both intended to help patients rehabilitate from an illness, injury or surgery. Many people use the terms interchangeably because both therapies are often prescribed at the same time. But do you know what the differences are between these two types of therapy?
Although PT and OT share many similarities, the biggest difference between them is that PT focuses on a person's ability to move their body better, while OT helps people better perform activities of daily living. Here's a rundown of what you can expect from physical and occupational therapy.
Physical Therapy
The main focus of physical therapy is treating a specific physical impairment. Physical therapists focus on restoring a person's physical abilities, such as moving better, reducing pain and improving gross motor skills. PT not only helps rehabilitate a person after injury but improves mobility so a person is less likely to need surgery or pain management. It also helps prevent future injury.
Physical therapy may include various exercises and stretches performed under the guidance of a physical therapist. It may also include therapeutic modalities designed to help reduce swelling, improve blood flow, increase flexibility or manage pain. These may include massage, electrical stimulation, heat, ice and more. In addition to the exercises performed at a PT session, you will also be given exercises to do at home.
Occupational Therapy
The main focus of occupational therapy is to improve a person's ability to perform activities of daily living, from brushing teeth to putting on socks. Occupational therapists help people regain independence after an injury or illness by teaching them how to relearn skills or adapt activities to their physical limitations. They also help people with developmental or cognitive disabilities better engage in daily life.
Occupational therapy takes into consideration the physical, emotional and environmental factors that affect a person's performance and abilities. Therapists may help a person adapt their physical abilities and motor skills to perform a specific task or may change how an activity is done. OT's may also help improve skills through the use of positive coping strategies.
---
Copyright 2022 © Baldwin Publishing, Inc. All rights reserved.  Health eCooking® is a registered trademark of Baldwin Publishing, Inc. Cook eKitchen™ is a designated trademark of Baldwin Publishing, Inc. Any duplication or distribution of the information contained herein without the express approval of Baldwin Publishing, Inc. is strictly prohibited.
Date Last Reviewed: February 10, 2022
Editorial Review: Andrea Cohen, Editorial Director, Baldwin Publishing, Inc. Contact Editor
Medical Review: Andrew Overman, DPT, MS, COMT, CSCS
Learn more about Baldwin Publishing Inc. editorial policy, privacy policy, ADA compliance and sponsorship policy.
No information provided by Baldwin Publishing, Inc. in any article is a substitute for medical advice or treatment for any medical condition. Baldwin Publishing, Inc. strongly suggests that you use this information in consultation with your doctor or other health professional. Use or viewing of any Baldwin Publishing, Inc. article signifies your understanding and agreement to the disclaimer and acceptance of these terms of use.