5 Flavorful Ways to Use Less Salt
May 4, 2023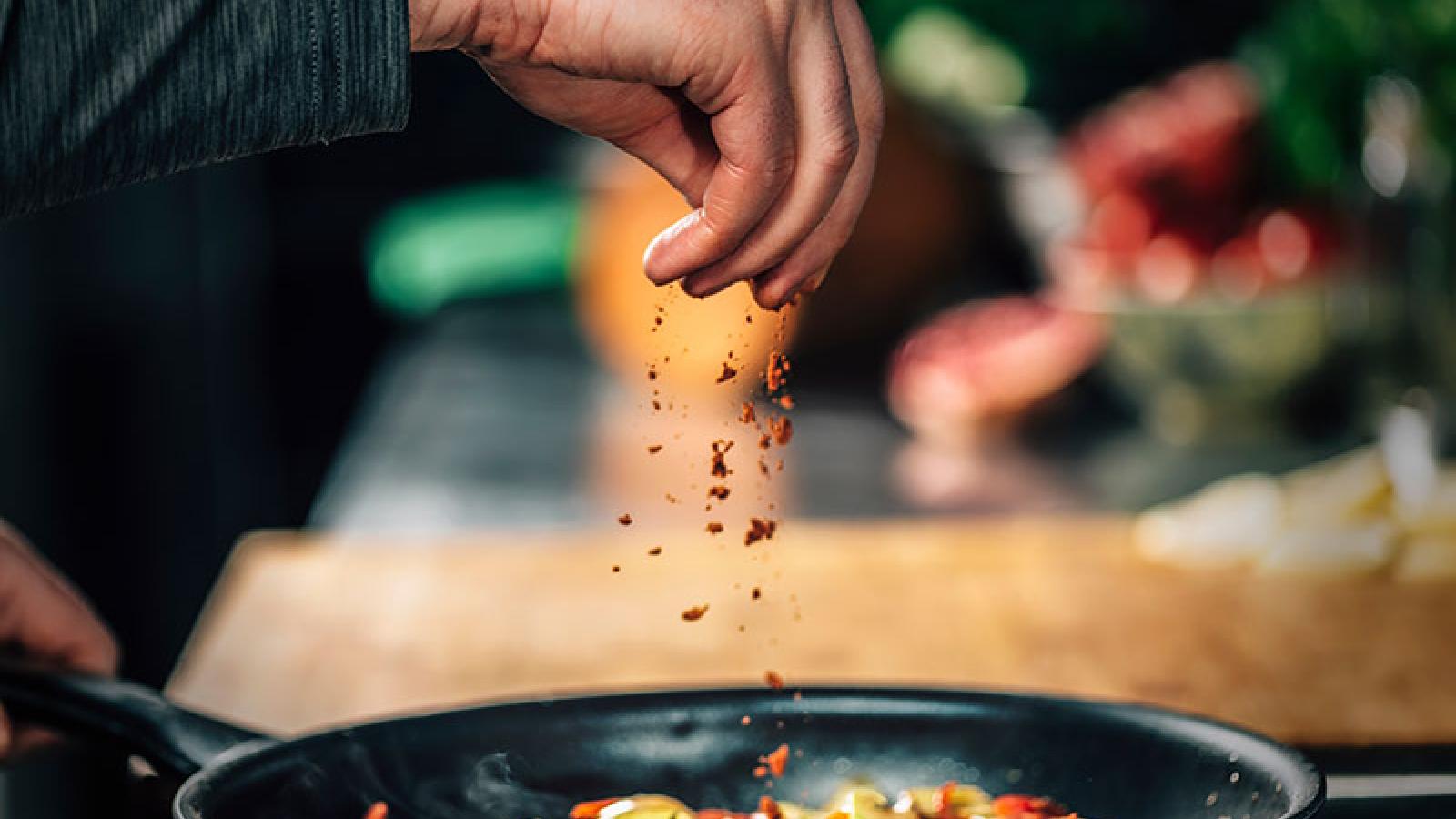 These tips make it easier to enjoy tasty food while keeping sodium to a minimum.
When it comes to salt, most Americans simply consume too much of it. Salt is made up of sodium and chloride, and too much sodium may contribute to the development of high blood pressure. It can also increase the risk of stroke, heart attack, kidney disease and even osteoporosis. But since salt adds flavor to food, some people are reluctant to ditch the salt shaker.
But what if you could use less salt while still keeping food tasting great? You can!
Here are 5 ways to lower your sodium intake while still enjoying flavorful food:
Cook food from scratch. Approximately 75% of the sodium in most people's diets comes from processed or prepared foods, as well as eating out at restaurants. Foods like soups, rice mixes, premade salads, bottled salad dressings and frozen convenience foods can be filled with sodium. Although these foods help you get a meal on the table more quickly, you'll lower your sodium intake (and probably eat healthier overall) if you make as much as possible from scratch, using fresh whole foods flavored with herbs and spices instead of salt.
Look out for hidden sodium. You may think you're keeping your sodium intake low by not using a salt shaker at the table, but a lot of the sodium Americans consume comes from foods you wouldn't even expect to find salt in (they don't necessarily taste salty). For example, there can be a lot of sodium in poultry, which is often injected with a solution of salt and water or broth to increase weight and juiciness. Cereals, crackers, cookies, breads and other packaged foods may also have more sodium than you realize.
Embrace herbs and spices. There are so many flavors available to use when cooking that make it unnecessary to use salt. From cumin, turmeric and paprika to basil, thyme and pepper, one tasty way to lower the sodium in your diet is to cook your own food and flavor it with fresh or dried herbs and spices. Your taste buds will get to enjoy interesting and enticing flavors and won't be looking for the missing salt.
Add flavor to food in other ways. In addition to herbs and spices, there are lots of ways to up the flavor factor of your food. Use a splash of lemon, lime or other citrus fruits. Experiment with different flavored vinegars. Add fresh hot peppers, onion or garlic to dishes.
Check canned goods. Many canned foods contain a lot of sodium, so check labels carefully. Look for canned goods that say "no salt added" or "reduced sodium." Some brands use more sodium than others, so choose lower sodium options when possible. You can also rinse some canned goods, such as beans, which can cut the sodium content nearly in half.
---
Copyright 2022-2023 © Baldwin Publishing, Inc.  Health eCooks™ is a designated trademark of Baldwin Publishing, Inc. Cook eKitchen™ is a designated trademark of Baldwin Publishing, Inc. Any duplication or distribution of the information contained herein without the express approval of Baldwin Publishing, Inc. is strictly prohibited.
Date Last Reviewed: August 15, 2022
Editorial Review: Andrea Cohen, Editorial Director, Baldwin Publishing, Inc. Contact Editor
Medical Review: Jane Schwartz, RDN, CLT
Learn more about Baldwin Publishing Inc. editorial policy, privacy policy, ADA compliance and sponsorship policy.
No information provided by Baldwin Publishing, Inc. in any article is a substitute for medical advice or treatment for any medical condition. Baldwin Publishing, Inc. strongly suggests that you use this information in consultation with your doctor or other health professional. Use or viewing of any Baldwin Publishing, Inc. article signifies your understanding and agreement to the disclaimer and acceptance of these terms of use.