Resident Life
My Day in the Life as an Anesthesiology Resident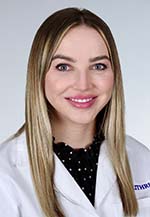 My typical day as an anesthesia resident begins at 4:45-5:15 am when I wake up. I live about 25 minutes from the hospital, so I get ready in the morning and typically plan to arrive at the hospital around 5:45-6:30 am depending on my case complexity for the day.
When arriving at the hospital, I park in the resident lot and change into OR scrubs in the locker room. I typically get a Vocera battery and log into my Vocera (communication system used by the anesthesia department/nursing staff). I check the OR board for any changes to my case assignments, and head into the anesthesia workroom for my med labels and to get any equipment I may need for my first case.
Once in the OR, I perform my machine check, draw up medications for my case, and prepare my airway equipment/any other supplies I may need for the first case. I then head over to the prep area to see my first patient. Typically, I will arrive in the prep area around 7 am, or earlier if I need to perform a procedure such as line/block/neuraxial.
In the prep area, I see my patient, perform a medical/anesthetic history and explain the anesthetic plan. I place monitors on my patient and consent them for any procedures. I often place an IV if it has not been placed. When the attending arrives, I confirm any changes to the plan (discussed the night before) and then perform any procedures. When the room is ready, I perform a "time out" and verify the patient and procedure with the prep nurse/OR nurse and bring the patient to the operating room by 7:30-8 AM based on case start time.
In the OR, after placing monitors on the patient, I induce the patient with my attending. After the airway is secured, I perform any procedures or additional lines before the patient is positioned, while maintaining hemodynamics. I then finish my documentation for the case while managing the patient. Sometimes, after induction an attending will mention a topic that they would like to teach for the day. Usually during the first case, the attending will often let me out of the operating room for a quick breakfast/coffee break. Once the operation draws to a close, emergence begins, and I will extubate the patient.
In the recovery area, I bring my patient to their assigned nurse. I then hand-off the patient and finish the anesthesia record. I finish preparing my supplies for the next case, and then go back to the prep area for the next patient. By this time, the attending usually will have seen the patient and explained the anesthetic plan, and I will introduce myself and bring the patient to the OR. In the middle of the day, I am relieved for a half-hour lunch break.
On Wednesdays, I am typically relieved at 12:40 pm so that I can attend afternoon didactics. Otherwise, on days in which I finish my cases early, I check with the board runner that day to see where I am needed. I am usually relieved for the day around 5pm. I then check my schedule for the next day, review the cases and prepare the pre-operative note for each patient for the next day. I usually call the attending to discuss the anesthetic plans and decide on a topic to read on for the following day. I drive home, and the rest of the night is free aside from some pre op reading and board study.
 
---
Resident Wellness
At Guthrie Robert Packer Hospital Anesthesiology, we are fully aware of the many stressors of residency training. We pay close attention to wellness and resilience in our residents. We aim to promote a healthy work-life balance. Our resident-centered Wellness Program includes the following components:
Resident Meetings
All residents meet quarterly with our program ombudsman (Dr. Victor Kolade, Internal Medicine) for a business meeting, a forum to discuss issues and concerns to a faculty member not directly associated with our program. This meeting allows issues to be addressed in a timely matter and provides a venue for the residents to stay involved and active.
Mentor Program
Our program strongly believes in the value of mentorship. Each resident is assigned a faculty mentor to guide them throughout their residency training.  Residents meet with their mentors regularly to discuss their strengths, challenges, short term goals, long term planning and overall wellness.    
Employee Assistance Program
Guthrie provides a comprehensive Employee Assistance Program (EAP) for all residents. The EAP benefit is provided at no cost to the employee, and all components of the benefit are completely confidential.

We know that when you do make the decision to call, it can be stressful and you want to be able to speak to someone, regardless the time of day. Guthrie has partnered with CuraLinc, LLC.,  an industry leading employee assistance provider, to provide SupportLinc. This enhanced partnership allows for you to have to access the following services:
 

SHORT-TERM COUNSELING: Up to six (6) in-person counseling sessions with a licensed clinician on site.
FREE LEGAL SERVICES: Free telephonic or (30 minute) face-to-face consultation with local attorney.
FREE FINANCIAL SERVICES: Free expert financial planning and consultation through a network of licensed financial counselors.
EXPERT REFERRALS: Free referrals to resources that help address a wide range of issues such as child or elder care, adoption, pet care, home repair, education, travel and housing needs.
WEB PORTAL: Access to thousands of articles, tip sheets and videos covering a wide array of health, wellbeing, and work-life balance topics.  It also contains child and elder search engines, reference libraries, legal and financial resources, self-improvement programs and educational modules.
eConnect® MOBILE APP: Schedule video, live chat or telephonic counseling.
TEXTCOACH: Exchange text messages, voicenotes and resources with a licensed counselor through the Textcoach™ mobile and desktop app.
ANIMO: A personalized digital resource that strengthens mental health and overall wellbeing through a dynamic series of self-directed modules.
VIRTUAL SUPPORT CONNECT: Provides live moderated group support on a wide variety of topics via the desktop or mobile platform.
Social Events and Gatherings
In addition to orientation, an annual welcome party is held for the new incoming residents. This setting offers an opportunity for residents, and faculty to connect on a more personal level.
Many resident social events occur during the year.  Our Wednesday Didactic program is built to include four afternoons a year where formal didactics are replaced with a wellness event.  We also have various other events throughout the year organized by GME.  
A quarterly Journal Club allows residents and faculty to meet outside of the hospital at a local venue to socialize while discussing assigned articles.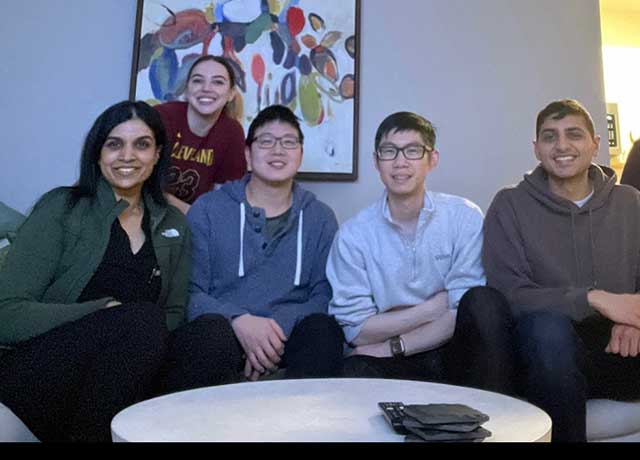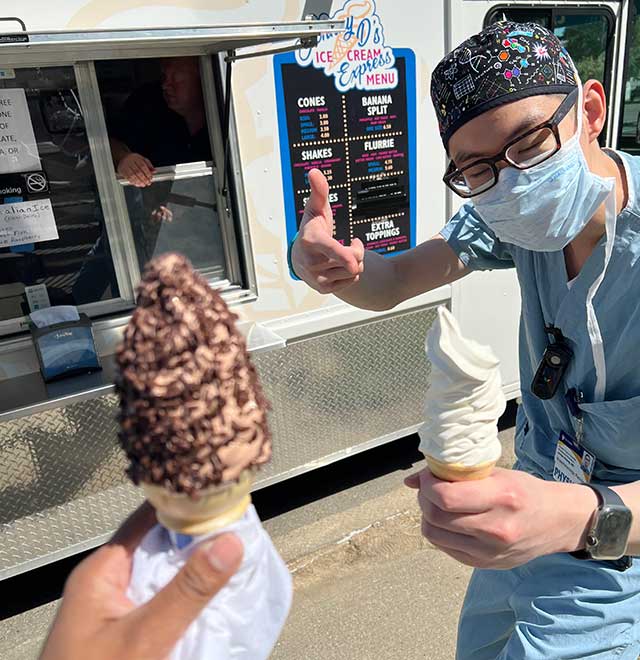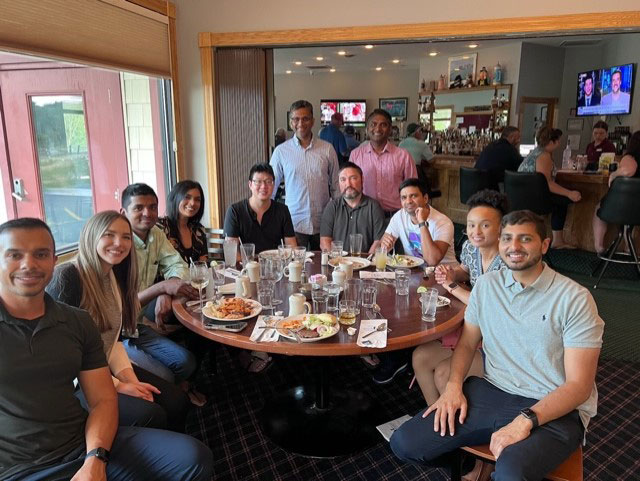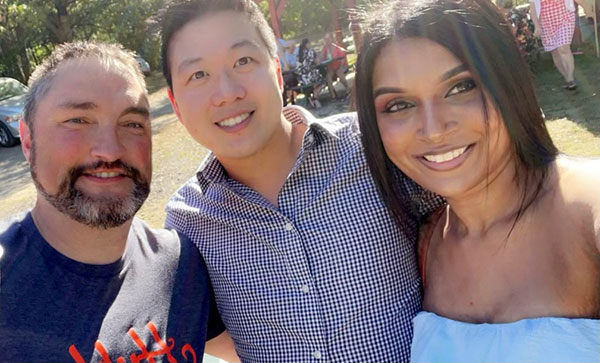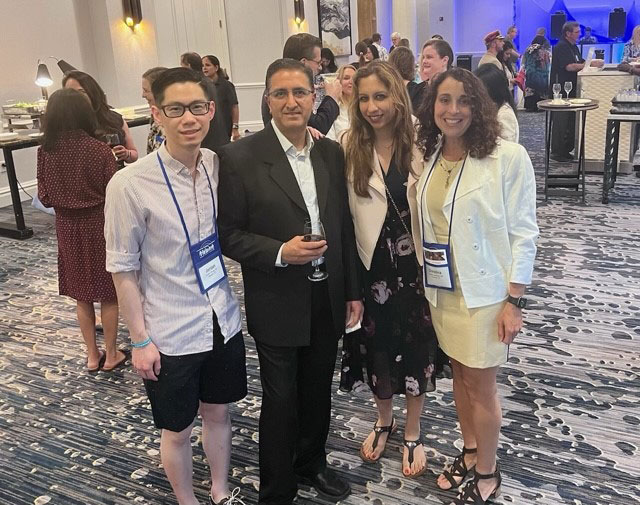 Program Leadership Open-Door Policy
In our program, an open-door policy is  in place. Residents are encouraged to contact the Program Director. Associate Program Director, or Program Coordinator whenever they feel the need.