Curriculum for Medical Laboratory Sciences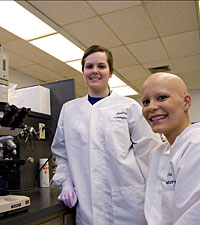 The Program combines a high caliber education with a state-of-the-art learning environment to provide a 50-week internship consisting of two terms. Term I is an academic term which includes lectures and laboratory assignments in each of the laboratory disciplines listed below. Lectures are conducted Monday through Friday. The lecture schedule is closely correlated to the laboratory sessions each day. Each of the courses below is presented singly and does not overlap with another. Term I is supplemented weekly with clinical exposure in the Pathology laboratory.
Term II of the Program is the clinical rotation of the internship. Students are exposed to the various departments in the clinical laboratory through a structured rotation. Students are evaluated weekly for performance objectives. During Term II, the Independent Seminar is presented along with the Practicum in Management and Education.
To complement student learning, numerous video series, self-directed instruction programs and computer assisted software are available to the student. Students are encouraged to attend Medical Grand Rounds throughout the internship. There are no weekend or holiday requirements.
Upon successful completion of the internship, the student receives a baccalaureate degree from their affiliated university.
 
 

Course No.

 

Course Description

 

Classroom
Hours

 

Supervised
Lab Hours

Clinical
Rotation
Hours

 

Credits

MT - 0

Blood Collection/Phlebotomy

0

0

40

0

MT - 1

Urinalysis and Body Fluids

32/ 3 weeks

30/3 weeks

60

3

MT - 2

Hematology - Coagulation and Flow Cytometry

60/6 weeks

60/6 weeks

100

5

MT - 3

Clinical Chemistry

60/ 6 weeks

60/ 6 weeks

120

6

MT - 4

Serology/Immunology, Blood Gases

30/ 3 weeks

25/ 3 weeks

20

3

MT - 5

Parasitology

20/ 2 weeks

10/ 2weeks

0

1.5

MT - 6

Immunohematology/Blood Banking

40/4 weeks

40/5 weeks

122

3

MT - 7

Bacteriology/Virology

60/5 weeks

50/5 weeks

122

7

MT - 8

Mycology

20/ 2 weeks

5/2 weeks

0

1.5

MT - 9

Management/Education Practicum

3 weeks

0

24

1

MT - 10

Seminar

3 weeks

   0

   0

 1

MT - 11

Histology Rotation

      0     

  0 

  16

  0 

 

                     TOTAL HOURS

332

352

720

32 credits