Gastroenterology Fellowship Leadership
Program Director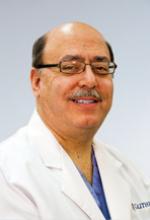 Michael J. Georgetson, MD FACG is the Program Director for the Gastroenterology Fellowship at Guthrie/Robert Packer. Dr. Georgetson attended Jefferson Medical School in Philadelphia and then 1985 came to Guthrie for his Residency, which continued to his GI fellowship until 1990 when Dr. Georgetson became an attending. In 2018 Dr. Georgetson became the PD for the fellowship. Dr. Georgetson has numerous years of teaching experience dating back to 1994. Outside of his teaching at Guthrie, Dr. Georgetson has shared his talents at SUNY Upstate Medical University Binghamton and Department of Clinical Sciences (Education) Geisinger Commonwealth School of Medicine Scranton, PA. Dr. Georgetson has pages of research and publications that he has written or contributed too. Dr. Georgetson's interest are in the areas of GI Bleeding, GERD/Barrett's Esophagus, GI Malignancy and Biliary/Hepatic Disease. The most important job Dr. Georgetson has is being a husband and dad and doing his favorite activities with them such as Flying, Photography, Fly Fishing, Downhill Skiing, and Amateur Radio.
Assistant Program Director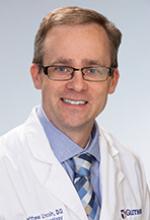 Matthew Lincoln, DO is the Assistant Program Director for the Gastroenterology fellowship program. Dr. Lincoln graduated from the University of New College of Osteopathic Medicine. He entered the military and did his residency at San Antonio Military Medical Center. He continued there for his fellowship and was a Major when he was discharged. Dr. Lincoln is very involved with research projects and has had many publications. Dr. Lincoln's areas of interest are colonoscopy, therapeutic endoscopy, IBD, GERD and gastrointestinal bleeding. Dr. Lincoln has a wife who is also a doctor and specializes in wound care and hyperbaric medicine. They have 2 very active children and enjoy spending time at their lake house.
Program Coordinator
Tracie Ammerman is the Program Coordinator for the Gastroenterology and Pulmonary Critical Care Fellowships. Her career started in 1984 right out of high school. For the next 30 years, Tracie dedicated her live to working with people with developmental and intellectual disabilities. From front line work to an administrative role, Tracie oversaw the day-to-day functions of multi group homes, developed individualized plans to provide the individuals and staff support and taught trainings, such as First Aid/CPR, Crisis Intervention and Prevention, SAFE Talk and numerous more. Tracie drove policy change and awareness for people with disabilities at all levels from local neighborhoods to government agencies. In 2014 Tracie took her advocacy skills for the disabled and added in the senior population. Tracie's main priority for the next 7 years was to develop plans with individuals and their families to provide supports and services in their homes, so they would not have to go to a residential or nursing home setting. This job also entailed working with families and nursing homes to get people discharged back to the community with the supports need to be successful. In 2019, Tracie decided to expand her experience of advocacy, leadership, and coordination to a different field, which is Graduate Medical Education and started her journey with Gastroenterology and Pulmonary/Critical Care Fellowships. In Tracie's spare time she loves being with her family, doing crafts, baking/cooking, and enjoying the outdoors.
Fellowship Chiefs
Shri Jai Kirshan Ravi, MD is originally from Ghotki, Pakistan. He went to school at Islamia Public High School and then off to Jinnah Sindh Medical University for medical school. Dr. Ravi completed his residency at Interfaith Medical Center. He has worked as a hospitalist for Guthrie prior to applying to the GU fellowship. Dr. Ravi is married, has a little boy and a baby in the way. In his free time, he enjoys playing games with friends, reading, and shopping. He favorite thing is spending time with his family both here in the US and Pakistan.
Leonard Walsh, MD's hometown is Scranton, PA where he attended the University of Scranton. From there he ventured to medical school at Geisinger Commonwealth School of Medicine and then completed his residency at Penn State Health Milton S. Hershey Medical Center before coming to Guthrie for his fellowship. Dr. Walsh has completed many scholarly activities including research, publication, and poster presentations. Dr. Walsh has a beautiful wife and daughter that he adores and spends most of his free time with. If he is not with them, you may find him driving and working on automobiles, doing construction and restoration projects, practicing Shaolin Hung-Gar or doing Long fist Kung Fu.