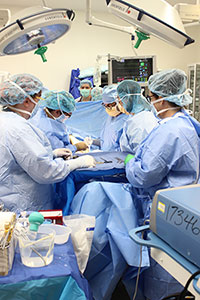 Guthrie offers its surgical residents a unique combination of hands-on operating room access starting at the PGY-I year.  Our rural northeast Pennsylvania location provides a diverse and complex volume of cases combined with state of the art technology, including robotic surgery. Residents also receive heavy exposure to surgical oncology procedures, including gynecologic oncology procedures.
Clinical Focus
The clinical exposure offered in Guthrie's General Surgery Residency Program offers a greater depth and breadth than most general surgery training programs. General Surgery residents at Guthrie have the added benefit of gaining exposure to a wide array of subspecialty cases in Basic and Advanced GI Endoscopy, Head and Neck Oncology and Thoracic Surgery.  Residents receive direct attention and personalized instruction from the attending staff, participating in all aspects of care, including operative and postoperative care.
Research
The objectives of research at Guthrie include:
building on our clinical strengths, and our fully integrated health system
tackling research questions that arise directly from our clinical practice
addressing the health care needs of the community we serve
translating the results of basic biomedical research into the way medicine is practiced in the community
integrating with our educational and professional development programs.
All residents within the General Surgery Program are expected to participate in scholarly activity. The Donald Guthrie Foundation within The Guthrie Clinic facilitates resident participation in research projects. Annually, the Donald Guthrie Foundation manages over 200 clinical trials which include sponsored trials from drug and device manufacturers, federally funded clinical trials and investigator initiated trials. Residents interested in designing an investigator initiated research project are also eligible to receive up to $5,000 in grant funding from the Donald Guthrie Foundation to support their research.
All faculty at Guthrie have an active interest in clinical research and have published in major journals. Residents are encouraged to participate in clinical research programs and to present their results at local and national meetings. The Guthrie Foundation assists residents in the preparation of manuscripts and presentations. Guthrie residents can also benefit from collaborative research opportunities with the Meinig School of Biomedical Engineering at Cornell University.
Faculty
The faculty of Guthrie's General Surgery Residency program is committed to providing excellent education. All cases admitted to the surgical service area are teaching cases. The faculty are all full-time and on-site and devote a significant portion of their time to undergraduate and graduate medical teaching through rounds, conferences and in the operating room.
Surgical Skills Lab
The American College of Surgeons requires a curriculum based on a system of didactic and psychomotor skills training. Guthrie's Surgical Skills Lab allows residents and surgeons to gain proficiency or master techniques in an environment outside of the operating room. In addition to hands-on training prior to an actual patient encounter, the skills lab offers lectures, laboratory sessions and scheduled training. The lab is open to any Guthrie physician.
Facilities
Guthrie Robert Packer Hospital is a sophisticated, regional, tertiary care center that receives many complex referrals. Its location in northeastern Pennsylvania is ideal for those interested in practicing in a rural setting, yet its status as an advanced care facility gives residents access to an extraordinary range of cases.
Guthrie Corning Hospital contains five state-of-the-art surgical suites and two procedure rooms enhances patient safety and ease of communication among the surgical team.
Guthrie Cortland Medical Center's state-of-the-art surgical suites and procedure rooms are designed to deliver high-quality care and great surgical results.
EPIC
Guthrie is connected by a fully integrated, electronic health record that helps ensure patient safety and contributes to more effective and efficient standard of patient care.