What is Find Care Now through eGuthrie?
The Find Care Now feature through the eGuthrie app shows you which Guthrie walk-in locations are open and the wait times at each. Telemedicine visits are available for some types of sick visits. Additional walk-in care information is available here.
STEP 1: Find Care Now
Click Find Care Now on the main page of the eGuthrie app or under "Schedule an Appointment" in the desktop version.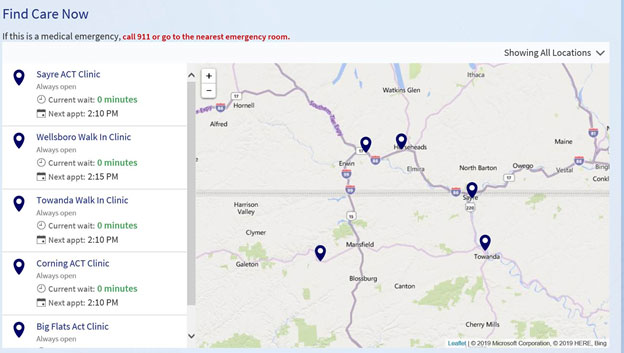 STEP 2: Schedule an Appointment
Once you have decided on a walk-in location, click on it for the option to schedule an appointment or let the team know you're on your way.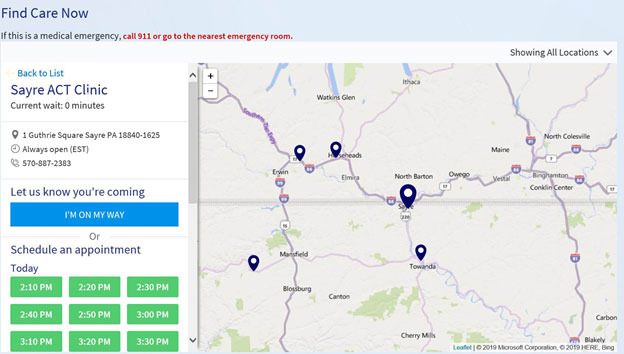 STEP 3: Verify Contact Information
You'll then be asked to verify your contact information, give an approximate arrival time and share the reason for your visit. If you have location services enabled on your phone or desktop, you can also receive directions to the clinic.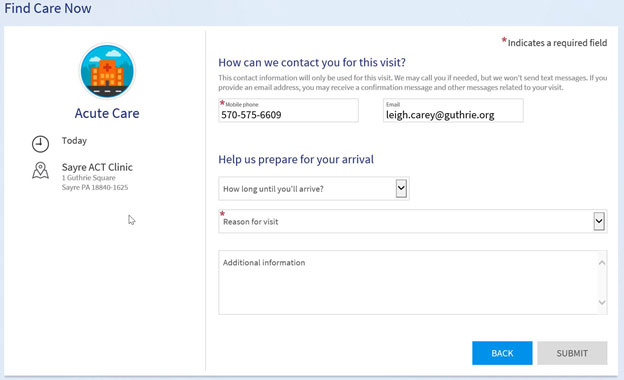 When you arrive, check in with the registration staff and pay your co-pay, if applicable. Then relax and let our team care for you.
Please note: Appointment and wait times are approximate.
Guthrie Walk-in Care Services
Walk-in care helps to treat immediate non-emergency care needs for minor illness and injuries, such as:
Allergies
Coughs/colds
Diarrhea
Earache
Flu symptoms
Heartburn
Minor burns
Strains and sprains
Tick bite
UTI/cystitis
Telemedicine is available for certain types of sick visits.