Fun Facts about Summer Fruits and Veggies
July 5, 2022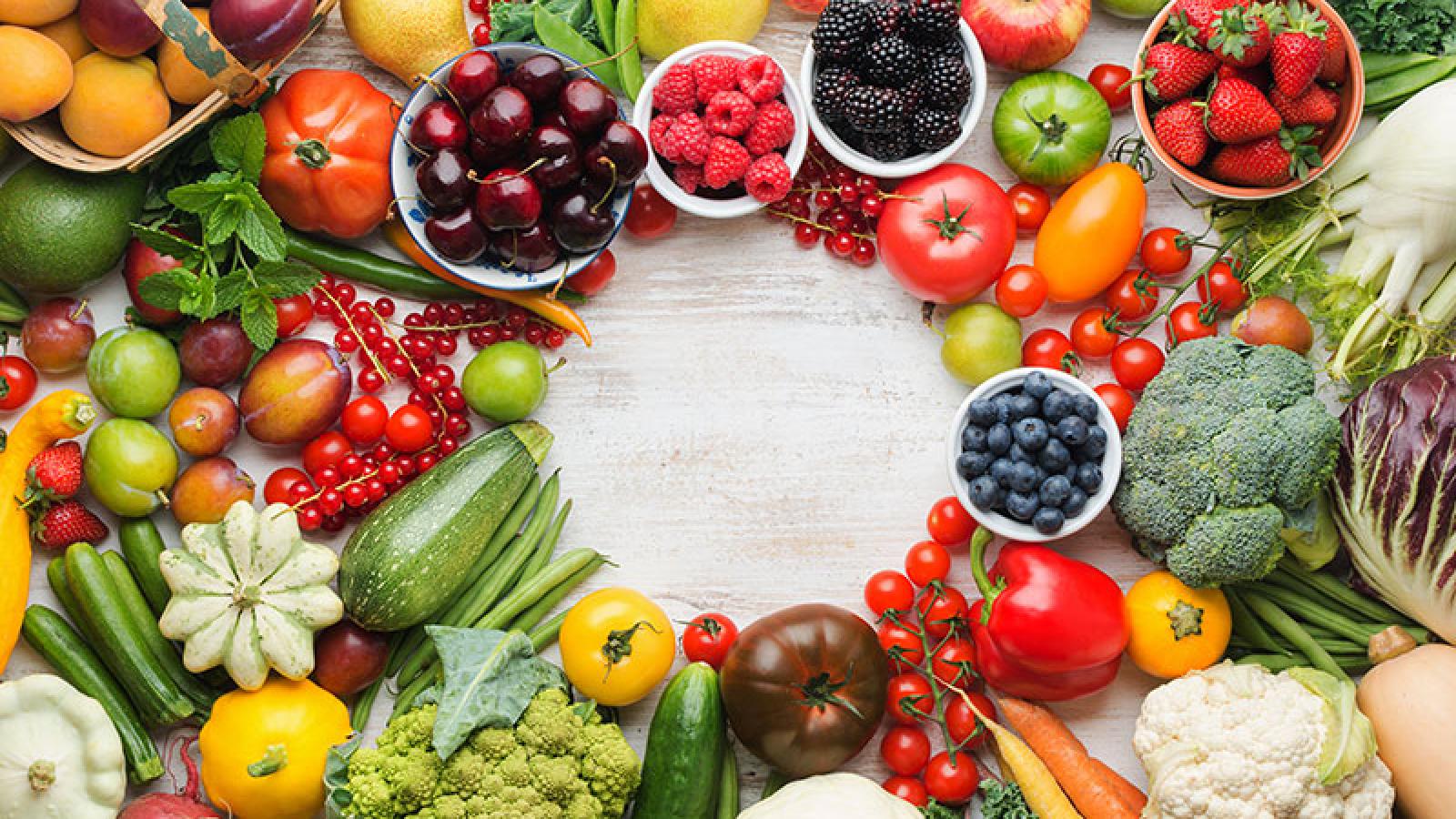 Here's some interesting info about the freshest picks of the season.
Summer is a great time to pick up some fresh fruits and vegetables from the farmer's market or your local store. Not only is seasonal produce full of flavor, but it also provides loads of nutrients that your body needs to stay healthy.
Here are some fun facts you may not know about your favorite summer fruits and veggies:
Blueberries: These small berries are big on promoting brain health and may lower the risk of Type 2 diabetes. They add sweetness and a pop of color to muffins, oatmeal, salads, smoothies and sparkling water. To lengthen their shelf life, refrigerate blueberries after purchase and wash right before eating.
Tomatoes: Nothing says summer like a plump, ripe tomato. This summer favorite, which comes in a rainbow of colors, is rich in lycopene, a compound known to help promote heart health. For the best flavor, store tomatoes at room temperature away from direct sunlight.
Strawberries: A one cup serving of strawberries supplies more vitamin C than an orange. Eating a small bowl of strawberries every day provides a combination of essential nutrients that benefit your entire body, including folate, potassium and fiber. To keep strawberries fresh, store in a covered glass bowl in the fridge.
Cucumbers: Made up of 95% water, cucumbers are hydrating and only 17 calories per cup. Leave the skin on for a boost of fiber and lutein, a powerful plant nutrient that promotes vision health. For ultimate crispness, wash and dry cucumbers, then store in an open bag in the crisper drawer of the fridge.
Summer Squash: Zucchini, or summer squash, is packed with vitamins A and C, plus potassium and fiber. For a delicious summer meal, make a zucchini "boat" by cutting roasted or grilled zucchini in half and scooping out the seeds. Stuff the inside with seasoned vegetables and lean meat.
Green Beans: Low in calories and good for the heart, green beans are full of soluble fiber. This helps lower your LDL (bad) cholesterol levels. Don't be fooled by the name—green beans also come in yellow and purple!
Watermelon: Nothing beats the taste of fresh watermelon on a hot summer day. Made up of mostly water, watermelon is one of the most hydrating fruits. To know when a melon is ripe, look at the yellow spot. If it's a creamy, buttery color, it is ready to eat. Watermelon makes a tasty and healthy summer dessert!
Bell Peppers: Available in many colors, bell peppers are rich in the antioxidant vitamin C. Red, orange and yellow peppers start as green peppers and change color as they ripen. Each color has its own set of unique antioxidants. Peppers are a great addition to many meals, including sandwiches, stir fries and salads.
Peaches: Sweet, juicy peaches contain fiber and vitamins A and C. Peaches and nectarines are considered twins. The only difference between them is that a peach has fuzzy skin and a nectarine's skin is smooth. For a healthy picnic snack, pack some peaches in a cooler bag. They're easy to eat on the go!
Need help developing and sticking to a healthy diet?
Contact the Guthrie Weight Loss Center. Our weight loss experts can help you design a weight loss plan that includes diet and exercise that is right for you and your lifestyle.
We don't offer fad diets. Our weight loss team will help you build healthy, sustainable habits to help you look and feel better for the long run.
If you're considering weight loss surgery, we can talk about options and whether weight-loss surgery is right for you.
To take the first step toward a more healthy life, contact the Guthrie Weight Loss Center. 
 
---
Copyright 2022 © Baldwin Publishing, Inc. All rights reserved.  Health eCooking® is a registered trademark of Baldwin Publishing, Inc. Cook eKitchen™ is a designated trademark of Baldwin Publishing, Inc. Any duplication or distribution of the information contained herein without the express approval of Baldwin Publishing, Inc. is strictly prohibited.
Date Last Reviewed: June 9, 2022
Editorial Review: Andrea Cohen, Editorial Director, Baldwin Publishing, Inc. Contact Editor
Medical Review: Jane Schwartz, RDN, CLT
Learn more about Baldwin Publishing Inc. editorial policy, privacy policy, ADA compliance and sponsorship policy.
No information provided by Baldwin Publishing, Inc. in any article is a substitute for medical advice or treatment for any medical condition. Baldwin Publishing, Inc. strongly suggests that you use this information in consultation with your doctor or other health professional. Use or viewing of any Baldwin Publishing, Inc. article signifies your understanding and agreement to the disclaimer and acceptance of these terms of use.