5 Family-Friendly Fitness Ideas
June 10, 2022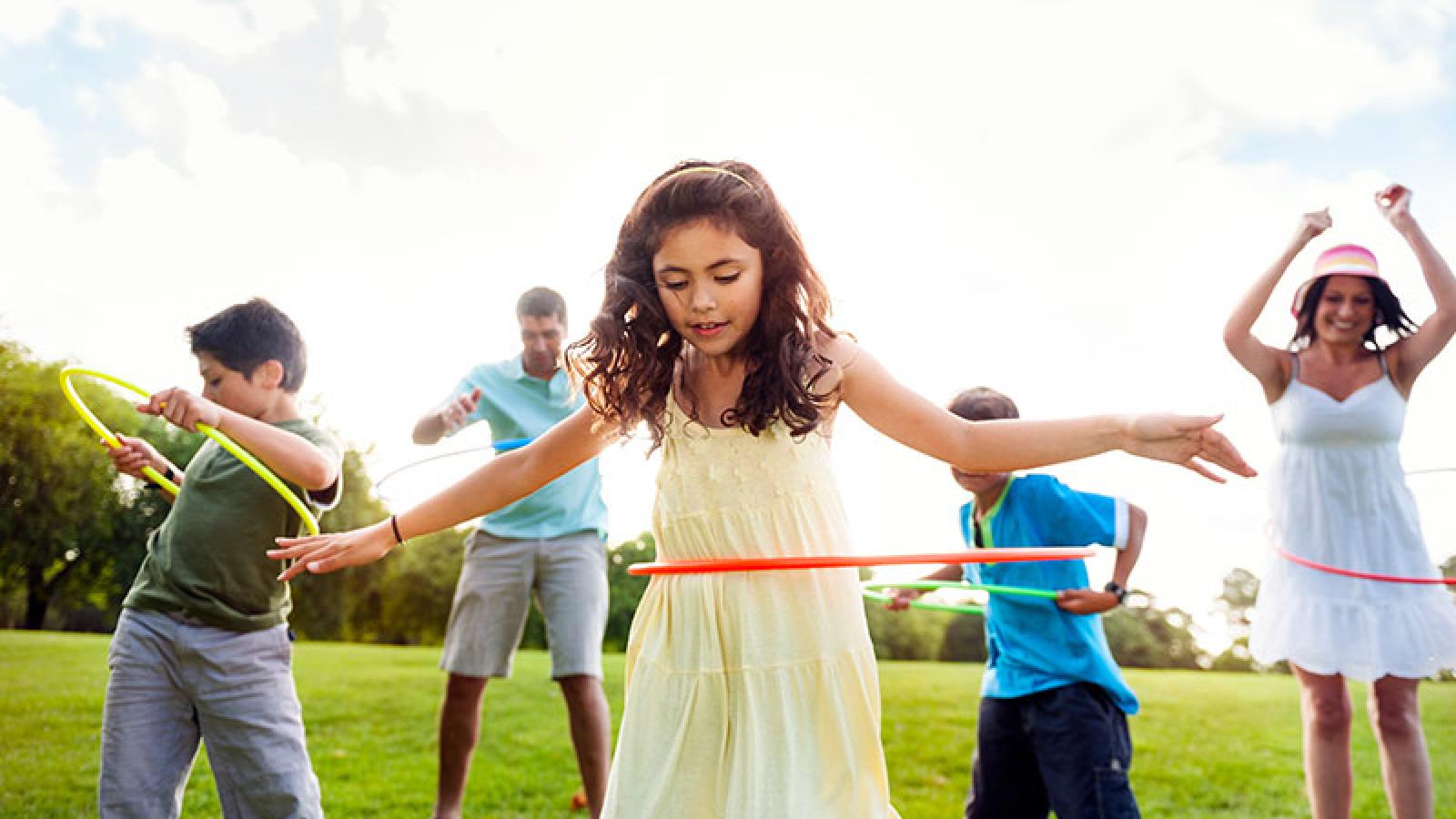 Making fitness a family affair is not only fun, but it benefits everyone young and old.
As a parent, you want your kids to be as healthy as they can be. One way to help them live healthier, now and for the rest of their lives, is to get them to embrace physical activity as something they want to do. Kids may not care about the health benefits of exercise, but if you make them see that moving more can be fun, they'll be more likely to do it.
Finding ways to incorporate exercise into everyday activities you do as a family is a great way to keep kids moving more. Plus, the physical activity is good for you, too! The types of activities you do together will depend in part on the ages of your children, everyone's fitness level and their interests.
If you're looking for some inspiration to add more activity to family time, consider these fun fitness ideas.
Schedule play time each day. Set aside 30 minutes to just play as a family. What you do during this time will depend on the ages of your kids. Shoot hoops in the driveway. Play hopscotch on the sidewalk. Enjoy a game of tag or hide and seek in the backyard. Or challenge the kids to a hula hoop contest.
Explore the neighborhood. Find different places near where you live to explore on foot or by bicycle. Head to the park to go for a hike. Go on a scavenger hunt. Set out to see how many birds, wildlife or flowers you can find. Enjoy a family bike ride.
Create a family-friendly fitness routine. Do your kids love games like head, shoulders, knees and toes or follow the leader? Take your cues from those games and have them follow your lead as you guide them through exercises like jumping jacks, crunches, stretches and more. You'll get all body parts moving while keeping everyone smiling.
Don't forget the dog. If you have a dog (or you can borrow a friendly one from a neighbor for a short time), take the dog for a walk. Or spend some time in the backyard or at the park running around and playing with your furry friend. Throwing a ball or Frisbee also gets everyone having fun while staying active.
Take their lead. If you have older kids, they may be less likely to want to join a fitness activity you suggest. That's why you may have more success if you let them take the reins. Have each kid plan an activity once a week that gets everyone off the couch and moving. Whether it's a trip to the park, an afternoon at the town pool or a competitive game of tennis, you'll spend quality time together while everyone benefits from some fresh air and movement.
---
Copyright 2022 © Baldwin Publishing, Inc. All rights reserved.  Health eCooking® is a registered trademark of Baldwin Publishing, Inc. Cook eKitchen™ is a designated trademark of Baldwin Publishing, Inc. Any duplication or distribution of the information contained herein without the express approval of Baldwin Publishing, Inc. is strictly prohibited.
Date Last Reviewed: April 15, 2022
Editorial Review: Andrea Cohen, Editorial Director, Baldwin Publishing, Inc. Contact Editor
Medical Review: Andrew P. Overman, DPT, MS, COMT, CSCS
Learn more about Baldwin Publishing Inc. editorial policy, privacy policy, ADA compliance and sponsorship policy.
No information provided by Baldwin Publishing, Inc. in any article is a substitute for medical advice or treatment for any medical condition. Baldwin Publishing, Inc. strongly suggests that you use this information in consultation with your doctor or other health professional. Use or viewing of any Baldwin Publishing, Inc. article signifies your understanding and agreement to the disclaimer and acceptance of these terms of use.