Williams Subaru Donates to Guthrie Cancer Center
July 28, 2023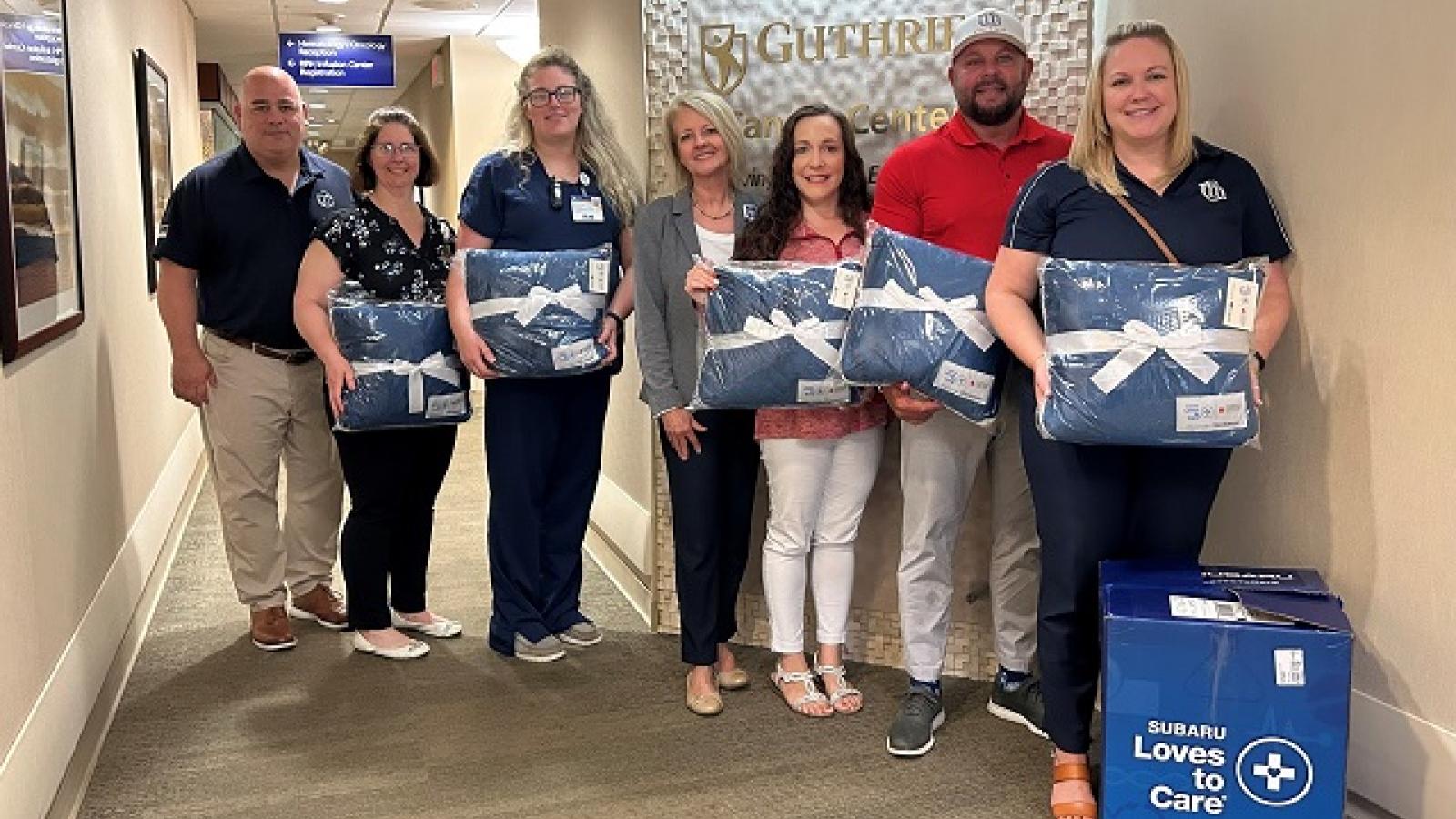 A special donation was made this week to the Guthrie Cancer Center by Williams Subaru in Sayre. As part of Subaru's national "Loves to Care" campaign, cancer patients at Guthrie were the recipients of 150 new blankets donated as a symbol of community support while they fight the disease. 
"We are so happy to be able to make this donation on behalf of Subaru to help brighten the days of cancer patients. Each year, our goal is to make a positive impact in the community, and this donation is a step towards achieving that," said Patrick Whited, General Manager for Williams Subaru of Sayre. 
During the month of June, as a part of the Subaru Loves to Care initiative, Subaru and its retailers partnered with The Leukemia & Lymphoma Society® (LLS) and local hospitals and cancer treatment centers to give warm blankets and encouraging messages of hope written by retailers and Subaru customers in their stores to support patients facing cancer.
"The support of community partners like Williams Subaru makes a huge difference to our patients at the Cancer Center. We thank Williams Subaru and all of our community partners for the contributions they make," said Emily Patton, Guthrie Oncology Social Worker. 
The Guthrie Clinic is a non-profit multispecialty health system that integrates clinical and hospital care with research and education. Located in Sayre, Pennsylvania, The Guthrie Clinic is one of the nation's longest established group practices, founded in 1910 by Dr. Donald Guthrie with a vision of providing patient-centered care through a clinically-integrated network of employed providers. It is an industry leader in the use of technology and electronic medical records to provide high-quality care. Among The Guthrie Clinic's 6,500 caregivers are more than 700 physicians and advanced practice providers, representing the spectrum of medical specialties and sub-specialties. The Guthrie Clinic is a five-hospital system with a large network of outpatient facilities that spans nearly 9,000 square miles in Pennsylvania and upstate New York. It is dedicated to training the next generation of health care leaders, offering seven residencies and three fellowships.      
     
Visit us at www.Guthrie.org. Follow us at Twitter.com/GuthrieClinic, Facebook.com/TheGuthrieClinic, Linkedin.com/company/TheGuthrieClinic, and Instagram.com/TheGuthrieClinic.