Sayre American Legion Post 283 Donates $10,000 To Guthrie Veteran Patient Assistance Fund
November 8, 2023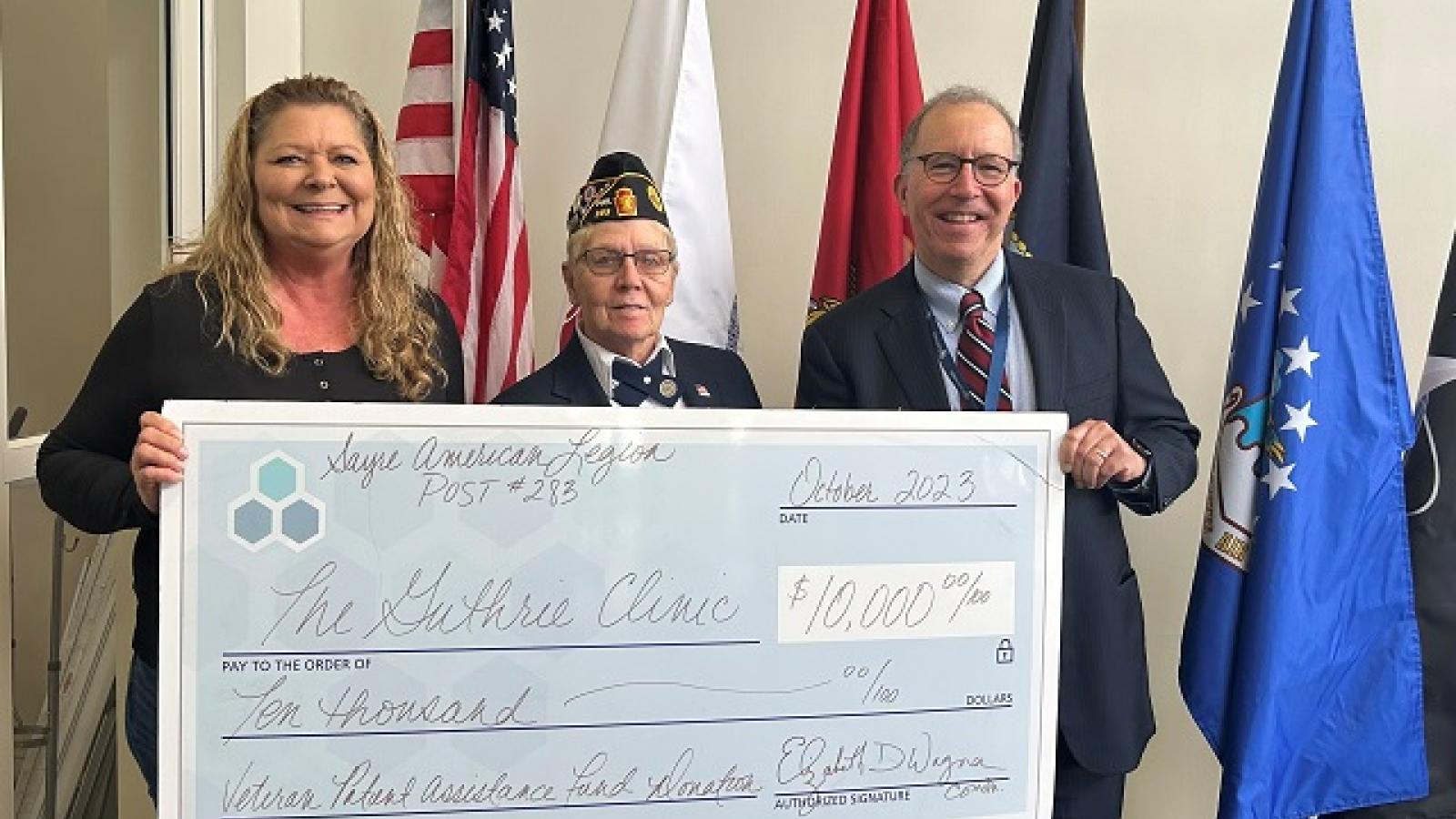 Connie Roberts, President, Sayre American Legion Auxiliary; Elizabeth Wagner, Commander, Sayre American Legion Post 283 and Dr. Edmund Sabanegh, Guthrie President and CEO.
The Sayre American Legion Post 283 recently presented Guthrie with a check for $10,000. The funds were raised during the Legion's annual golf tournament and will help support Guthrie's Veteran Patient Assistance Fund.
Elizabeth Wagner, Commander, Sayre American Legion Post 283 said, "We are grateful to the many community members who take part each year in our annual golf tournament. With their support, we are able to contribute to this important community resource. We, Connie Roberts, the tournament director, and the golf committee look forward to continuing this tradition, with the next golf tournament to take place the first Saturday in July 2024."
The Guthrie Veteran Patient Assistance Fund provides help to patients who are veterans, and their immediate family members, with the unmet financial burden that comes with a serious or chronic medical condition for which they are receiving care at Guthrie. These funds are available for assistance with expenses including, but not limited to, travel/transportation, utilities, medications, durable medical equipment (DME) and rent/mortgage.
Dr. Edmund Sabanegh, Guthrie President and CEO, said, "We are profoundly grateful to the Sayre American Legion for their generous donation and continued support. This contribution enhances our ability to make a meaningful difference in the lives of veterans in the communities we serve."
Those who wish to apply for assistance should contact their Guthrie social worker. Those interested in supporting the Guthrie Veteran Patient Assistance Fund should contact Guthrie Resource Development at 570-887-4420, or by emailing Resource_Development@guthrie.org.
The Guthrie Clinic is a non-profit multispecialty health system that integrates clinical and hospital care with research and education. Based in Sayre, Pennsylvania, The Guthrie Clinic is one of the nation's longest established group practices, founded in 1910 by Dr. Donald Guthrie with a vision of providing patient-centered care through a clinically-integrated network of employed providers. It is an industry leader in the use of technology and electronic medical records to provide high-quality care. Among The Guthrie Clinic's 6,500 caregivers are more than 700 physicians and advanced practice providers, representing the spectrum of medical specialties and sub-specialties. The Guthrie Clinic is a five-hospital system with a large network of outpatient facilities that spans nearly 9,000 square miles in Pennsylvania and upstate New York. It is dedicated to training the next generation of health care leaders, offering seven residencies and three fellowships.
Visit us at www.Guthrie.org. Follow us at Twitter.com/GuthrieClinic, Facebook.com/TheGuthrieClinic, Linkedin.com/company/TheGuthrieClinic, and Instagram.com/TheGuthrieClinic.