Ribbon-Cutting for Renzi Cancer Center at Guthrie Cortland Medical Center
September 2, 2021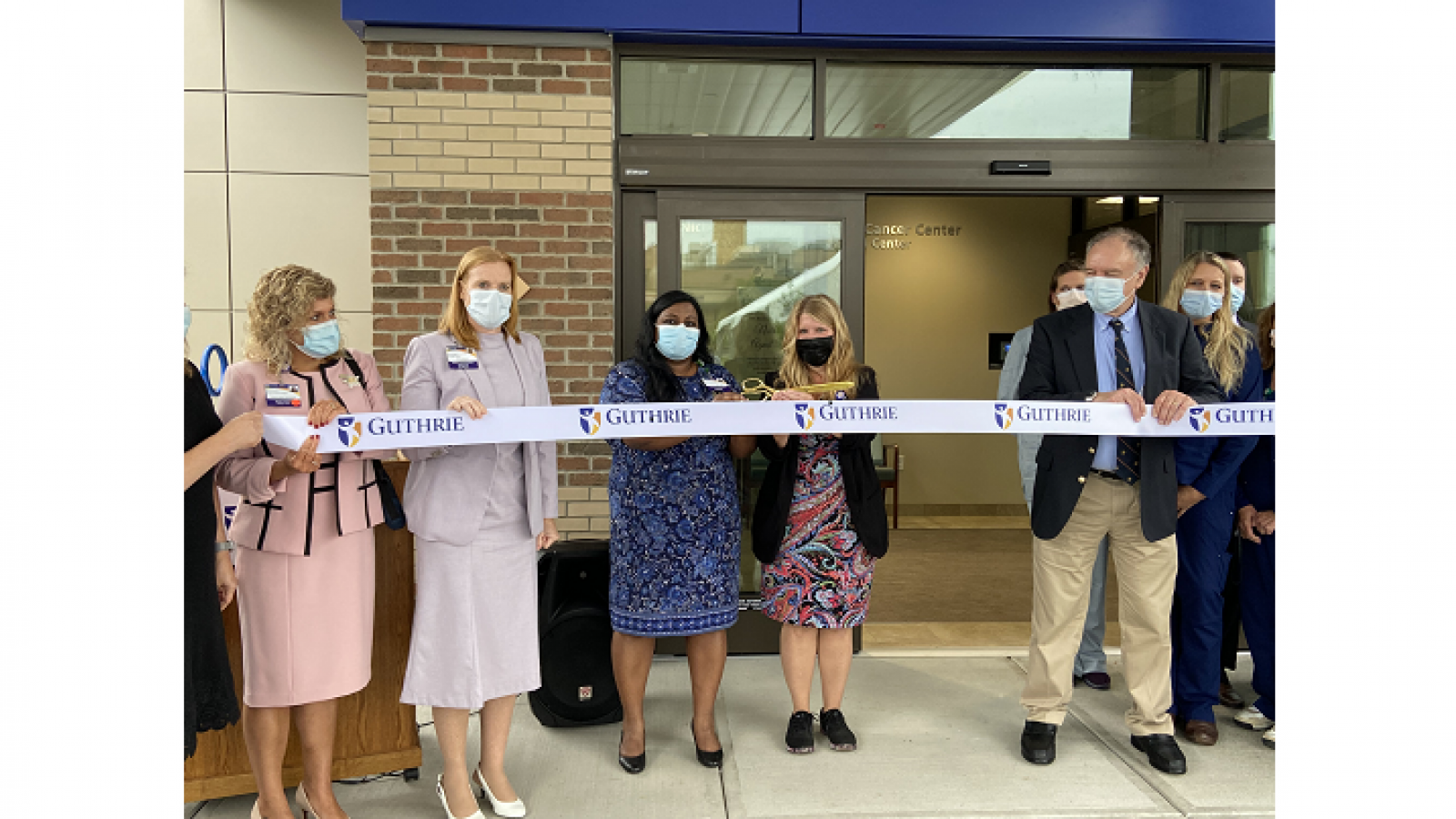 From left to right: Marie Darling, Guthrie Cortland Medical Center (GCMC) Executive Director; Jennifer Yartym, GCMC President; Eunice Joseph, GCMC Medical Oncology Nurse Manager; Michelle Larabee, Sr, Director, Oncology Practice Administrator, The Guthrie
Guthrie unveiled the future of comprehensive cancer care, the Renzi Cancer Center at Guthrie Cortland Medical Center. The $10.6 million facility will revolutionize cancer care in the region by bringing radiation and medical oncology services, as well as support services, together under one roof.
"Guthrie looks forward to enhancing the care provided to patients in the community and is excited to bring long-anticipated expansion of cancer services to Cortland," said Philip Lowry, MD, Chief, Hematology/Oncology, Guthrie Clinic; Director, Guthrie Cancer Center. "The new cancer center will further enhance and strengthen the care provided to patients, enabling them to receive care close to home."
The 10,825 square-foot facility includes:
State-of-the-art linear accelerator  
10 chemotherapy infusion chairs
Lab phlebotomy stations
Onsite pharmacy
Exam rooms
Procedure room
Patient meeting room
Comfortable waiting areas
Patients will have access to a full array of surgical and diagnostic services. A comprehensive team of board-certified specialists will work with patients through all aspects of their cancer journey. The new center will provide supportive care programs in the same location where patients see their physicians.  
"The Renzi Cancer Center is one of the greatest examples to date of Guthrie's partnership with the community to provide high quality compassionate care," said Jennifer Yartym, President, Guthrie Cortland Medical Center. "We are excited to see what started as an idea several years ago become a reality for comprehensive cancer care to patients and their families close to home."
The community has played a vital role in supporting the new cancer center. To date, the Cortland Memorial Foundation has raised $2,767,391 million in support of ongoing services at the Renzi Cancer Center.
A $1 million donation came from Mr. Nicholas Renzi of Cortland. It was Mr. Renzi's wish to honor the legacy of his late wife, Agnes, and help those battling cancer throughout the region. As a result, Renzi committed to matching the first million dollars in donations.
The Renzi Cancer Center at Guthrie Cortland Medical Center will open to patients, beginning September 27.
Guthrie is a non-profit integrated health system located in north central Pennsylvania and upstate New York, serving patients from a twelve-county service area. Guthrie is comprised of a research institute, home care/hospice, hospitals in Sayre, Pa., Corning, N.Y., Towanda, Pa., Troy, Pa. and Cortland, N.Y., as well as a multi-specialty group practice of nearly 700 providers offering 47 specialties through a regional office network providing primary and specialty care in 22 communities in Pennsylvania and New York. Guthrie is dedicated to training the next generation of health care leaders, offering seven residencies, three fellowships, and serving as a regional campus for the Geisinger Commonwealth School of Medicine. Guthrie provides a wide range of services and programs to enhance the health and well-being of those it serves.