Healthgrades Names Guthrie Robert Packer Hospital a 2023 Outpatient Joint Replacement Excellence Award Recipient
May 9, 2023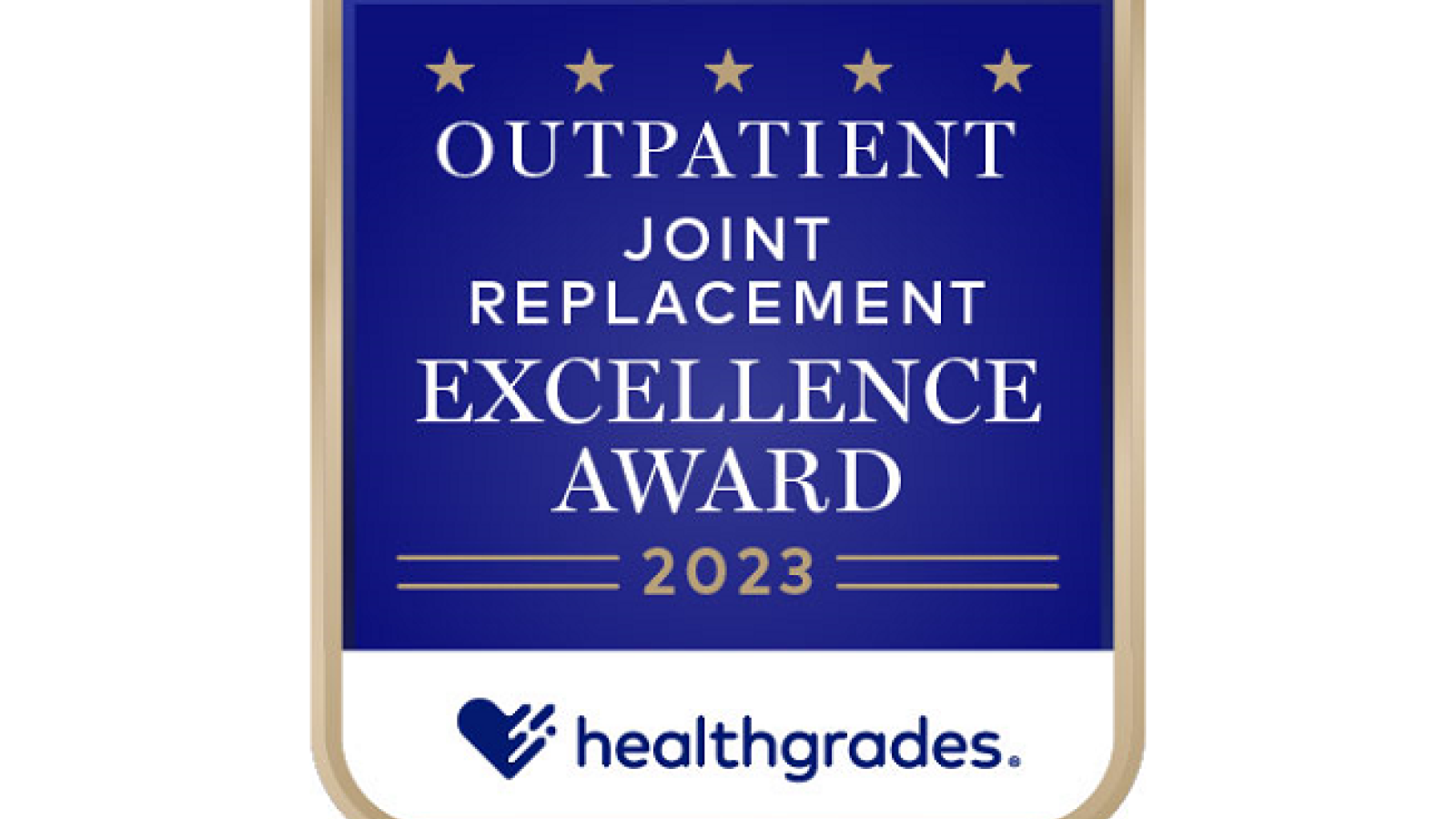 Guthrie Robert Packer Hospital was recognized as a 2023 Outpatient Joint Replacement Excellence Award™ recipient by Healthgrades, the leading marketplace connecting doctors and patients. This achievement reflects Guthrie Robert Packer Hospital's outstanding clinical outcomes for outpatient knee and hip replacement and distinguishes Guthrie Robert Packer Hospital in the top 10% nationwide for outpatient joint replacement.
For the Outpatient Joint Replacement Excellence Award, Healthgrades analyzed patient outcomes at short-term acute care hospitals throughout the country that offer joint replacement in the outpatient environment. This analysis included years 2019 through 2021 to identify the top-performing hospitals for outpatient knee and hip replacement. Healthgrades's analysis revealed significant variation in patient outcomes between hospitals that achieved a 2023 Outpatient Joint Replacement Excellence Award and those that did not during the three-year study period. Patients treated at hospitals that received a 2023 Outpatient Joint Replacement Excellence Award have, on average, a 50.7% lower risk of experiencing a complication than patients treated at non-recipient hospitals.
"We are honored to have earned 2023 Outpatient Joint Replacement Excellence Award by Healthgrades," said Joseph Choi, MD, PhD, MHA, Chairman, Musculoskeletal Service Line at Guthrie. "This recognition speaks to our hard work and dedication to providing the best possible orthopedic care to our patients and the communities we serve."
About Guthrie
The Guthrie Clinic is a non-profit multispecialty health system that integrates clinical and hospital care with research and education. Located in Sayre, Pennsylvania, The Guthrie Clinic is one of the nation's longest established group practices, founded in 1910 by Dr. Donald Guthrie with a vision of providing patient-centered care through a clinically-integrated network of employed providers. It is an industry leader in the use of technology and electronic medical records to provide high-quality care. Among The Guthrie Clinic's 6,500 caregivers are more than 700 physicians and advanced practice providers, representing the spectrum of medical specialties and sub-specialties. The Guthrie Clinic is a five-hospital system with a large network of outpatient facilities that spans nearly 9,000 square miles in Pennsylvania and upstate New York. It is dedicated to training the next generation of health care leaders, offering seven residencies and three fellowships.
Visit us at www.Guthrie.org. Follow us at Twitter.com/GuthrieClinic, Facebook.com/TheGuthrieClinic, Linkedin.com/company/TheGuthrieClinic, and Instagram.com/TheGuthrieClinic.
About Healthgrades
Healthgrades is dedicated to empowering stronger and more meaningful connections between patients and their healthcare providers. As the #1 platform for finding a doctor and a leader in healthcare transparency, we help millions of consumers each month find and schedule appointments with their healthcare professional of choice and prepare for their appointments with best-in-class, treatment-focused content.
Our health system, large group practice, and life sciences marketing solutions have been helping our partners reach and engage consumers who are on their way to the doctor for over 20 years.
Healthgrades is part of RVO Health, a partnership between Red Ventures and Optum, part of UnitedHealth Group. RVO Health has the largest consumer health and wellness audience online across its brand portfolio including Healthgrades, Healthline, Medical News Today, Greatist, Psych Central, Bezzy and Platejoy which touch every part of the health and wellness journey. Each month, RVO Health helps more than 100 million unique visitors live their strongest and healthiest lives.