Guthrie Robert Packer Hospital Nationally Recognized for Safety
November 6, 2023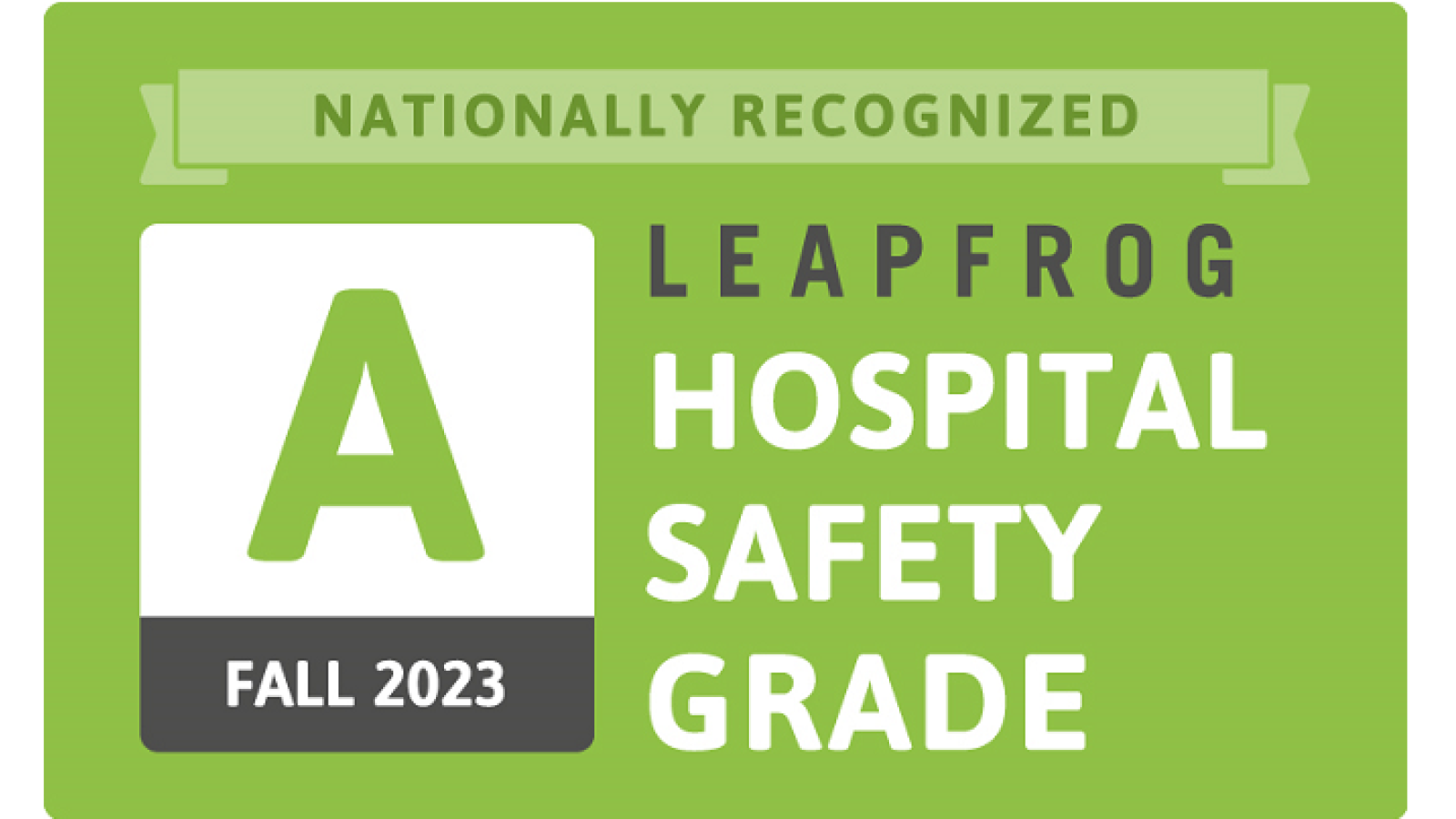 Guthrie Robert Packer Hospital earned an "A" Hospital Safety Grade from The Leapfrog Group, a national nonprofit watchdog that sets standards for excellence in patient care. Leapfrog assigns an "A," "B," "C," "D" or "F" grade to general hospitals across the country based on over 30 national performance measures reflecting errors, accidents, injuries and infections, as well as the systems hospitals have in place to prevent harm.
To reach this achievement, the hospital increased its focus on preventing hospital-associated infections, continued infection prevention practices, and made improvements in the overall patient experience. This enhanced focused on delivering high quality care to every patient, every time, with the vision of becoming the most trusted partner for healthy local communities, is an organizational focus driving quality, safety and experience improvements in all Guthrie entities.
Joseph Sawyer, Guthrie Robert Packer Hospital President, said, "At Robert Packer Hospital, we are proud to have caregivers who bring the highest level of care to our patients – each and every day. Their unending dedication creates an environment where safety and quality are always priorities, and for that reason we are exceptionally honored by this recognition."
The Leapfrog Hospital Safety Grade is the only hospital ratings program exclusively based on hospital prevention of medical errors, infections and injuries that kill more than 500 patients a day nationally. The Leapfrog Hospital Safety Grade is peer-reviewed, fully transparent and free to the public. Grades are updated twice annually in the fall and spring.
"Earning an 'A' Grade means Guthrie Robert Packer Hospital made a true commitment to put patients first," said Leah Binder, president and CEO of The Leapfrog Group. "We congratulate the leadership, Board, clinicians, staff and volunteers that all had a role to play in this achievement."
To see Guthrie Robert Packer Hospital's full grade details and to access patient tips for staying safe in the hospital, visit HospitalSafetyGrade.org.
The Guthrie Clinic is a non-profit multispecialty health system that integrates clinical and hospital care with research and education. Based in Sayre, Pennsylvania, The Guthrie Clinic is one of the nation's longest established group practices, founded in 1910 by Dr. Donald Guthrie with a vision of providing patient-centered care through a clinically-integrated network of employed providers. It is an industry leader in the use of technology and electronic medical records to provide high-quality care. Among The Guthrie Clinic's 6,500 caregivers are more than 700 physicians and advanced practice providers, representing the spectrum of medical specialties and sub-specialties. The Guthrie Clinic is a five-hospital system with a large network of outpatient facilities that spans nearly 9,000 square miles in Pennsylvania and upstate New York. It is dedicated to training the next generation of health care leaders, offering seven residencies and three fellowships.
Visit us at www.Guthrie.org. Follow us at Twitter.com/GuthrieClinic, Facebook.com/TheGuthrieClinic, Linkedin.com/company/TheGuthrieClinic, and Instagram.com/TheGuthrieClinic.