Guthrie Opens Newman W. Benson Acute Rehab Unit at Robert Packer Hospital, Towanda Campus
June 24, 2021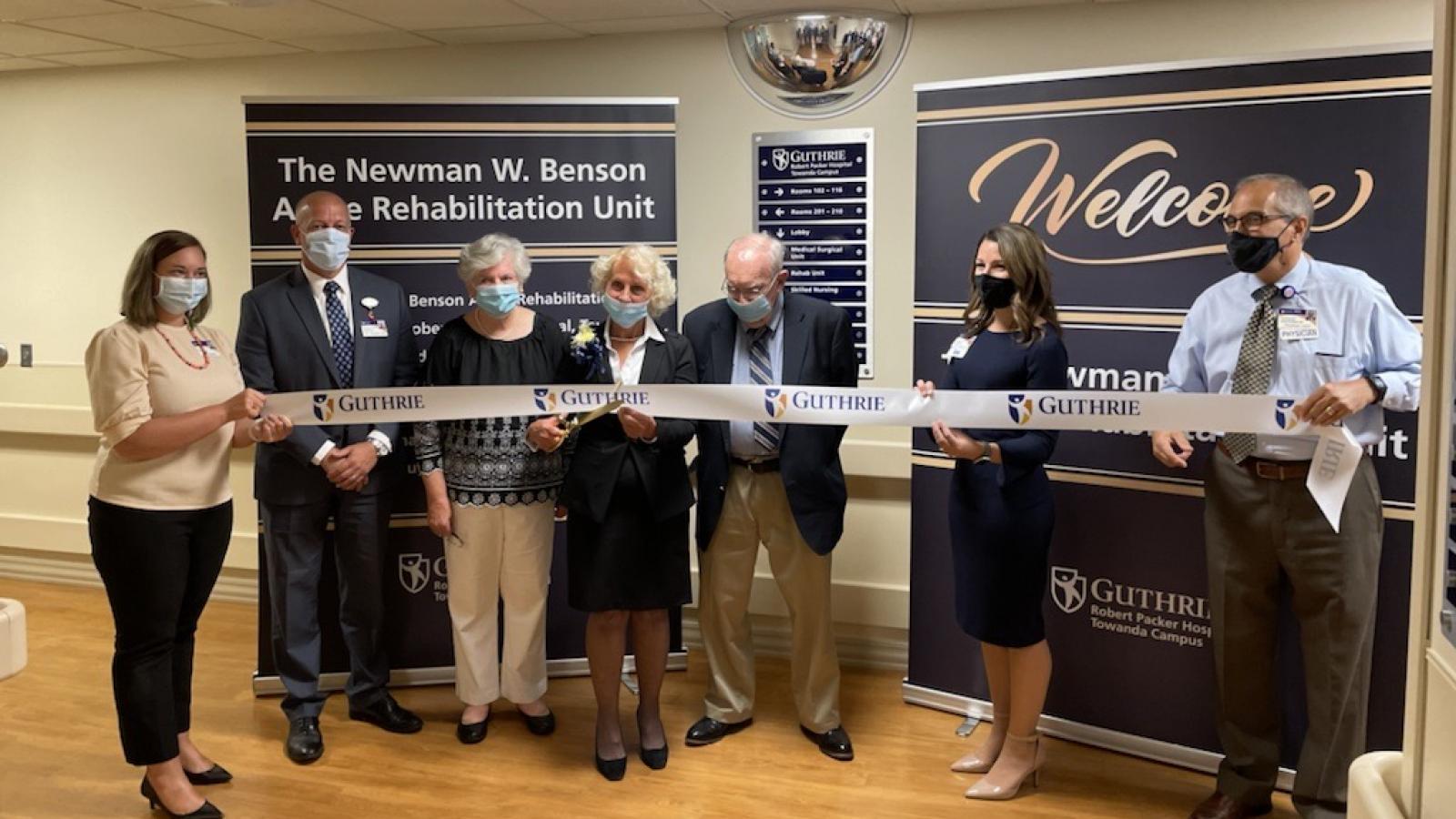 Guthrie leadership, Patricia Benson, and friends of Newman and Patricia Benson celebrate the opening of the Newman W. Benson Acute Rehabilitation Unit
Today, Guthrie celebrated the opening of The Newman W. Benson Acute Rehabilitation Unit, a 15-bed inpatient rehabilitation center at the Guthrie Robert Packer Hospital, Towanda Campus.
Dr. Joseph Scopelliti, Guthrie President and CEO, said, "We're very pleased to be able to bring these services to the Towanda community. This new unit will provide access to critically needed acute inpatient rehabilitation services for patients who have experienced a wide range of injury or illness. We know that a key factor in a person's recovery is the ability to receive care close to home and to return home as quickly as possible." He added, "The investment in the services being offered in this new acute rehab center will benefit a wide range of patients seeking convenient care, close to home."
At the center, a staff of highly trained professionals provide nurturing support and physical rehabilitation for a variety of patients who have experienced the debilitating effects of an acute injury, impairment, or illness.
Common conditions treated at The Newman W. Benson Acute Rehabilitation Unit include, but are not limited to:
Stroke
Brain injuries
Spinal cord injuries
Amputation
Neurological conditions
Multiple traumas
Orthopedic or musculoskeletal impairments
Cardiac conditions
Pulmonary conditions
Oncology
Patients in the acute rehab unit receive a minimum of three hours of therapy each day for at least five days a week. A team of compassionate providers work with patients and those involved in their care to develop a treatment plan unique to them, so they can get back to a more normal routine at home as soon as possible.
Each patient's program will include:
A dedicated team of doctors, nurses, and physical, occupational and speech therapists
Individualized therapy program with focus on mobility and activities of daily living to maximize function to assist with a smooth transition back home or to a patient's next level of care
Private rooms that simulate a home-like environment
Education and training for patients and family members
Specialty physicians and emergency services available on-site if needed
The new unit is named to honor the late Newman W. Benson and Patricia A. Benson's generosity and longtime support of Guthrie.
To learn more about the program, please call 570-268-2204.
Guthrie is a non-profit integrated health system located in north central Pennsylvania and upstate New York, serving patients from a twelve-county service area. Guthrie is comprised of four hospitals, including Guthrie Robert Packer Hospital in Sayre, Pa., with a campus in Towanda, Pa., Guthrie Corning Hospital in Corning, N.Y., Guthrie Troy Community Hospital in Troy, Pa., and Guthrie Cortland Medical Center in Cortland, N.Y., along with a research institute and home care/hospice. Guthrie's multi-specialty group practice of more than 325 physicians and 210 advanced practice providers offers 47 specialties through a regional office network providing primary and specialty care in 22 communities in Pennsylvania and New York. In addition, Guthrie offers home medical equipment and respiratory therapy products at seven convenient Med Supply Depot locations and provides a wide range of services and programs to enhance the health and well-being of those it serves.