Guthrie Names New President of Guthrie Cortland Medical Center
July 29, 2019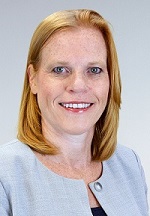 Guthrie is pleased to announce the appointment of Jennifer Yartym, MSPT, MBA to the position of President, Guthrie Cortland Medical Center (GCMC).
Ms. Yartym, of Bath, is the current Vice President of Operations at Guthrie Corning Hospital. 
Paul VerValin, Guthrie Chief Operating Officer said, "Jennifer demonstrates exceptional communication and leadership skills evidenced by employee and community engagement. With nearly 20 years of experience with Guthrie, she is uniquely positioned to facilitate further integration of GCMC and Guthrie services and operations."
"Jennifer took the time prior to her candidacy to learn about our hospital and our community," said Jeffrey Seibert, Guthrie Cortland Medical Center's Board Chair, "Ultimately, it was Jennifer's experience, her focus on integrity, trust and respect, coupled with an ability to see how to integrate Guthrie's organizational goals with Cortland's future, that revealed her to be the logical choice."
"This is an extremely exciting time in healthcare with many innovative technologies and an ever- changing environment," said Ms. Yartym. "My years at Guthrie Corning Hospital have been instrumental in preparing me for this new chapter. I am very humbled and honored to accept this position and I look forward to my new role." 
During Mark Webster's five-year tenure, Cortland Regional Medical Center expanded services and was recognized on multiple occasions by New York State for value-based purchasing and patient safety scores. Most recently, Mr. Webster led the affiliation effort between Cortland Regional Medical Center and Guthrie. 
Ms. Yartym is uniquely positioned to facilitate further integration of GCMC and Guthrie services and operations. In 2000, she joined then-Corning Hospital as Director of Rehabilitation Services. She was promoted to Director of HealthWorks Wellness & Fitness Center and Rehabilitation Services in 2004 and became a Senior Director in 2012. She provided operational oversite of the transition to the new Guthrie Corning Hospital in July 2014. In 2015 Ms. Yartym was promoted to Vice President of Operations, Guthrie Corning Hospital. She received a Bachelor and Master of Science in Physical Therapy from Ithaca College and a Master of Business Administration from Alfred University. She is a member of the American College of Healthcare Executives.
Ms. Yartym will assume her new role on September 9.
Guthrie is a non-profit integrated health system located in north central Pennsylvania and upstate New York, serving patients from a twelve-county service area. Guthrie is a member of the Mayo Clinic Care Network and is the first health system based in Pennsylvania and New York to join this network. Guthrie is comprised of a research institute, home care/hospice, hospitals in Sayre, Pa., Corning, N.Y., Towanda, Pa., Troy, Pa. and Cortland, N.Y., as well as a multi-specialty group practice of more than 325 physicians and 210 advanced practice providers offering 47 specialties through a regional office network providing primary and specialty care in 22 communities in Pennsylvania and New York. In addition, Guthrie offers home medical equipment and respiratory therapy products at seven convenient Med Supply Depot locations. Guthrie provides a wide range of services and programs to enhance the health and well-being of those it serves.