Guthrie Announces System Chairman of Emergency Medicine
February 15, 2019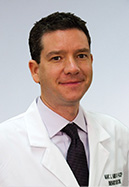 Guthrie is pleased to announce the appointment of Marc Harris, DO, FACEP, as its new System Chairman, Department of Emergency Medicine.  Dr. Harris has been with Guthrie for 21 years. 
In this new role, Dr. Harris will be responsible for the operation of emergency medicine throughout the Guthrie System, including the Guthrie Robert Packer Hospital, Guthrie Corning Hospital, Guthrie Troy Community Hospital, Guthrie Towanda Memorial Hospital emergency departments. He will also work with US Acute Care Solutions to provide care to Guthrie Cortland Medical Center.
Dr. Harris said about his new position: "This role will allow me to enable Guthrie to continue to focus on providing the highest level of care to our patients across the system. I look forward to developing the Emergency Medicine Program into a service line with aligned quality goals for all Guthrie Emergency Medicine locations. This alignment will help to establish a uniform culture in emergency medicine that promotes the highest quality of care and emphasizes a positive patient experience. It keeps the patient at the center of all we do." 
Frederick Bloom Jr., MD, President, Guthrie Medical Group said "Dr. Harris's extensive background in emergency medicine, along with the development and implementation of our new Emergency Medicine Residency Program makes him a perfect fit for this new role. As System Chairman, he will guide Guthrie's Emergency Medicine Program, including the Emergency Medicine Residency, which will help to supply highly qualified emergency medicine attending physicians in the future at all Guthrie sites."
Dr. Harris joined Guthrie Robert Packer Hospital as the Director of Emergency Medical Services and the Guthrie One Helicopter Program in August 1998. In December 2013, he became the Chairman of Emergency Medicine for Guthrie Robert Packer Hospital.  Dr. Harris earned his medical degree at the University of Osteopathic Medicine and Health Sciences, Des Moines, Iowa and completed his residency at St. Luke's Hospital, Bethlehem, PA.  His recent accomplishments at Guthrie Robert Packer Hospital include the development of an Emergency Medicine Residency Program and a newly renovated Emergency Department, scheduled for completion in December. 
Guthrie is a non-profit integrated health system located in north central Pennsylvania and upstate New York, serving patients from a twelve-county service area. Guthrie is a member of the Mayo Clinic Care Network and is the first health system based in Pennsylvania and New York to join this network. Guthrie is comprised of a research institute, home care/hospice, hospitals in Sayre, Pa., Corning, N.Y., Towanda, Pa., Troy, Pa. and Cortland, N.Y., as well as a multi-specialty group practice of more than 325 physicians and 210 advanced practice providers offering 47 specialties through a regional office network providing primary and specialty care in 21 communities in Pennsylvania and New York. In addition, Guthrie offers home medical equipment and respiratory therapy products at seven convenient Med Supply Depot locations. Guthrie provides a wide range of services and programs to enhance the health and well-being of those it serves.