Guthrie Accepts Five Star Bank Donation
January 24, 2019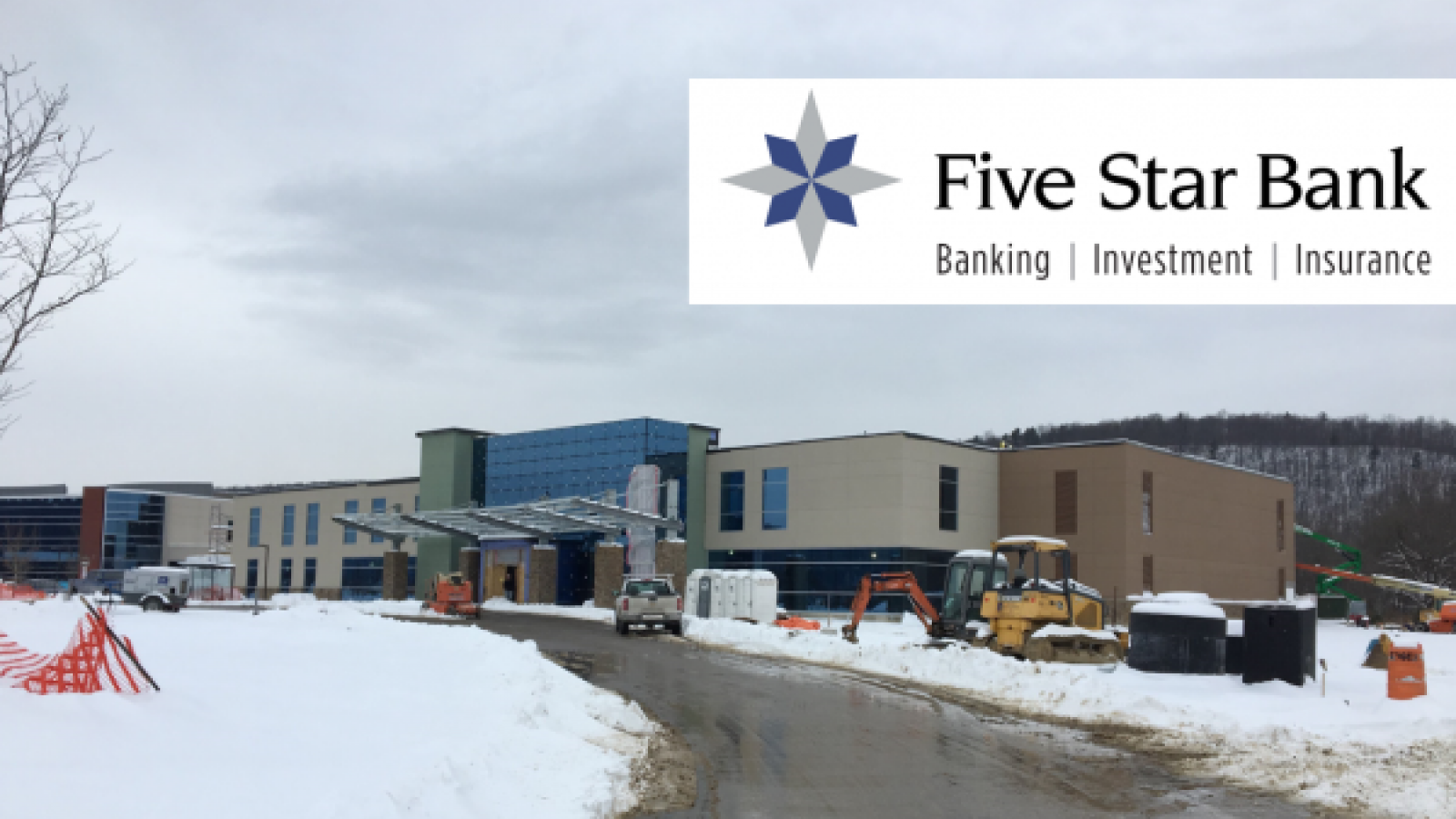 The construction site of the Guthrie East Corning Medical Office Building
Guthrie is pleased to accept a generous donation from Five Star Bank in the amount of $25,000 in support of its Forward Together capital campaign. The campaign supports new facilities and investments in the latest medical technologies for patient care across the Guthrie system. 
Five Star Bank President and Chief Executive Officer Martin K. Birmingham said, "Five Star Bank is very pleased to make this contribution in support of the Corning and Big Flats Medical Office Building projects. We have admired Guthrie's transformation of medical facilities in the Corning-Elmira Region and appreciate the capital investments being made in support of world-class health care facilities and related services. In doing so, they improve the quality of life and promote the well-being of our customers and neighbors." 
This donation will specifically support construction of the Guthrie East Corning Medical Office Building on the campus of Guthrie Corning Hospital and a new medical office location in Big Flats. With more than 120,000 square feet of combined space, this ambitious project will offer enhanced access to critically needed specialty care services for area residents, and revolutionize the way that care is designed and provided to our patients.
"Thank you to Five Star Bank for supporting the Forward Together Campaign at Guthrie," said Dr. Joseph Scopelliti, Guthrie President and CEO. "Guthrie is proud to provide excellent care in the communities we serve, and we look forward to putting this generous donation to work to grow and expand Guthrie programs that benefit patients every day."
About Five Star Bank
Five Star Bank provides a wide range of consumer and commercial banking and lending services to individuals, municipalities, and businesses through a network of more than 50 offices throughout Western and Central New York State. Additional Five Star Bank information is available at www.five-starbank.com, on Twitter, and on Facebook. 
About Guthrie
Guthrie is a non-profit integrated health system located in north central Pennsylvania and upstate New York, serving patients from a twelve-county service area. Guthrie is a member of the Mayo Clinic Care Network and is the first health system based in Pennsylvania and New York to join this network. Guthrie is comprised of a research institute, home care/hospice, hospitals in Sayre, Pa., Corning, N.Y., Towanda, Pa., Troy, Pa. and Cortland, N.Y., as well as a multi-specialty group practice of more than 325 physicians and 210 advanced practice providers offering 47 specialties through a regional office network providing primary and specialty care in 21 communities in Pennsylvania and New York. In addition, Guthrie offers home medical equipment and respiratory therapy products at seven convenient Med Supply Depot locations. Guthrie provides a wide range of services and programs to enhance the health and well-being of those it serves.