Cardiovascular and Heart Failure Virtual Seminar with Dr. Yang
Monday, July 24, 2023 | 6:30 p.m. - 7:30 p.m.
Virtual Event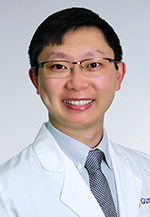 Cardiovascular and heart conditions are one of the leading causes of death in the United States. Take this chance to learn more about issues such as heart failure with our board-certified cardiologist, Dr. Yang. In this virtual seminar, he will discuss heart failure, signs/symptoms, causes, who is at risk, and how Guthrie's cardiovascular team provides the utmost excellence in patient care.  
Some topics that will be covered are: 
What factors contribute to heart failure in patients? 
How is a patient treated for heart failure? 
What are other cardiovascular conditions treated at Guthrie? 
What is unique about Guthrie's cardiovascular program and team? 
Once the presentation is over, we will have moderators pulling your questions from the chat to be answered by Dr. Yang as a part of our Q&A session to end the event. 
Register Online: