A Cool Pool Workout for Better Health
July 23, 2021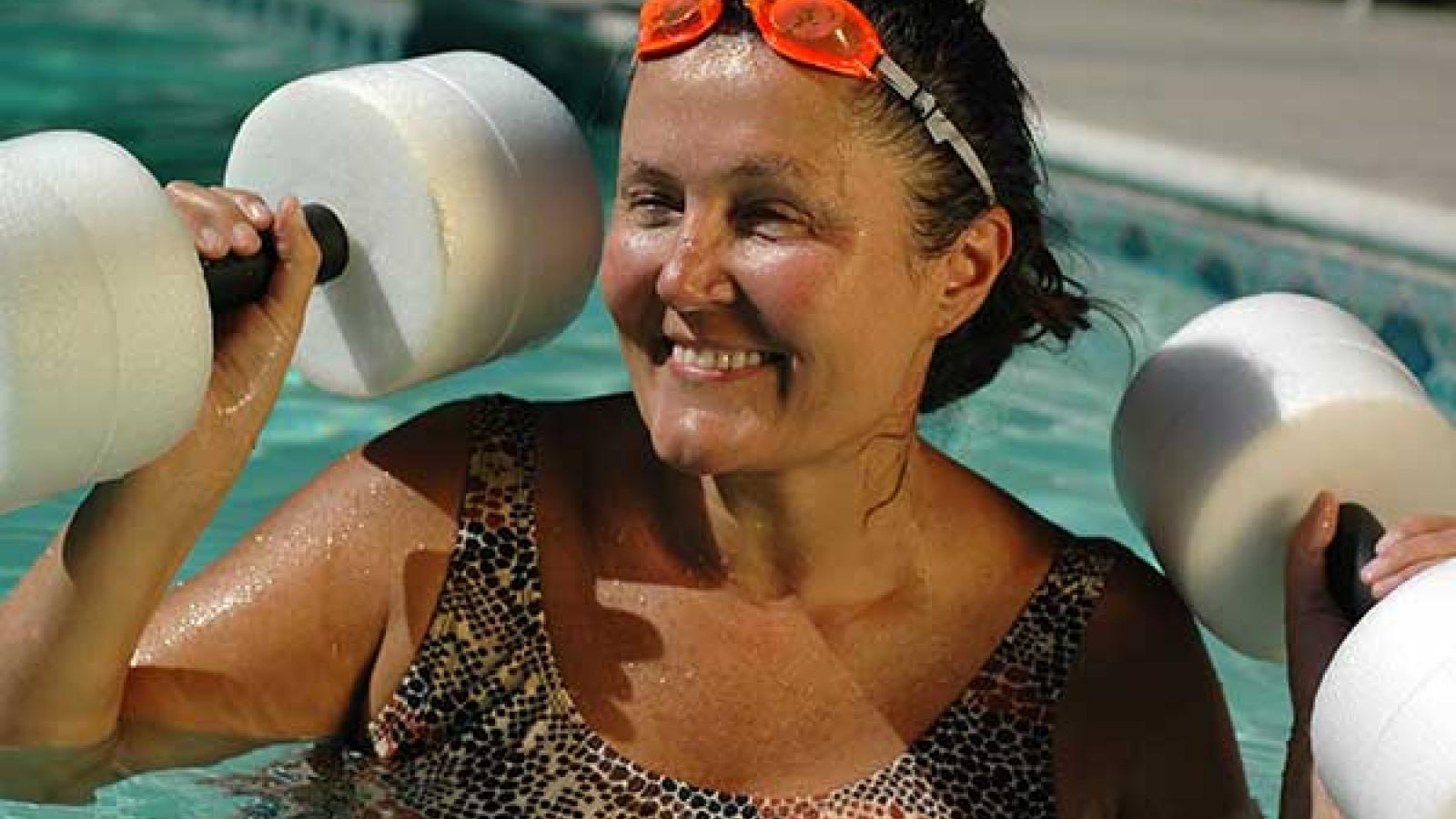 Try these 5 exercises and enjoy the benefits of working out in water.
Working out in the pool is a cool way to burn calories, strengthen muscles, improve flexibility and boost your heart health – and it's easy on your joints. There's no better time to hop in the water to get moving than during the summer.
There are many types of exercises you can do in the pool. Here are 5 easy exercises to try in the shallow end. Of course, you should always check with your doctor before starting any new exercise routine.
Grab some water weights. You can do the same types of exercises with weights in the water as you can do on land, such as bicep curls, triceps pushes, flies and rows. The main difference is that doing the exercises in water is easier on your joints. If you are unfamiliar with these exercises or using weights, consult a professional trainer or join a class.
Jog in place. Keep knees high as you alternate feet in waist-high water. Jogging at a high intensity in the water can burn 17 calories a minute. Jog for 1 to 3 minute intervals and alternate with less cardio-intense exercises for a full-body workout.
Bicycle pedals and crunches. Hold on to the side of the pool with your arms outstretched and your back to the edge. Pedal your legs as if you were riding a bicycle, dragging them through the water. Switch to crunches by extending legs straight out in front of you and then pulling both knees up into your chest. Do each exercise for 1 to 3 minutes.
Squat jump. Extend your arms sideways at shoulder height and squat down, as if you are sitting on a chair. Jump up through the water as high as you can as you extend your arms over your head.  Repeat for 1 minute.
One leg balance. Stand in waist-high water and lift one knee up, placing a noodle under your raised foot. Keep your hands by your side and balance on one leg with your foot on the middle of the noodle. Aim for 1 minute on each side. For an added challenge, lift your arms above your head as you balance.
Guthrie can help you with your commitment to lose weight
The Guthrie Weight Loss Center includes a team of bariatric professionals trained to create the right weight loss plan for you. Whether you decide to lose weight through diet and exercise alone or are thinking of including surgery in your weight loss plan, the team of experts at the Guthrie Weight Loss Center will develop a plan that is customized to your individual needs.
If you have any questions or want to schedule an appointment, call the Guthrie Weight Loss Center at 570-887-3920.
---
Copyright 2017-2021 © Baldwin Publishing, Inc. All rights reserved.  Health eCooking® is a registered trademark of Baldwin Publishing, Inc. Cook eKitchen™ is a designated trademark of Baldwin Publishing, Inc. Any duplication or distribution of the information contained herein without the express approval of Baldwin Publishing, Inc. is strictly prohibited.
Date Last Reviewed: May 3, 2021
Editorial Review: Andrea Cohen, Editorial Director, Baldwin Publishing, Inc. Contact Editor
Medical Review: Andrew P. Overman, DPT, MS, COMT, CSCS
Learn more about Baldwin Publishing Inc. editorial policy, privacy policy, ADA compliance and sponsorship policy.
No information provided by Baldwin Publishing, Inc. in any article is a substitute for medical advice or treatment for any medical condition. Baldwin Publishing, Inc. strongly suggests that you use this information in consultation with your doctor or other health professional. Use or viewing of any Baldwin Publishing, Inc. article signifies your understanding and agreement to the disclaimer and acceptance of these terms of use.