5 Healthy Holiday Cooking Substitutions
October 25, 2021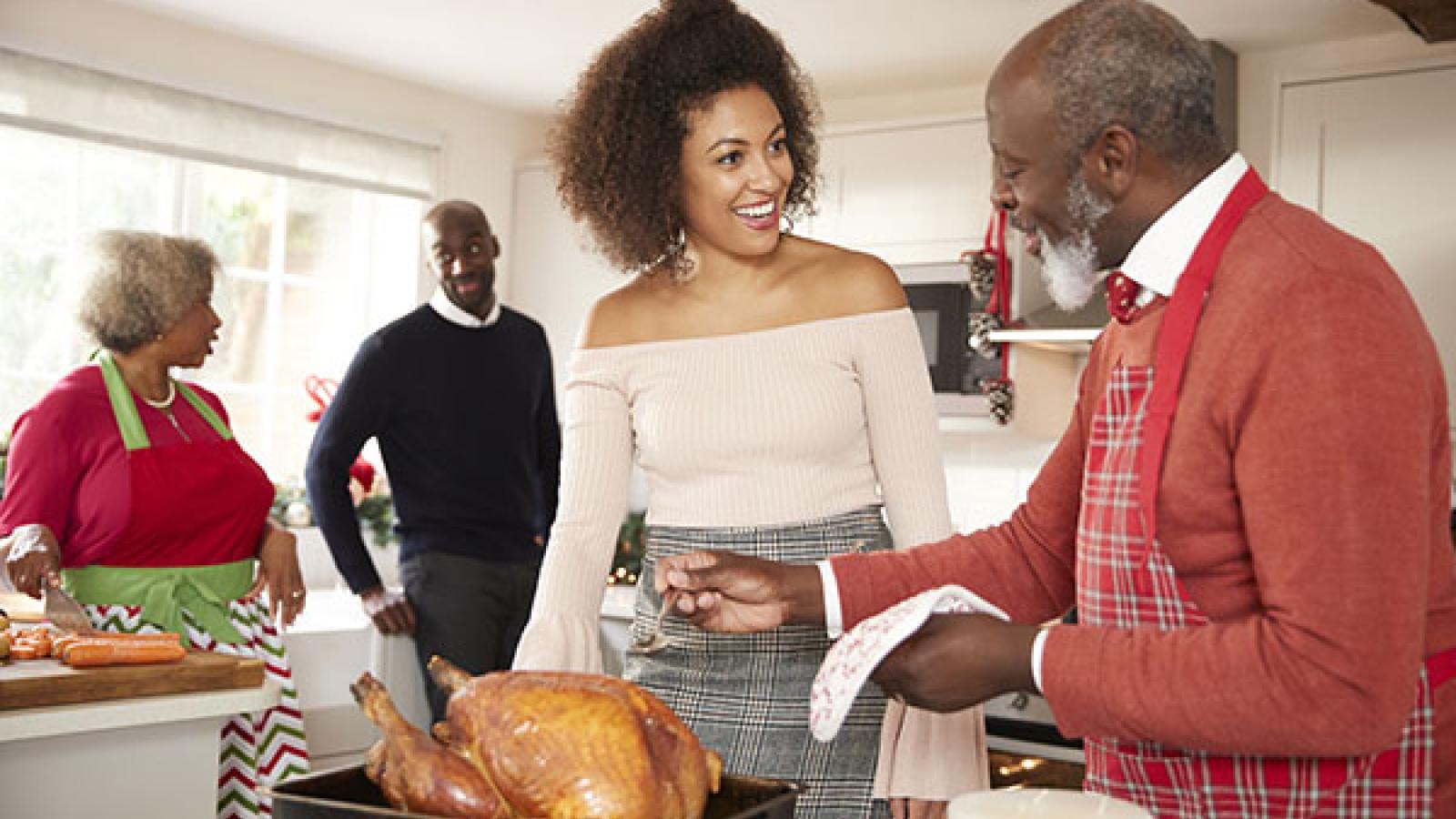 There's no need to skip your holiday favorites with these healthy cooking tips.
Holidays are a time for enjoying family and friends. They're also a time for indulging in favorite foods that may be outside of your normal dietary pattern. While an occasional slice of pumpkin pie or mound of mashed potatoes won't wreak havoc on your diet, overindulging throughout the entire season can make it difficult to manage chronic conditions like obesity, diabetes or hypertension.
If you find yourself gaining weight during the holidays, know that you are not alone. In fact, several studies suggest that the holiday season, from the last week of November to early January, is a time that many adults gain weight. But don't think that you have to deprive yourself of all of your favorite holiday goodies if you want to eat healthy or maintain your weight. With some simple substitutions, traditional holiday favorites can be both delicious and nutritious.
Here are five ways to make holiday meals healthier without sacrificing on taste:
Substitute Greek yogurt for sour cream. Sour cream is used in many holiday dishes, including mashed potatoes, dips and sauces. While it is delicious, it doesn't provide much in the nutrition department and is relatively high in saturated fat. Replacing sour cream with plain Greek yogurt can cut your calorie intake while also giving you a boost of healthy probiotics and the creamy texture you love.
Substitute coconut milk for heavy cream. If you are making a cream-based soup or a casserole that calls for heavy cream, use coconut milk instead. This one simple substitution will cut your calorie intake in half without sacrificing taste or creaminess.
Substitute unsweetened applesauce for oil. Using unsweetened applesauce in place of oil when making baked goods can help cut your fat and calorie intake while still allowing you to enjoy your favorite treats. Applesauce has an amazing ability to keep baked goods moist without adding any fat to the recipe. If you don't have applesauce on-hand, mashed bananas work, too.
Substitute mashed cauliflower for mashed potatoes. If you haven't gotten on the cauliflower train yet, you will be surprised to learn how satisfying it can be. Mashed cauliflower has the same texture as mashed potatoes, but contains far fewer calories than the classic option. Bonus? It's loaded with nutrients like vitamin C to help keep your immune system strong. If you don't want to make a complete switch, just swap half of the potatoes for cauliflower – no one will even notice the difference!
Substitute whole grain bread for white bread. Simply using 100% whole grain bread in your stuffing recipe can give this classic side dish a boost of fiber, antioxidants and minerals. While the dish may look slightly different than the traditional version, you'll still enjoy the classic flavor you know and love.
---
Copyright 2020-2021 © Baldwin Publishing, Inc. All rights reserved.  Health eCooking® is a registered trademark of Baldwin Publishing, Inc. Cook eKitchen™ is a designated trademark of Baldwin Publishing, Inc. Any duplication or distribution of the information contained herein without the express approval of Baldwin Publishing, Inc. is strictly prohibited.
Date Last Reviewed: September 21, 2020
Editorial Review: Andrea Cohen, Editorial Director, Baldwin Publishing, Inc. Contact Editor
Medical Review: Nora Minno, RD, CDN
Learn more about Baldwin Publishing Inc. editorial policy, privacy policy, ADA compliance and sponsorship policy.
No information provided by Baldwin Publishing, Inc. in any article is a substitute for medical advice or treatment for any medical condition. Baldwin Publishing, Inc. strongly suggests that you use this information in consultation with your doctor or other health professional. Use or viewing of any Baldwin Publishing, Inc. article signifies your understanding and agreement to the disclaimer and acceptance of these terms of use.