Guthrie's Center for Wound Care and Hyperbaric Medicine provides a specialized, comprehensive course of therapy to assist in healing complex wounds. With 6,000 encounters a year, Guthrie is proud to have a 95% healing rate. Our team of physicians and certified nurses utilize advanced technology to wound healing, including individualized wound treatment such a total contact cast (TCC), Vacuum Assisted Closure (VAC), MIST therapy, bio-synthetic skin substitute and hyperbaric oxygen therapy.
Guthrie's Center for Wound Care and Hyperbaric Medicine provides comprehensive treatment for chronic, non-healing wounds, such as:
Bone infection (osteomyelitis)
Burns
Crush injuries
Compromised skin grafts and flaps
Diabetic wounds
Peripheral vascular disease and circulatory-related wounds (ischemic wounds, gangrene)
Pressure ulcers or bedsores (decubitus ulcers)
Radiation therapy damage (radionecrosis)
Recurrent bone infection (refractory osteomyelitis)
Soft tissue necrosis (death of muscle or skin tissue) with infection
Traumatic wounds
Venous stasis ulcers
Hyperbaric Oxygen Therapy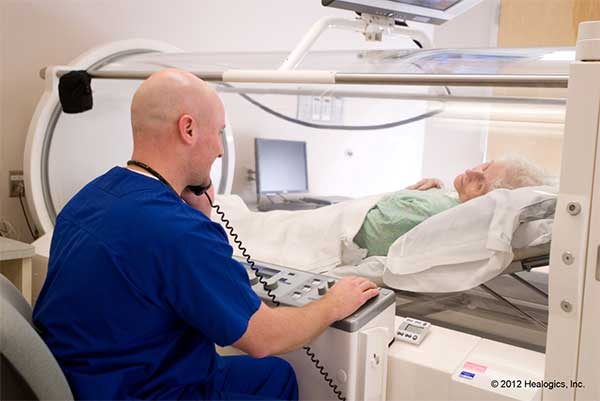 Hyperbaric oxygen therapy is a treatment in which you breathe 100% oxygen inside a pressurized chamber. The therapy quickly delivers high concentrations of oxygen to the bloodstream, assisting in the healing process of wounds and the fight against infection. Therapy is administered daily and the number of therapy sessions you will receive depends on your diagnosis.
Individualized Wound Treatment
Total contact cast (TCC) – A lightweight, fiberglass short leg cast to off-load diabetic foot ulcers.
Vacuum Assisted Closure (VAC) – Consists of applying negative pressure to the surface of the wound through foam connected to a small pump. This will remove bacteria and drainage while stimulating wound repair.
Bio-synthetic skin substitute – Consists of manufactured human skin cells which are applied to proper wounds to stimulate the healing process.
Cast Removal
Total Contact Casts (TCCs) are used in Wound Care to promote healing by minimizing pressure and friction at the wound site. The cast is "in total contact" with the foot and lower leg, which redistributes weight away from your wound and allows for healing even while walking. These casts are removed in wound care weekly, or more frequently, as determined by your physician. In the event of an emergency, the cast can be removed by following the instructions outlined in the Patient Instruction Guide.  Click here to view.