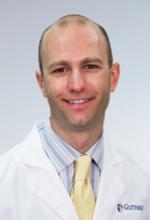 Cardiologist Ben McClintic, MD, is now seeing sports cardiology patients at Guthrie Ithaca on Hanshaw Road.
If you are an athlete and want to make sure your workout routine isn't putting your heart at risk, Dr. McClintic can run a series of pre-participation screenings, no matter what your level of competition.
Dr. McClintic can screen you for cardiac symptoms, a family history of cardiovascular disease, any abnormalities detected during an EKG or physical exam and prior COVID-19 infections.
Dr. McClintic can also evaluate your cardiac symptoms using diagnostic tools such as echocardiography, exercise testing, cardiac monitoring, advanced cardiac imaging, and genetic testing.
Whether you've been diagnosed with a cardiac condition or you're looking for a cardiac screening before participating in a sport, call 607-257-5858 or click here for an appointment.
When pain takes you out of the game and onto the bench, Guthrie Sports Medicine gets you back on your feet quickly.