Kyle Conrad, Au.D.
Guthrie Provider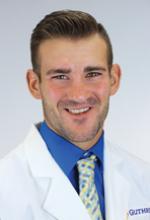 Balance Therapy
Comprehensive audiologic examinations
Digital amplification
Tinnitus
Vestibular examination and treatment
Appointments & Contact
Offers Telemedicine Visits
Information Icon
Telemedicine video visits make it easier to find care at a time and location that is convenient for you. Telemedicine appointments are available for both new patient visits and follow-ups.
For New Patients
Locations
Ithaca Orthopaedics

Clinic

10 Brentwood Drive
Suite B
Ithaca, NY 14850

Sayre Otolaryngology

Clinic

116 South Elmer Avenue
Sayre, PA 18840

Also Offers Telemedicine

Information Icon

Telemedicine video visits make it easier to find care at a time and location that is convenient for you. Telemedicine appointments are available for both new patient visits and follow-ups.

866-488-4743
Education
State University of New York at Buffalo, Buffalo, N.Y. (Audiology)
Patient Comments