2nd Annual Guthrie PAUSE Summit
Presented by Guthrie Women in Medicine
February 1-5, 2021
Conference Description
As time moves forward, medical and surgical decisions may have more complexity. This event seeks to fill a knowledge gap as aging pertains to the modern era of medicine. This is an educational opportunity for continued development of knowledge and resources in aspects of health promotion, the importance of patients' influence in medicine, and how to use evidence-based medicine for a patient centered care delivery model. The goal of our conference is to provide Guthrie and community providers with evidence-based information and the latest advances on routinely encountered issues regarding these facets of healthcare.
Elements of Competence
The CME activity has been designed to change learner competence and focus on the American Board of Medical Specialties areas of patient care, medical knowledge, practice-based learning and improvement, interpersonal and communication skills, professionalism and systems-based practice.
Educational Methods
Live lectures with Q & A sessions will facilitate the dissemination of information.
Interactive discussions are included to provide greater in-depth understanding of selected clinical issues.
Conference Goals
To inform the audience about how medical and surgical care have changed in the modern era.
To foster relationships between groups of medical professionals.
To empower the audience to be champions for patient-centered care.
Conference Objectives
Describe how to survive and thrive during the COVID-19 pandemic.
Define common pediatric orthopedic conditions.
Formulate an approach to the management of gut health in women.
Apply population health strategies to medical practice for better patient care outcomes.
Describe how to enhance communication with colleagues and team members to improve team-based care and to better manage conflict.
Review that long-standing and ongoing crisis exists in the way seriously ill and dying Americans are cared for- and experience the end of life.
Describe what healthy aging can mean for our patients and communities.
Conference Fees:
$50 – Providers, Advanced Practice Providers
$20 – Fellow, Resident, Nurse, Medical/Nursing Student, Other Allied Health Professional
Guest Faculty
Brooke Buckley, MD, FACS
Brooke M. Buckley, MD, FACS is a board-certified general surgeon and serves as Chief Medical Officer of Henry Ford Wyandotte Hospital south of Detroit, Michigan.
She previously served as Vice President and Chief Medical Officer of Meritus Health and the Associate Chair of Surgery and Medical Director for both the Acute Care Surgery and Wound Center programs at Anne Arundel Medical Center in Maryland.  She is an active member of the Maryland State Medical Association (serving as president, 2015-2016), the American College of Surgeons, and the Michigan and West Virginia State Medical Societies. A long-time member of the American Medical Association, Dr. Buckley is Chair of Congressional Review Committee of the American Medical Political Action Committee. Dr. Buckley graduated from The Ohio State University College of Medicine and Public Health, in Columbus, Ohio, and completed Internship and Surgical Residency in General Surgery at Fairview Hospital in the Cleveland Clinic Health System.
Dr. Buckley is passionate about health and healthy lifestyles, especially for underserved populations.  Her advocacy and volunteer work are largely focused on public health measures that bring access to affordable care and meaningful health care delivery where both the providers and the patients have the resources and the skills to grow whole community health.
Department of Medicine's Palliative Medical Grand Rounds Speaker
Ira Byock, MD
Ira Byock, MD is a leading medical authority on palliative care, author, and public advocate for improving care through the end-of-life. He is Founder and Chief Medical Officer of the Institute for Human Caring of Providence Health and Services based in Gardena, CA. The institute advances efforts to measure, monitor and improve person-centered care system wide and supports culturally diverse communities in expanding models of care. Dr. Byock's first book, Dying Well (1997) has become a core reading on the subject. The Best Care Possible, his most recent book, tackles the crisis that surrounds serious illness and dying in America and his quest to transform care through the end-of-life.
Tanja Adonizio, MD
Dr. Tanja Adonizio, MD is an Emergency Medicine Specialist with the Commonwealth Health Regional Hospital in Clarks Summit, PA and has over 24 years of experience in the medical field. She graduated from Jefferson Medical College of Thomas Jefferson University, Thomas Jefferson University Medical School in 1996. Dr. Adonizio is also currently the Associate Dean for Student Affairs at the Geisinger Commonwealth School of Medicine in Scranton, Pa.
Guthrie Conference Faculty
Reyna Florentino, MBA, CPHRM, CPHQ
Reyna Florentino is a healthcare risk management and quality professional with nearly a decade's experience in the risk management, medical malpractice, patient safety, project management, and quality space. She graduated from Temple University's Fox School of Business with an undergraduate degree in Risk Management, Insurance and Healthcare Management with a focus in Healthcare Risk Management. Upon graduation she analyzed malpractice cases and managed, along with the Director of Risk Financing and the Office of Council, an $85 million self-insured medical malpractice program for Temple University Health System and then went on to assume roles in Clinical Risk Management, Patient Safety and Quality/Performance Improvement. Reyna earned her Master's in Business Administration from Temple University in Strategy and Leadership. She holds three certifications: Lean Six Sigma Green Belt (LSSGB), Certified Professional in Healthcare Risk Management (CPHRM), and Certified Professional in Healthcare Quality (CPHQ). Today, Reyna oversees the quality outcomes functions across The Guthrie Clinic and engages in mentorship and education for clinicians and non-clinicians alike.
Koryn Johnston, DO
Koryn Johnston, DO is a board certified family medicine physician and serves as the Physician Liaison for the Patient Experience at the Guthrie Clinic.  Dr. Johnston graduated from Midwestern University and completed her training at the Providence Hospital – Georgetown University Family Medicine Residency. She is passionate about all facets of family medicine and finds great joy in caring for many generations of the same family. Through her involvement with the patient experience at Guthrie and changes in her own practice, she has developed a deeper professional satisfaction, better health adherence from patients, improved quality metrics and a better work life balance. Outside of medicine, she runs a household of 2 kids, 2 cats, 2 dogs and a working husband.
Karen Kim, MD
Karen C. Kim, MD is a board-certified gastroenterologist with the Guthrie Medical Group, and practices primarily in Ithaca, NY. She graduated from Stanford University School of Medicine and completed her residency and fellowship training at University Hospitals Case Western and the Cleveland Clinic, respectively. She serves on the Guthrie Clinic Board of Directors.
Kimberly Ryan, PA-C, ATC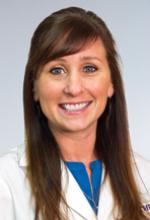 Kimberly Ryan PA-C, ATC is a physician assistant at the Guthrie Clinic in Corning, NY. She has been a certified physician assistant practicing in general orthopedics for 18 years and is also a certified athletic trainer. Kimberly obtained her bachelor's degree in Athletic Training from Ithaca College in Ithaca, NY in 1998 and went on to pursue her master's degree in Physician Assistant Studies graduating in 2002 from Chatham College in Pittsburgh, PA. As Co-chair of the Guthrie APP council, she is passionate about advocating for APPs within the organization and beyond.
Conference Agenda
Note: All conference times are listed in Eastern Standard Time and will be utilizing the Microsoft Teams virtual platform.
Monday, February 1, 2021 – 12-1:00 p.m. – Brooke Buckley, MD, FACS – Surviving and Thriving the Time of Pandemic
Tuesday, February 2, 2021 – 12-12:30 p.m. – Koryn Johnston, DO – The Patient Experience at Guthrie: What is it and Why Do Clinicians Care About it?
Tuesday, February 2, 2021 – 12:30-1 p.m. – Reyna Florentino, MBA, CPHRM – Why Clinicians Should Care about Quality Markers
Wednesday, February 3, 2021 – 12-12:30 p.m. – Karen Kim, MD - Changes in the Gut as Women Age
Wednesday, February 3, 2021 – 12:30-1 p.m. – Kimberly Ryan, PA-C, ATC – Pediatric Orthopedic Conditions
Thursday, February 4, 2021 – 12-1:00 p.m. – Tanja Adonizio, MD - Provider Wellbeing, Professionalism and Engagement
Friday, February 5, 2021 – 12-1:00 p.m. – Ira Byock, MD – Caring for Whole Persons During the COVID-19 Pandemic-and Beyond
Cancellation and Refund
The full conference fee is refundable, less a $10 processing fee, if your cancellation is received, in writing by Friday, January 22, 2021. (The processing fee is nonrefundable regardless of the reason for cancellation). Refunds will not be granted after this time or for non-attendance.
Disclaimers
Minimum and maximum numbers for attendance at this event have been established, and we reserve the right to substitute speakers/topics or cancel if necessary. By attending this event you grant The Guthrie Clinic Office of CME the right at the Event to record, film, photograph, or capture your likeness in any media and to distribute, broadcast, use, or otherwise disseminate, in perpetuity, such media without any further approval from or any payment to you.
The Guthrie Clinic CME Vison
To Enable Health Professionals to Provide and Achieve the Best Preventive and Comprehensive Care… Whole Community, All the Time.
Accreditation Statement
"The Guthrie Clinic is accredited by the Pennsylvania Medical Society to provide continuing medical education for physicians."
Designation Statement
"The Guthrie Clinic designates this live activity for a maximum of (5.0) AMA PRA Category 1 Credit(s)™. Physicians should claim only the credit commensurate with the extent of their participation in the activity.
Faculty Disclosure
The Guthrie Clinic adheres to the ACCME Essential Areas, Standards, and Policies regarding industry support of continuing medical Education.
The policy states that all faculty, authors, planners, and other persons who may influence content of this CME activity disclose all relevant financial relationships with commercial interest in order to allow CME staff to identify and resolve any potential conflicts of interest. Faculty must also disclose any planned discussion of unlabeled/unapproved uses of drugs or devices during their presentation(s). Detailed disclosures will be published and provided to all participants prior to the start of the activity so that those participants may formulate their own judgements regarding the presentation(s).
Intended Audience
This conference is designated to provide a learning opportunity for all community providers. This week-long educational conference will focus on the importance of self-care and the role of aging in various medical circumstances. Women's health in aging will be a recurrent theme. In addition, there will be a focus on fostering relationships between physicians, and non-clinical staff. This program is intended for all physicians, advanced practice providers, fellows and residents. Others that will find this program useful include nurses, medical and nursing students and other healthcare professionals who would like to increase their knowledge base regarding medical issues in women as they age.
Call-in / Log-in Information
After you register, you will be sent an email with the call-in / log-in information. If you do not receive this e-mail within 24 hours, please e-mail the CME Coordinator, Trish Stern at Trish.Stern@guthrie.org.