Williams of Toyota of Sayre is Title Sponsor for 21st Annual Golf for Guthrie Hospice Tournament
May 24, 2023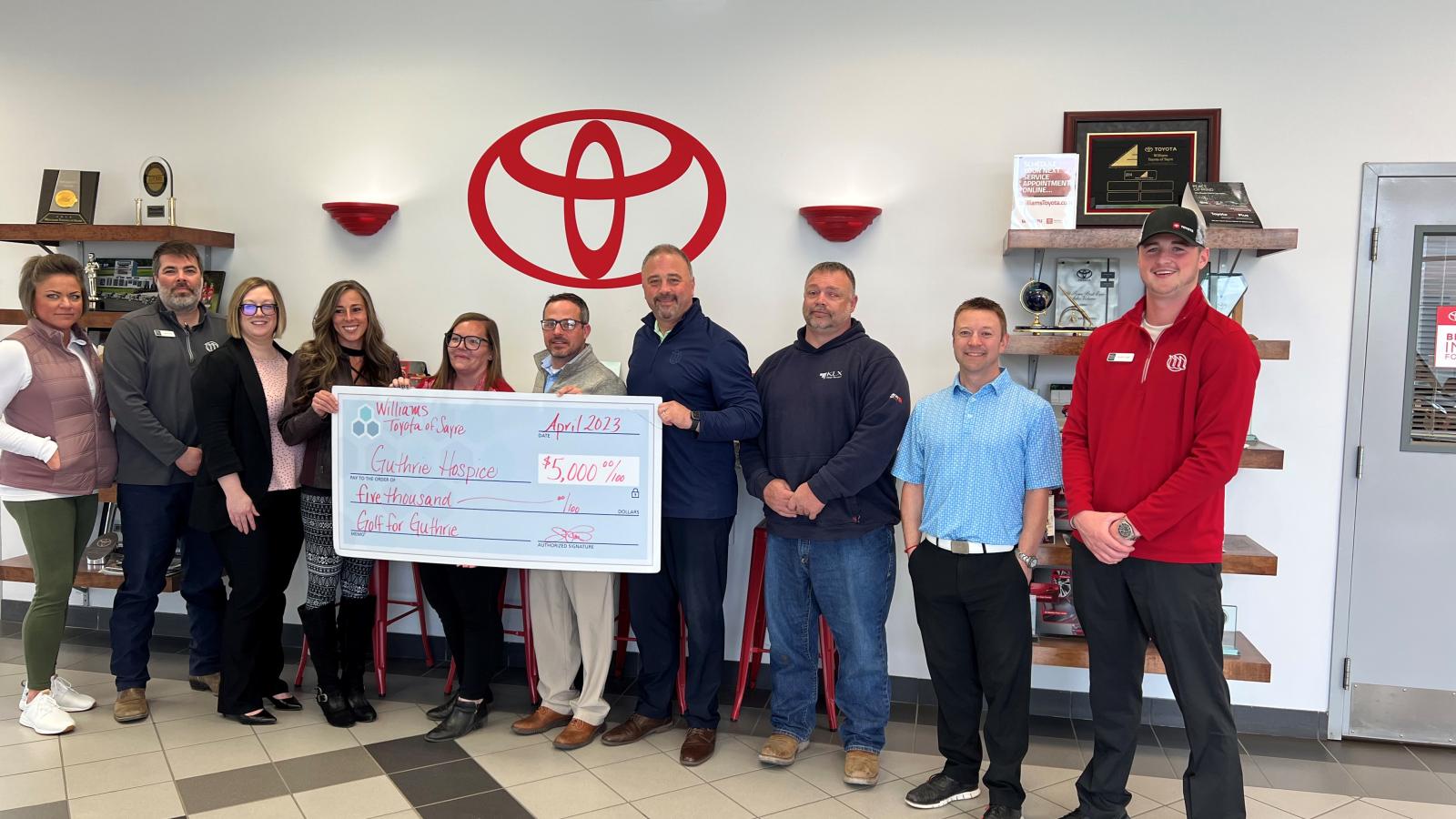 Pictured are members of the Golf for Hospice Planning Committee and team members of Williams Toyota of Sayre.
The 21st Annual Golf for Guthrie Hospice Tournament is set to take place June 16 at The Club at Shepherd Hills in Waverly, N.Y. The mission of the tournament is to raise funds for Hospice programs which provide end-of-life services for patients throughout the region – regardless of ability to pay – and offers bereavement services in the community. Health care workers, including our Hospice nurses, need our support now more than ever as they continue to care for their patients and families who depend on them.
Thank you to Williams Toyota of Sayre (Title Sponsor), Sayre Health Care Center (Golf Cart Sponsor), Keck's Food Service, Inc. (Banquet Sponsor), Stevens & Lee (Awards Sponsor), and the Sayre American Legion Post 283 (Registration Sponsor), this year's major sponsors. Additional sponsorship opportunities are still available, but foursomes are limited. For more information, visit: www.guthrie.org/golf-guthrie.
We understand for some individuals, joining us on the course may not be an option. There are still ways you can support Hospice through a non-playing golf sponsorship or donation.
The Guthrie Clinic is a non-profit multispecialty health system that integrates clinical and hospital care with research and education. Located in Sayre, Pennsylvania, The Guthrie Clinic is one of the nation's longest established group practices, founded in 1910 by Dr. Donald Guthrie with a vision of providing patient-centered care through a clinically-integrated network of employed providers. It is an industry leader in the use of technology and electronic medical records to provide high-quality care. Among The Guthrie Clinic's 6,500 caregivers are more than 700 physicians and advanced practice providers, representing the spectrum of medical specialties and sub-specialties. The Guthrie Clinic is a five-hospital system with a large network of outpatient facilities that spans nearly 9,000 square miles in Pennsylvania and upstate New York. It is dedicated to training the next generation of health care leaders, offering seven residencies and three fellowships.
Visit us at www.Guthrie.org. Follow us at Twitter.com/GuthrieClinic, Facebook.com/TheGuthrieClinic, Linkedin.com/company/TheGuthrieClinic, and Instagram.com/TheGuthrieClinic.