Presenting Sponsor Named for 2023 Guthrie Sayre Turkey Trot
November 17, 2023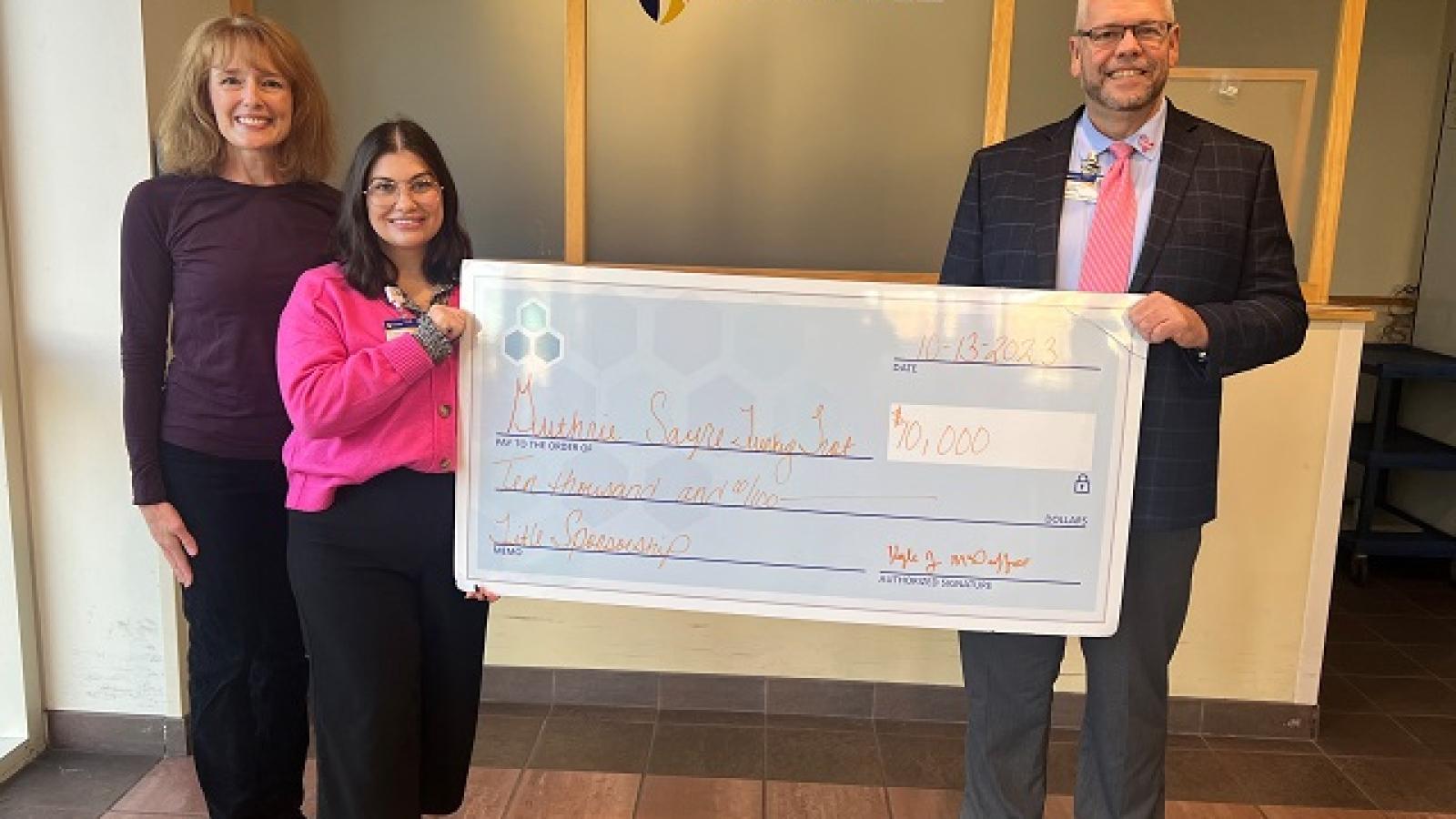 RPH Auxiliary Members Beth Herbst, Lea Scopelliti, and Kyle McDuffee
The Robert Packer Hospital Auxiliary has been named as the presenting sponsor for the 2023 Guthrie Sayre Turkey Trot 5K. Representatives from the auxiliary and the Turkey Trot gathered for a check presentation for the sponsorship. The Diamond Sponsor was also announced as Williams Toyota of Sayre.
"As the presenting sponsor of the Guthrie Sayre Turkey Trot, the Robert Packer Hospital Auxiliary is dedicated to community and creating a positive impact. Let's build lasting memories and make a difference together at this year's family tradition that is Turkey Trot." said Kyle McDuffee, President, Robert Packer Hospital Auxiliary.
Online registration for the 17th Annual Guthrie Sayre Turkey Trot 5K will close on Nov. 18. The race will be held on Thursday, November 23, Thanksgiving Day, in Sayre, Pa.
Proceeds from the Turkey Trot support Guthrie's Cancer Care Fund. This fund was designed to help with the many financial burdens that come with fighting a cancer diagnosis, whether it's arranging payment to heat a home for a patient undergoing chemotherapy or providing gas gift cards to patients to get them back and forth to treatment.
Visit https://runsignup.com/Race/PA/Sayre/sayreturkeytrot to find out more information and to register.
The Guthrie Clinic is a non-profit multispecialty health system that integrates clinical and hospital care with research and education. Based in Sayre, Pennsylvania, The Guthrie Clinic is one of the nation's longest established group practices, founded in 1910 by Dr. Donald Guthrie with a vision of providing patient-centered care through a clinically-integrated network of employed providers. It is an industry leader in the use of technology and electronic medical records to provide high-quality care. Among The Guthrie Clinic's 6,500 caregivers are more than 700 physicians and advanced practice providers, representing the spectrum of medical specialties and sub-specialties. The Guthrie Clinic is a five-hospital system with a large network of outpatient facilities that spans nearly 9,000 square miles in Pennsylvania and upstate New York. It is dedicated to training the next generation of health care leaders, offering seven residencies and three fellowships.
Visit us at www.Guthrie.org. Follow us at Twitter.com/GuthrieClinic, Facebook.com/TheGuthrieClinic, Linkedin.com/company/TheGuthrieClinic, and Instagram.com/TheGuthrieClinic.