Mansfield University/Guthrie Robert Packer Hospital Respiratory Care Program Recognized
July 20, 2021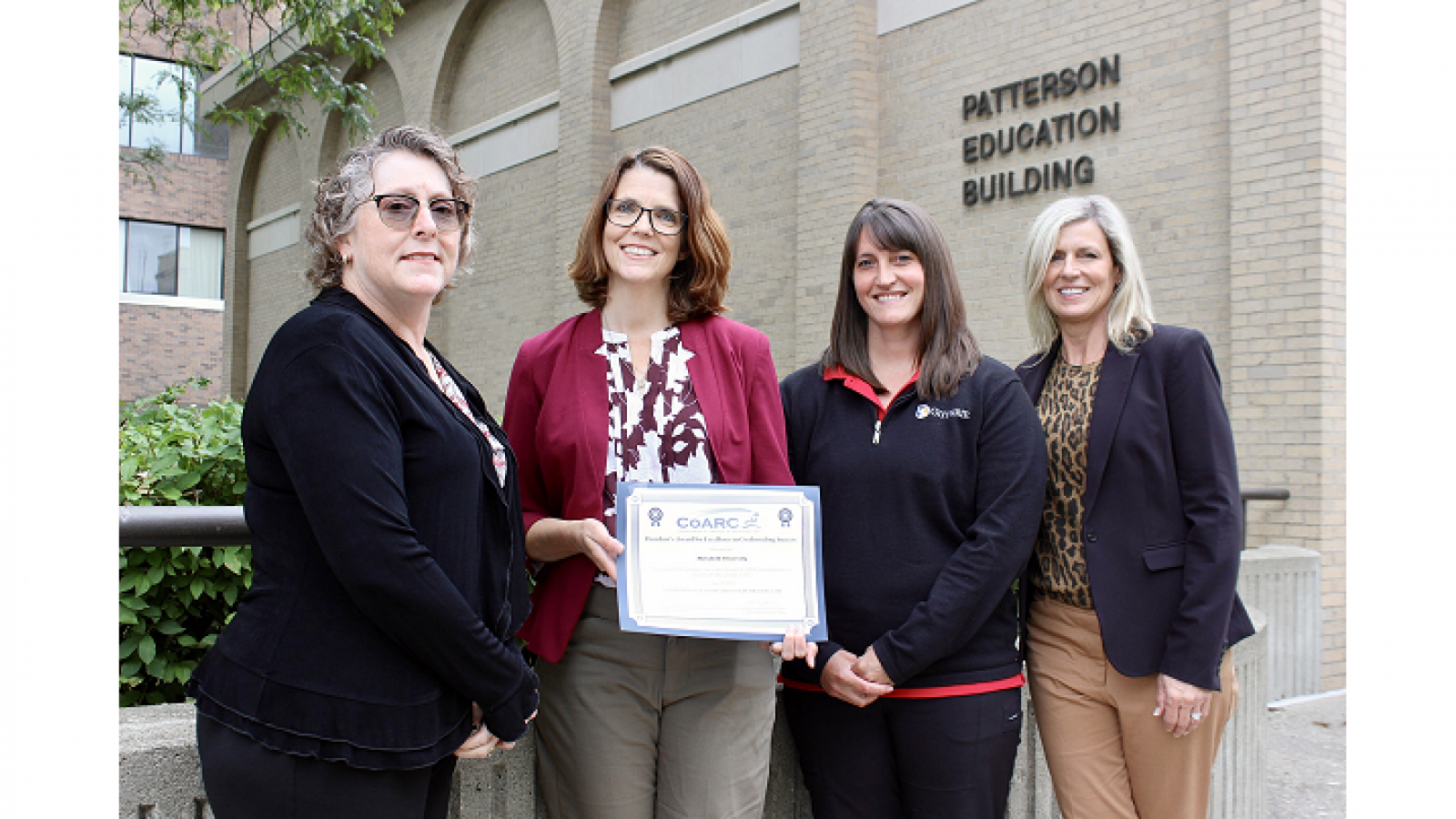 Pictured from left to right: Susan Ferrito, MS Ed, RRT, Director of Clinical Education; Sheila Merrill, MS Ed, RRT, Program Director; Nichole Campbell, BS, RRT, Clinical Instructor; Wendy Newman, BS, RRT, Clinical Instructor
The Mansfield University/Guthrie Robert Packer Hospital Respiratory Care program was one of 26 Respiratory Care Educational programs, out of 486 nationally, selected to receive the Commission on Accreditation for Respiratory Care (CoARC) President's Award for Excellence in Credentialing Success. This is a new award category this year. In the four previous years, the program received the Distinguished Registered Respiratory Therapist (RRT) Credentialing Award.
The award recognizes the program's high performance in graduate outcomes, retention, and advanced credentialing exam success. CoARC views the RRT credential as the measure of a program's success in inspiring its graduates to achieve their highest educational and professional aspirations.
"The respiratory therapy program exemplifies the strong commitment to educational excellence," said Dr. James Walsh, Guthrie Medical Director, Respiratory Care Program, "Our respiratory therapy educators are committed to developing outstanding practitioners who make essential contributions to the health care teams in our region. We are very proud of our medical educators and students at Guthrie."
In determining the award, the Board of Directors at CoARC used objective criteria based on key accreditation metrics such as pass rate on the RRT credentialing examination and job placement rates documented in the 2020 Annual Report. The RRT credentialing pass rate for our program is 100 percent and the program has job placement rates of 100 percent.
The Mansfield University/Guthrie Robert Packer Hospital Respiratory Care program is a full-time, four-year, Bachelor of Science degree program. It is a collaboration between Mansfield University's Department of Health Science and Guthrie Robert Packer Hospital. Students spend the first two years on the campus in Mansfield completing program pre-requisites and general education courses. After meeting the program pre-requisites, students spend their second two years plus one summer engaging in respiratory-specific didactic courses, clinical courses, and hands-on experiences at Guthrie Robert Packer Hospital.
Guthrie is a non-profit integrated health system located in north central Pennsylvania and upstate New York, serving patients from a twelve-county service area. Guthrie is comprised of a research institute, home care/hospice, hospitals in Sayre, Pa., Corning, N.Y., Towanda, Pa., Troy, Pa. and Cortland, N.Y., as well as a multi-specialty group practice of nearly 700 providers offering 47 specialties through a regional office network providing primary and specialty care in 22 communities in Pennsylvania and New York. Guthrie is dedicated to training the next generation of health care leaders, offering seven residencies, three fellowships, and serving as a regional campus for the Geisinger Commonwealth School of Medicine. Guthrie provides a wide range of services and programs to enhance the health and well-being of those it serves.