Guthrie School of Medical Lab Sciences Announces Graduating Class of 2019
August 29, 2019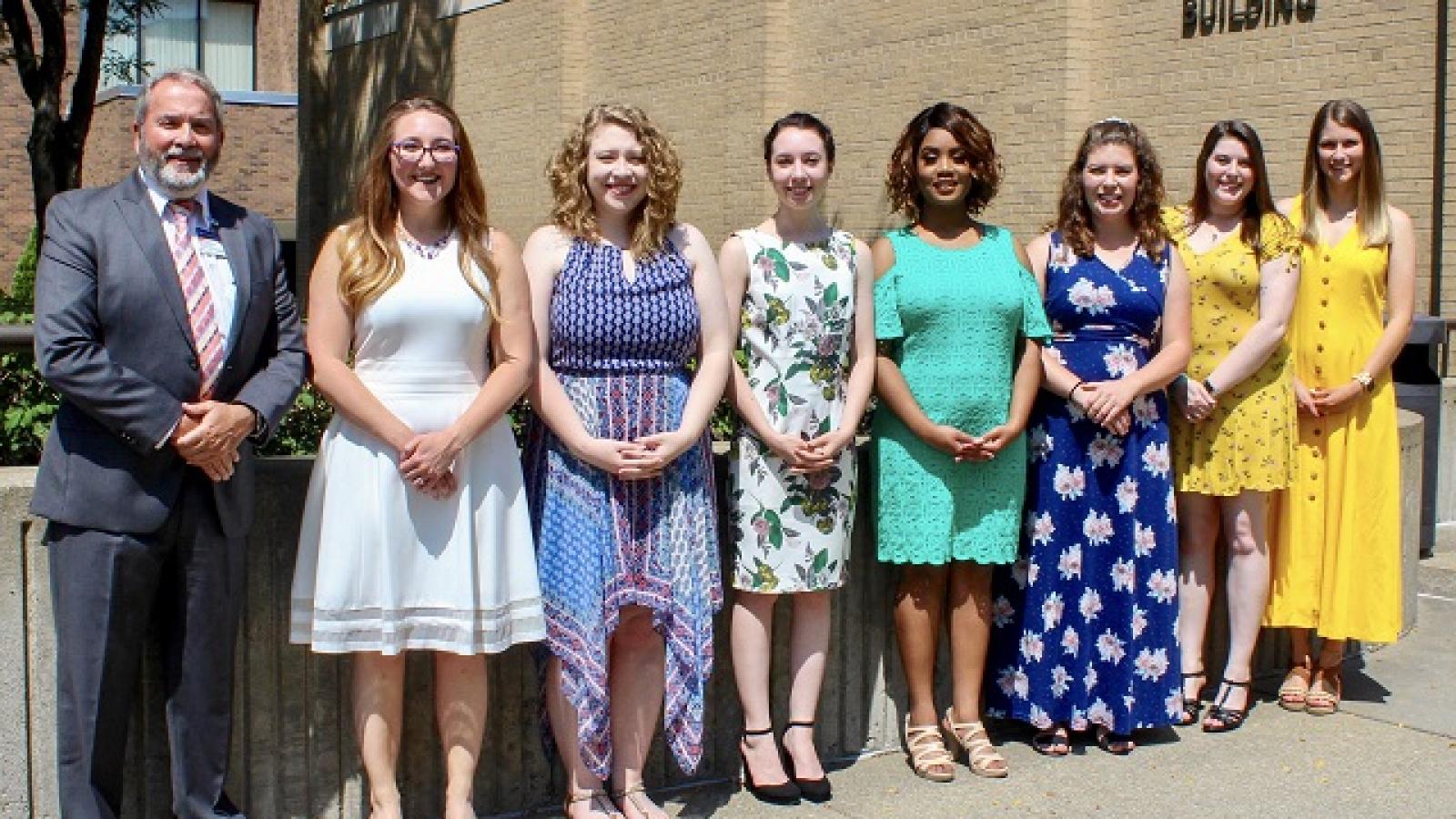 (L-R): Brian Spezialetti, Program Manager, Paula Cook, Heidie Bradigan, Courtney Kimmell, Shamour Talbert, Kayla Heintzelman, Samantha Chrysler and Galen Mayorowski.
The Guthrie Robert Packer Hospital School of Medical Laboratory Sciences is pleased to announce its graduating class of 2019.  
The school recently held its 70th graduation ceremony on the Guthrie Sayre campus. Awards and comments were presented by Program Director, Brian Spezialetti, M.S., MT(ASCP). Courtney Kimmell was named the class valedictorian and Galen Mayorowski was named salutatorian. Two members of this year's graduating class, Kayla Heintzelman and Courtney Kimmell, will be joining the staff of the Guthrie Clinic Medical Laboratory in Sayre. 
The Medical Laboratory Sciences program at Guthrie is a one-year internship which accepts students with a four-year degree in biology or other sciences from affiliated universities to prepare graduates to become certified, licensed medical laboratory professionals. The Guthrie Robert Packer Hospital program is affiliated with eight colleges in Pennsylvania and New York State. For more information, please contact the program at www.guthrie.org/healthcare-professionals/students/allied-health/medical-laboratory-sciences.
Guthrie is a non-profit integrated health system located in north central Pennsylvania and upstate New York, serving patients from a twelve-county service area. Guthrie is a member of the Mayo Clinic Care Network and is the first health system based in Pennsylvania and New York to join this network. Guthrie is comprised of a research institute, home care/hospice, hospitals in Sayre, Pa., Corning, N.Y., Towanda, Pa., Troy, Pa. and Cortland, N.Y., as well as a multi-specialty group practice of more than 325 physicians and 210 advanced practice providers offering 47 specialties through a regional office network providing primary and specialty care in 22 communities in Pennsylvania and New York. In addition, Guthrie offers home medical equipment and respiratory therapy products at seven convenient Med Supply Depot locations. Guthrie provides a wide range of services and programs to enhance the health and well-being of those it serves.