Guthrie Robert Packer Hospital Earns HAP Achievement Awards
February 28, 2023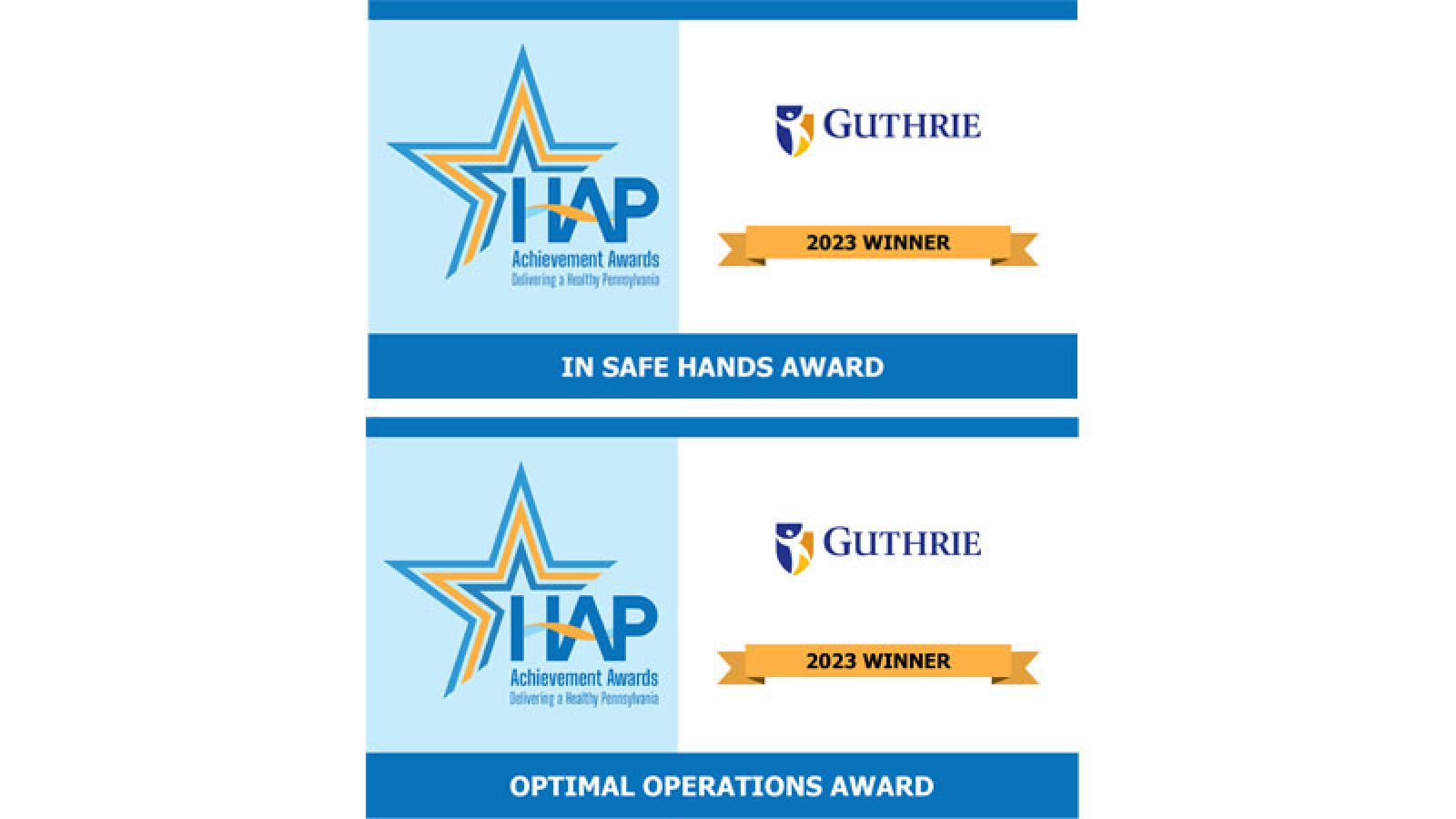 Guthrie Robert Packer Hospital has earned two Achievement Awards from The Hospital and Health system Association of Pennsylvania (HAP) for its outstanding efforts to improve health care in the communities it serves.   
Winners were chosen for their exceptional work in employing innovative approaches to strengthening the safety and quality of care, enhancing operations and patients' experience, and partnering with their communities to address public health needs. 
Guthrie represented two of the twelve winning projects, selected from a group of 82 total submissions and was awarded the following recognitions:  
Optimal Operations Award for implementing a new team-based approach to nursing to reduce staff turnover and vacancies, improve patient and staff satisfaction, and improve quality. 
In Safe Hands Award for implementing new procedures to reduce hospital-acquired infections. 
Joe Sawyer, SVP, President, Guthrie Robert Packer Hospital said, "We are honored to have earned not one, but two HAP Achievement Awards this year for our innovative work. The patient experience is our top priority with safety and quality playing invaluable roles. These recognitions speak to our hard work and dedication to providing the best possible patient care to the communities we serve." 
Deb Raupers, EVP, Chief Nurse Executive at Guthrie said, "I am incredibly proud of the nursing leadership that led these teams of caregivers to success in these important initiatives that have a positive impact on our patients and their families."  
"Pennsylvania hospitals and health systems are dedicated to not just treating illnesses and injuries but being partners in improving the health of their patients and communities," HAP President and CEO Andy Carter said. "These award-winning projects exemplify the extraordinary work of Pennsylvania's hospital community to enhance Pennsylvanians' health; advance health equity; and improve the quality, delivery, and safety of care." 
Entries were evaluated by a 16-judge panel. The panelists, drawn from Pennsylvania and across the nation, represented the public and private sectors, business organizations, consumer groups, and renowned health care quality institutes.   
HAP's Achievement Awards program has recognized Pennsylvania hospital excellence since 1978.