Guthrie Robert Packer Hospital Celebrates Energy Efficiencies
March 22, 2019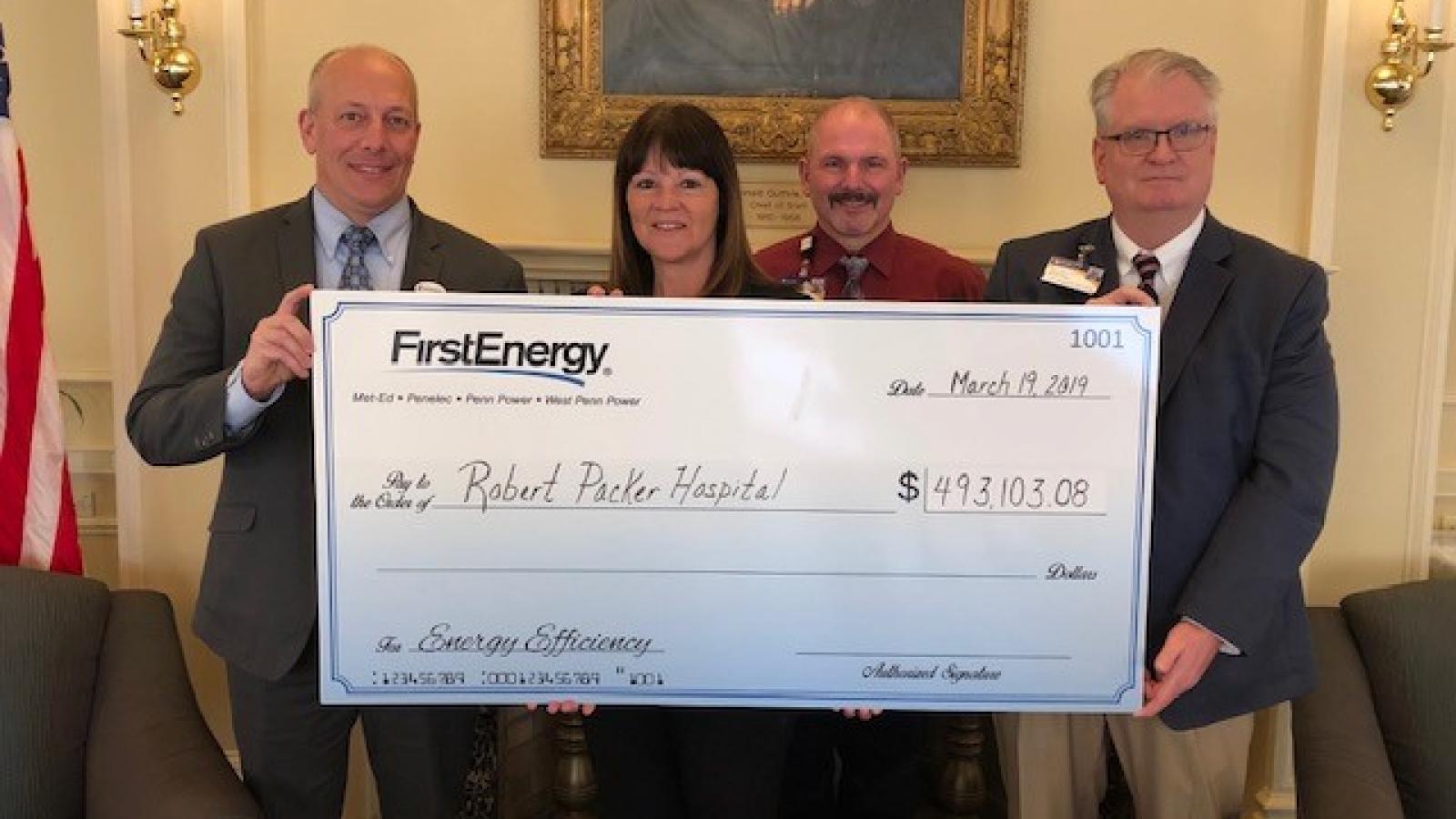 Jody Place, FirstEnergy Service Company, presents an incentive check to Joseph Sawyer, President, Robert Packer Hospital, left; Rennie Woodhouse, Director, Facility Operations, center, and Michael Hogan, VP, Support Services.
Penelec, a subsidiary of FirstEnergy Corp. (NYSE: FE), presented Guthrie Robert Packer Hospital officials with an incentive check for nearly $500,000 toward energy-efficient upgrades made at its facilities.
"A hospital campus uses a great deal of energy, so as good corporate citizens, we are pleased to have an opportunity to reduce our energy consumption and carbon emissions in the community," said Joseph Sawyer, President of Guthrie Robert Packer Hospital. 
Through the Energy Solutions for Business program, the hospital completed 11 projects, saving 17,000 Mwh of energy, which is enough energy to power more than 19,000 average U.S. homes for a year.
The project included seven lighting upgrades, three custom equipment upgrades, and one CHP (Combined Heat and Power) project. "Our CHP or cogeneration power plant merges the production of usable heat and electricity into a single process that substantially reduces our greenhouse gasses on the Guthrie Sayre Campus," explained Michael Hogan, VP, Support Services. "This project helps Guthrie save money, but it also reduces our grid usage of electricity, helping our community and providing power for the hospital in case of an outage."
The Energy Solutions for Business Program offers commercial and industrial customers of Penelec rebates for qualified energy upgrades, including energy-efficient lighting, which not only helps save energy but also provides longer lasting, brighter and significantly less maintenance than the traditional lighting. 
Guthrie is a non-profit integrated health system located in north central Pennsylvania and upstate New York, serving patients from a twelve-county service area. Guthrie is a member of the Mayo Clinic Care Network and is the first health system based in Pennsylvania and New York to join this network. Guthrie is comprised of a research institute, home care/hospice, hospitals in Sayre, Pa., Corning, N.Y., Towanda, Pa., Troy, Pa. and Cortland, N.Y., as well as a multi-specialty group practice of more than 325 physicians and 210 advanced practice providers offering 47 specialties through a regional office network providing primary and specialty care in 22 communities in Pennsylvania and New York. In addition, Guthrie offers home medical equipment and respiratory therapy products at seven convenient Med Supply Depot locations. Guthrie provides a wide range of services and programs to enhance the health and well-being of those it serves.