Guthrie Robert Packer Hospital Awards James S. Ty, MD Memorial Award
May 29, 2019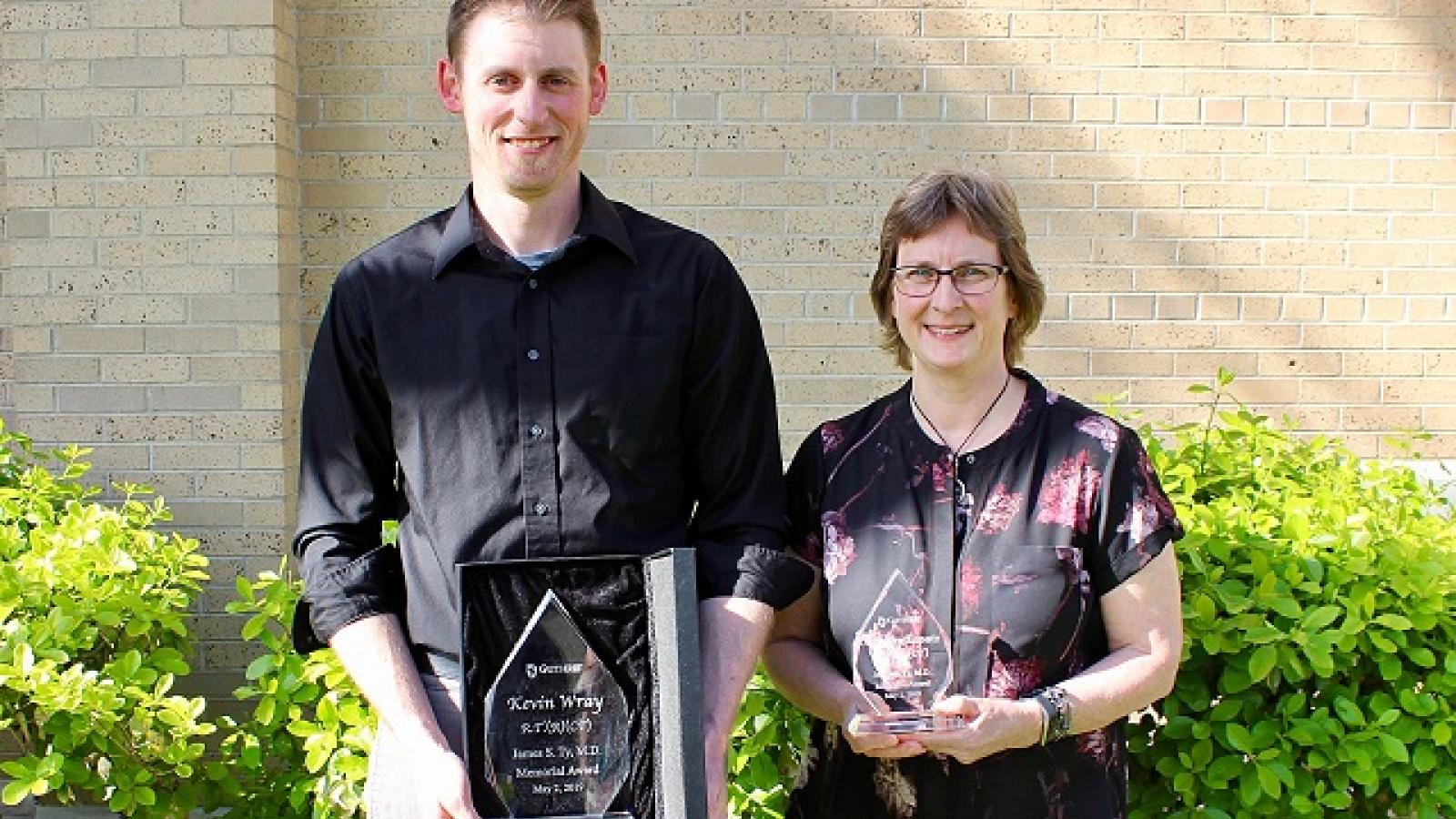 Dr. Ty Award Winner Kevin Wray, RT and and Runner Up Carolyn Kopatz, RT
The prestigious James S. Ty, MD Memorial Award was presented to Kevin Wray, RT in the Interventional Radiology department at Guthrie Robert Packer Hospital. First runner up was Carolyn Kopatz, RT in the CT Scan department, also at Guthrie Robert Packer Hospital. 
These awards are presented to employees who best exemplify the core values of the Medical Imaging team: patient-centeredness, teamwork, service to referring physicians, passion for imaging excellence, honesty and integrity. The awards include reserved funds to be used toward continuing education activities. They were presented at a special ceremony with their colleagues, held by the Guthrie Medical Imaging team. 
Joseph Ronsivalle, DO, FSIR, Guthrie Chairman, Medical Imaging said, "These nominees demonstrate the qualities that are so important in all facets of healthcare: caring for others, demonstrating a positive attitude even when we feel sad ourselves, honesty, integrity and a willingness to make things better for those around you."
Dr. James Ty was a radiologist at Guthrie Robert Packer Hospital for 15 years, setting a high standard of excellence for himself and those around him. Each year, candidates are nominated by their peers and a winner is selected on criteria that celebrate his unwavering focus on quality and continuous improvement, as well as his commitment to Guthrie and its patients.
Guthrie is a non-profit integrated health system located in north central Pennsylvania and upstate New York, serving patients from a twelve-county service area. Guthrie is a member of the Mayo Clinic Care Network and is the first health system based in Pennsylvania and New York to join this network. Guthrie is comprised of a research institute, home care/hospice, hospitals in Sayre, Pa., Corning, N.Y., Towanda, Pa., Troy, Pa. and Cortland, N.Y., as well as a multi-specialty group practice of more than 325 physicians and 210 advanced practice providers offering 47 specialties through a regional office network providing primary and specialty care in 22 communities in Pennsylvania and New York. In addition, Guthrie offers home medical equipment and respiratory therapy products at seven convenient Med Supply Depot locations. Guthrie provides a wide range of services and programs to enhance the health and well-being of those it serves.