Guthrie Partners with Town of Cortlandville to Celebrate Gutchess Lumber Sports Complex Ribbon Cutting 
March 24, 2023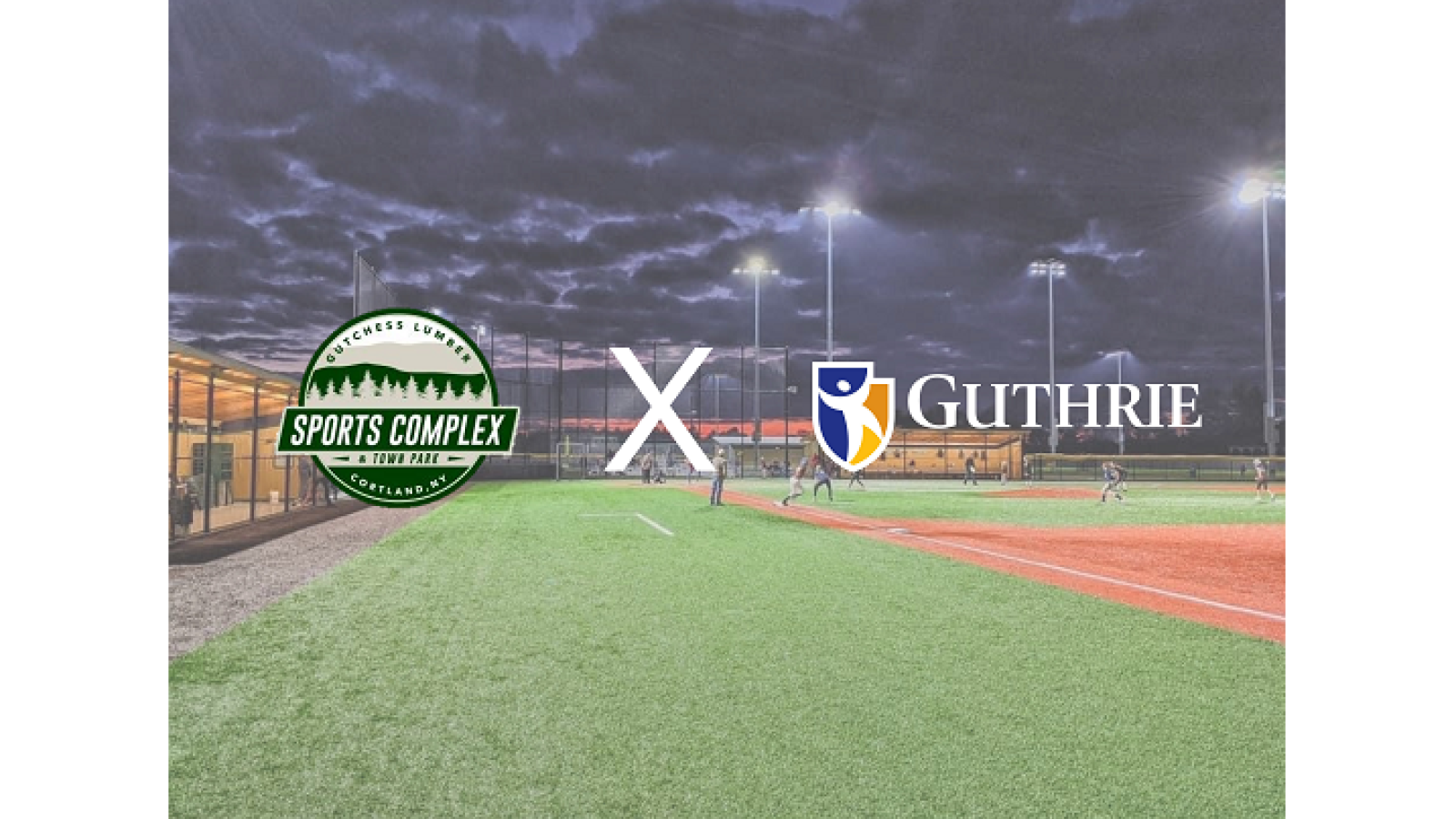 Gutchess Lumber Sports Complex (GLSC) announced today that The Guthrie Clinic has signed on to be the exclusive health partner of GLSC. It is a multi-year sponsorship of a project that Guthrie believes will spotlight and showcase all the region has to offer. 
"We are thrilled to be the exclusive health partner of Gutchess Lumber Sports Complex," said Elizabeth Jaekle, Executive Vice President, Chief Strategy Officer, The Guthrie Clinic. "Guthrie is dedicated to helping each person attain life-long health and well-being and serve as the region's most trusted health care partner. We look forward to serving and partnering with thousands of local and regional families as they travel to Cortland for safe and enjoyable athletics in this new state-of-the-art sports park." 
The Gutchess Lumber Sports Complex is owned by the Town of Cortlandville and is operated by the town's parks department in partnership with Prep Baseball Report Tournaments. It is part of a larger 100-acres that was acquired from a deal with Gutchess Lumber in a land swap agreement. The park opened the first two fields, playground, and walking path in 2019. March 31, 2023 will mark the grand opening for Phase II of the park, including two more turf surface fields that will accommodate baseball and softball. The demand for more fields continues to grow as the Gutchess Lumber Sports Complex serves the local youth sports, high school and collegiate teams, the Cortland Crush summer collegiate baseball team, and an ever-growing roster of Prep Baseball Report tournaments. 
"We recognize the leadership position Guthrie Cortland Medical Center plays in our community, and we are grateful for their commitment to supporting the park and the thousands of families that will benefit from this partnership," said Tom Williams, Cortlandville Town Supervisor. "We have an extremely busy 2023 schedule at the park, and we are looking forward to introducing the athletes, families and fans to our state-of-the-art renovations and our new partner, Guthrie." 
Guthrie is dedicated to providing high-quality and accessible health care that meets the needs of the entire family. Care is available at multiple locations in Cortland, including Guthrie Cortland Medical Center, primary care offices, a walk-in clinic and several specialty care offices including sports medicine and orthopedics. 
BASE Sports Group represented Gutchess Lumber Sports Complex in establishing this partnership with Guthrie Cortland Medical Center. BASE is a sports partnership firm, uniquely dedicated to supporting the commercial development of community and youth sports properties.  
 
The media and community will get their first look at the Phase II expansion next week when the new fields host a high school baseball tournament including local teams. On Friday, March 31 at 4:30 p.m., prior to the first game between Cortland High School and Chenango Forks High School, the town will host an opening ceremony. Cortlandville Town Supervisor Tom Williams will be joining Paul VerValin, Executive Vice President, Chief Operating Officer, The Guthrie Clinic, in the ceremonial first pitch.